We bring you the new Hilton Marketing chief, visit former USSR cities, the pain of bullets, how to book awards with  Asia Miles, sign up for the 5% categories with the Chase Freedom card, get more scared about AI progress, laugh (or cry if you prefer) about some crap done back in the tech stock bubble days, visit states with the most million dollar homes and addiction stuff.
TBB Blog Mission: To Entertain. Educate. Inspire. In That Order!
Very interesting interview with the new Chief Marketing Officer at Hilton. The focus to keep improving the direct booking route will continue. And going "digital-first". But hey, why stop there…why not add four new brands to the 14 brands that exist already, wtf! Oh, the Hilton Honors loyalty program will be a "major focus"…oh shit!
If you have a Chase Freedom card, activate now the 1st Quarter 2018 5% categories.
This is very good: 20 Cities to Visit in the Former USSR.
One of the themes around here is what artificial intelligence is doing to us. Well, this is right on! Artificial Intelligence Is Killing the Uncanny Valley and Our Grasp on Reality.
These are the two edges of the AI sword. As it improves, it mimics human actions more and more closely. Eventually, it has no choice but to become all too human: capable of good and evil in equal measure.
What Bullets Do to Bodies. This is disturbing. Guns don't kill people, psychos with guns they can get to so easily kill people…Yeah, I am all for gun control but after so many children were murdered at Sandy Hook I have given up too.
Another theme is addiction and what it does to addicts and everyone around them. This is a very touching posts by Mimi O'Donnell, the wife of brilliant actor Philip Seymour Hoffman who died of a heroine overdose. It shows you how this battle is never over…
The US stock market keeps shooting higher. Many keep mentioning the world bubble. I think it applies with bitcoin but it does not apply to the stock market currently. I could be wrong of course, markets keep you humble. Or they should. I have been around two stock market crashes now and I know better. Do not fall in love with the highest number in your portfolio! And for God's sake, don't keep checking it like this guy who wants to have a contest to see whose net worth is bigger, how sad is that! Okay, where was I going with this? Oh yes…You have no idea what was going on back in the tech stock bubble days , no idea, read it and weep. Or laugh you should prefer!
The photography of Maxim Fedorov is amazing!
The US States With the Most Million Dollar Homes. In the Top 3: Washington DC at 17.3%, California at 13.6% and Hawaii at 13.5%.
BLOG BUZZ
This section is for advanced level hobbyists and veteran blog readers & personal rants & stuff
I changed my United award flight to Athens from flying coach all the way through IAD and ZRH to the old reliable Business class routing Detroit to Frankfurt (on to Dusseldorf) to Thessaloniki flying Lufthansa and Aegean. I had to pay the extra miles of course (70,000 total instead of 30,000) and a change fee of $125 (and a small difference in taxes). Mega mistake but I need to get some work done Monday morning and save me a much longer bus ride to my hometown. I mysteriously received 40,000 UR points and just transferred them out right away to United 🙂
Miles and Points burned year to date now stand at 901,500.
Amex's Plenti program appears to be on life support. Going to stick my neck out and predict Plenti dies in 2018 🙂
How to book award travel with Cathay Pacific Asia Miles.
Can Doctor of Credit go a roundup type post without linking to View From The Wing? Everyone he sends there can also read amazingly deep articles such as the following (did not add the credit card pumping posts of course):
DJ Mustard and Companion Caught With Loaded Gun at LAX Security Checkpoint
Woman Kicked Out of Lounge for Wearing Uggs and the Happiest Airports
Crazy Tarmac Dancer is Back Guiding Planes and Busting Moves
Flight Attendant Spilled Burning Coffee on Woman, Rushed Her Topless to the Lavatory
I thought that I had seen everything with this troll. I guess I was wrong again. Please do not spend any time on Friday and Saturday nights stepping away from your family and friends to keep refreshing my blog page to see if I had responded so you can, well, troll again because if you have nothing good to say you…should comment it here in my blog. Smh #wow. Excuse me while I go to my safe space now LOL.
And I leave you with this…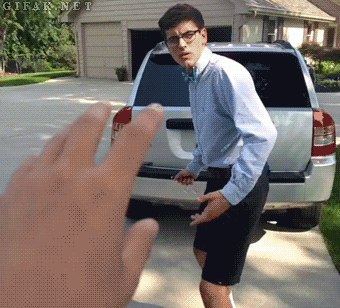 Check out my updated blog lists: Blogs I Love, Blogs I Like, Blogs To Ignore
TBB
travelbloggerbuzz@gmail.com
Follow TBB on Twitter @FlyerTalkerinA2
You can subscribe to TBB below, winners only!
Opinions expressed here are author's alone, not those of any bank, credit card issuer, hotel, airline, or other entity. This content has not been reviewed, approved or otherwise endorsed by any of the entities included within the post.