We continue the guest trip report visiting the countryside around Almaty stopping at Altyn-Emel National Park, Sharyn Canyon, Kolsai Lakes, Big Almaty Lake and more.
TBB Blog Mission: To Entertain. Educate. Inspire. In That Order!
This is part Two of the Kazakhstan trip report by guest writer Nikos Papadopoulos.
For Part One, click on: "Kazakhstan Trip Report: Astana and Almaty".
We enjoyed our short time in Almaty but we were ready to move on and decided to take a 3-day trip to the amazing nature in the area surrounding it.
Our aim was to visit Altyn-Emel National Park and do some other sightseeing in the areas near the border with China and Kyrgyzstan. At this point, please allow me to admit that I had not done any planning in advance how to accomplish this and I definitely do not recommend you wing it like we did. But they say things happen for a reason, right? We were lucky enough to find the right person at the right time!
When I checked Facebook on the first night in Almaty I found a message from Aliya, the college student we met back in Astana, asking if we would like to have a local driver tour guide named Askhat to get us to Altyn Emel with his truck and show us all those places on a 3-day tour. She also wrote that this National Park is not an easy place to explore because there are no roads and it would be a good idea to choose Askhat because he was an experienced driver very familiar with the area. Okay, I thought, maybe she targeted us but here we are having a lifetime chance to visit some truly stunning places. On the other hand, here I am with my younger sister far away from home and I have to trust a local guy to take us to the middle of nowhere. I did not have to think about it twice. "Life begins at the end of your comfort zone" I told myself and asked Aliya to arrange a meeting with Askhat. You guessed right, Askhat could not speak English, so Aliya's help was very crucial to make this happen.
So the next morning we loaded our luggage on Askhat's truck and we left Almaty.
After the initial nervousness wore off, we got more relaxed when we found out that Askhat was a super cool and friendly guy. He was trying to chat with us and every now and then he would pull out his mobile phone and try to translate what he wanted to tell us through a voice application, which did not work that well. We had some good laughs along the way and we felt pretty comfortable and I could tell he was a pretty good driver, much better than the Astana taxi driver.
Our first stop was the Big Almaty Lake, around 45 minutes away from Almaty.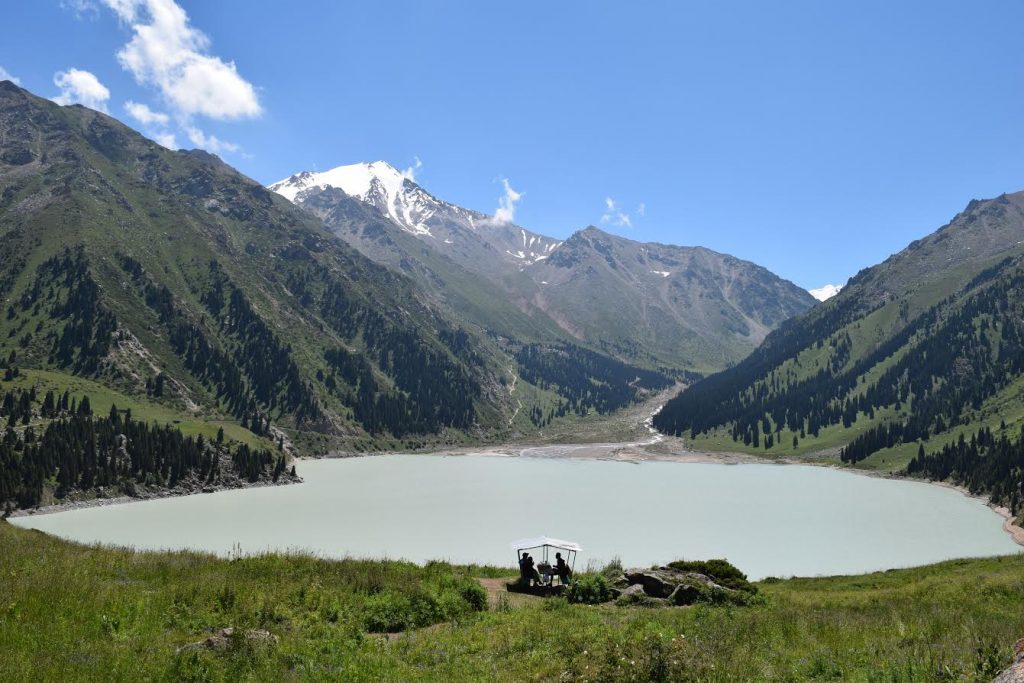 It was one of the most beautiful places that I have ever visited! Honestly, I felt that I could stay there forever. Stunning is an understatement. I am still at a loss for words to describe the sheer beauty of this lake.
In the outskirts of Almaty, we also visited some traditional tents that are called yurts and the Medeu rink.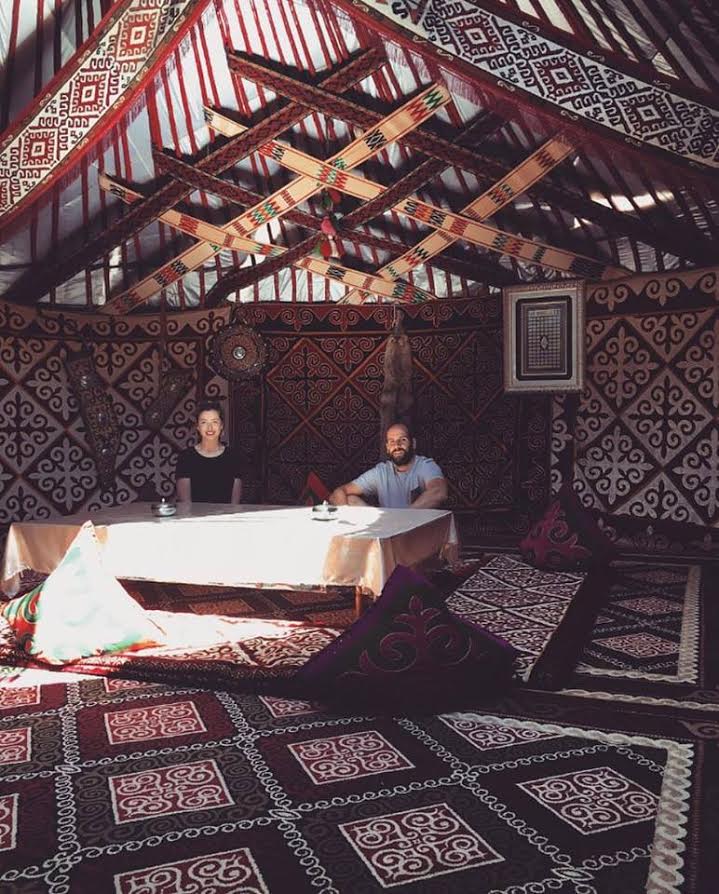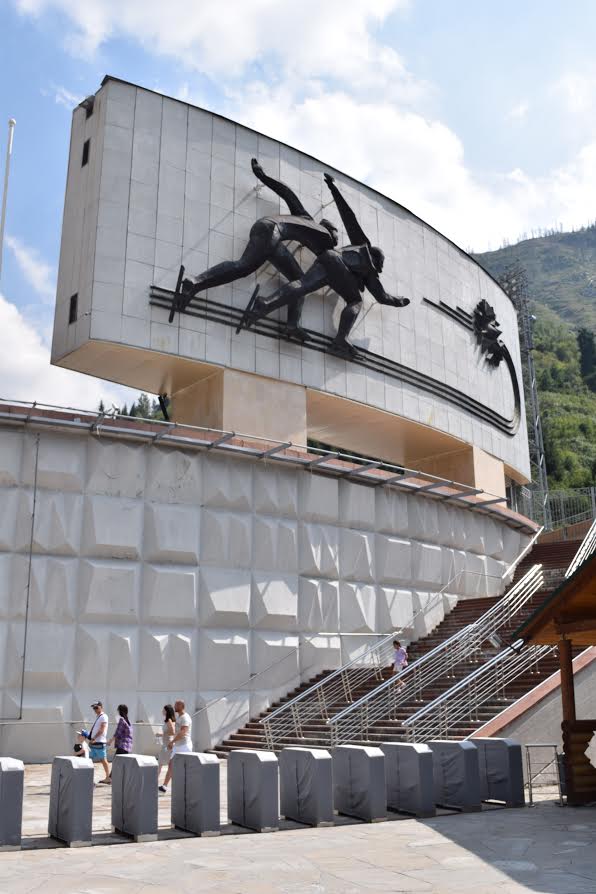 And then we started to drive away from Almaty…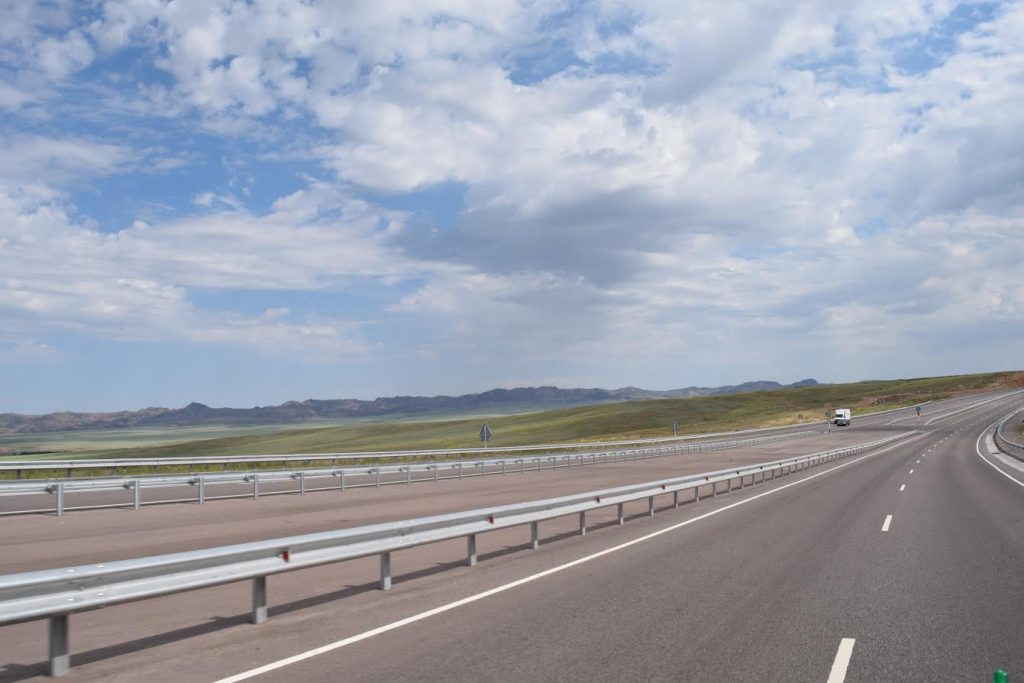 After several hours of driving passing many remote villages we reached Altyn-Emel National Park. At that point I have to say that the Kazakh countryside has absolutely nothing in common with modern cities like Astana and Almaty. Life in some of these remote provinces is very hard without any luxuries. Sometimes it felt like we traveled on a time machine and were transported to another era.
Entering Altyn-Emel National Park…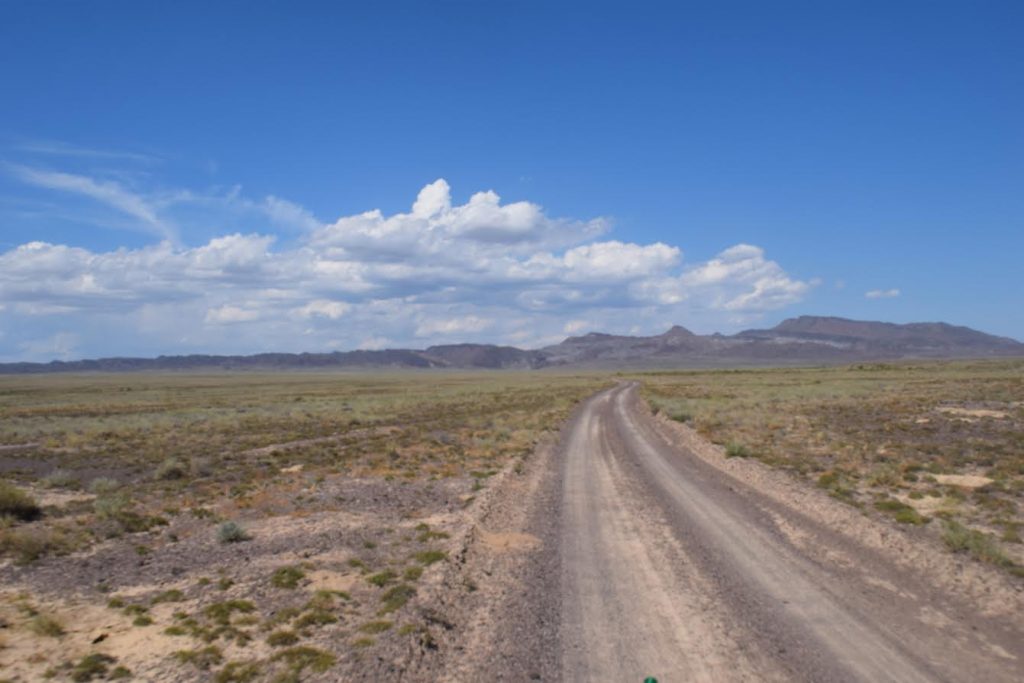 First place we visited was the steppe surrounding Aktau.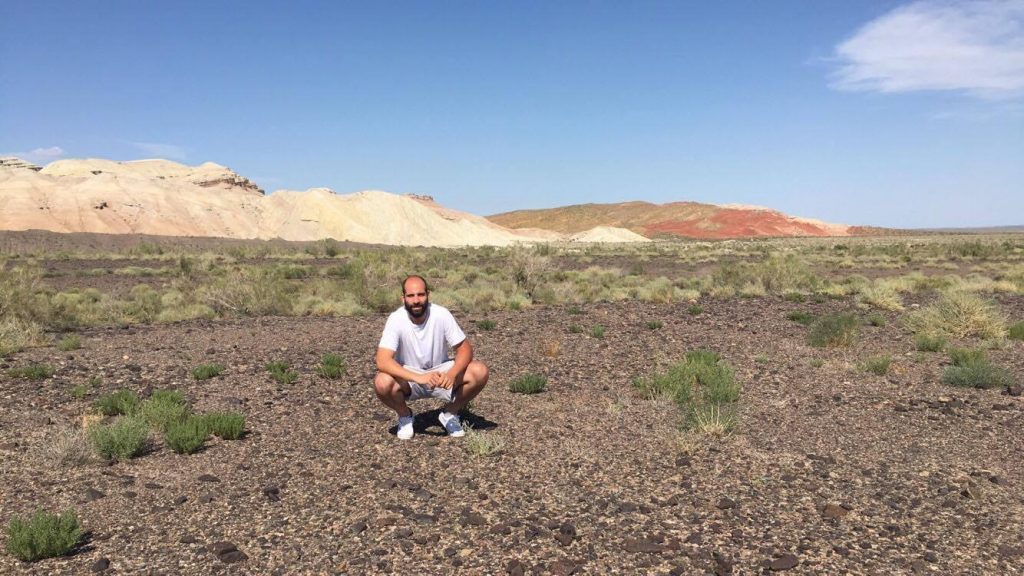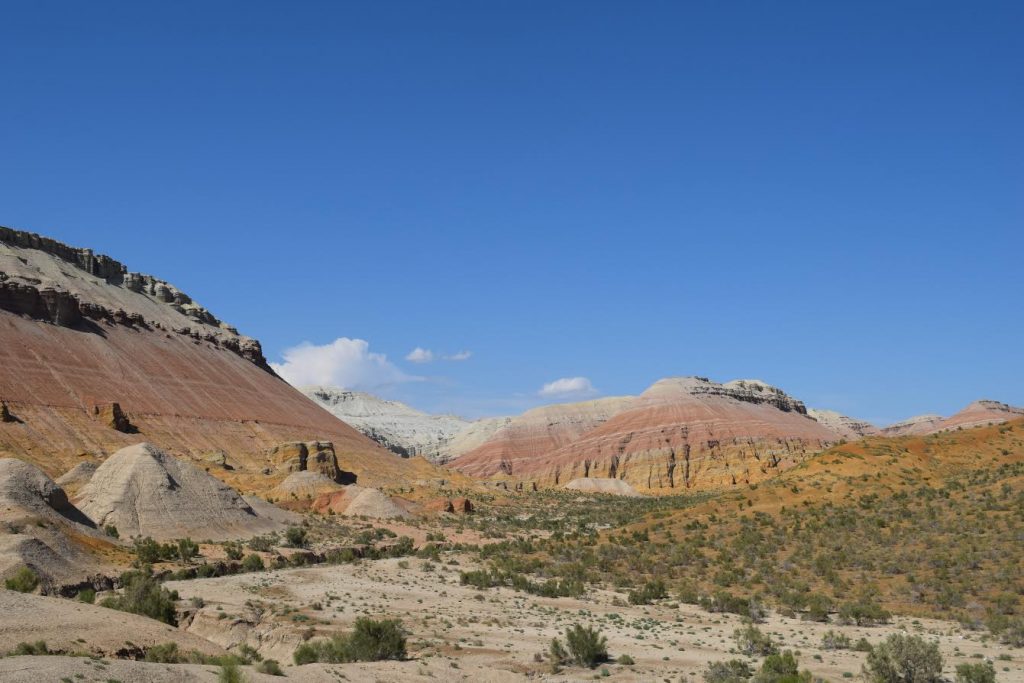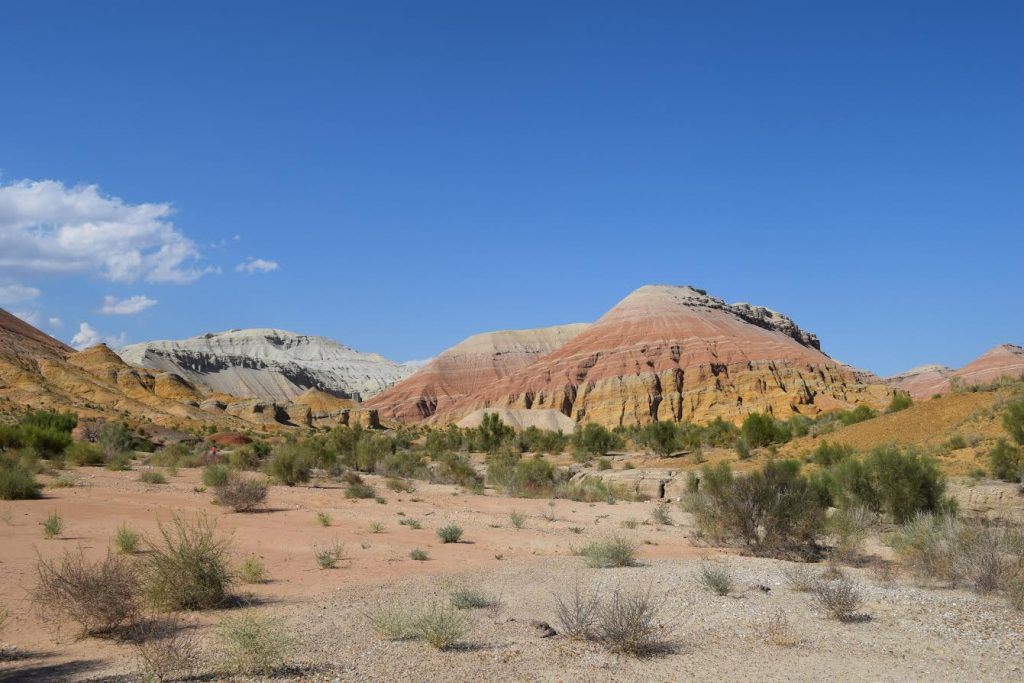 After Aktau, we headed to the Karatau Mountains area.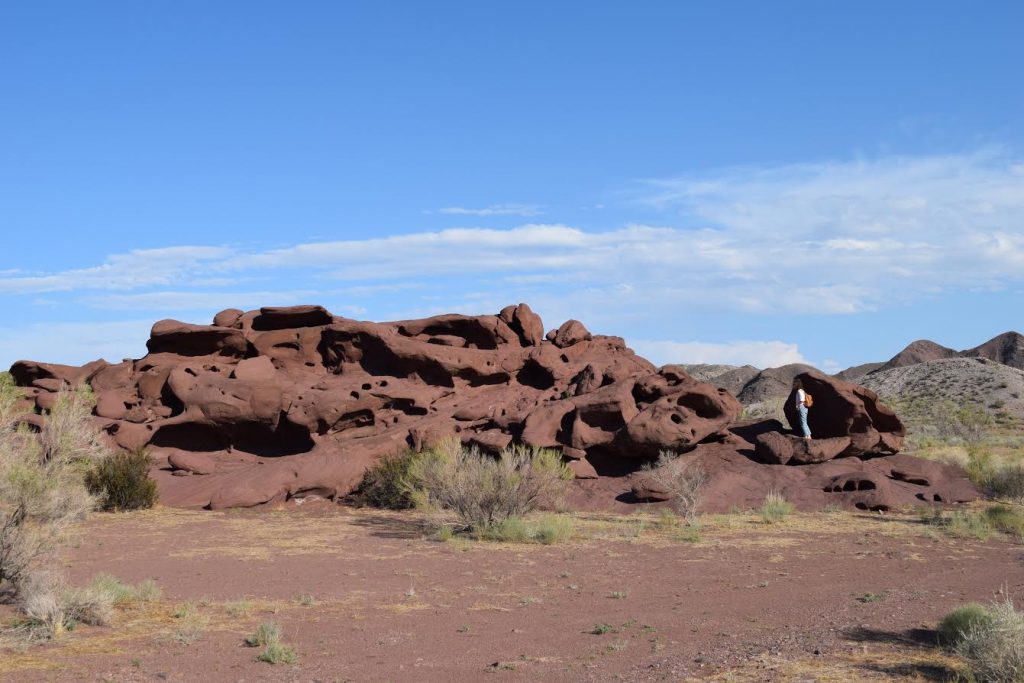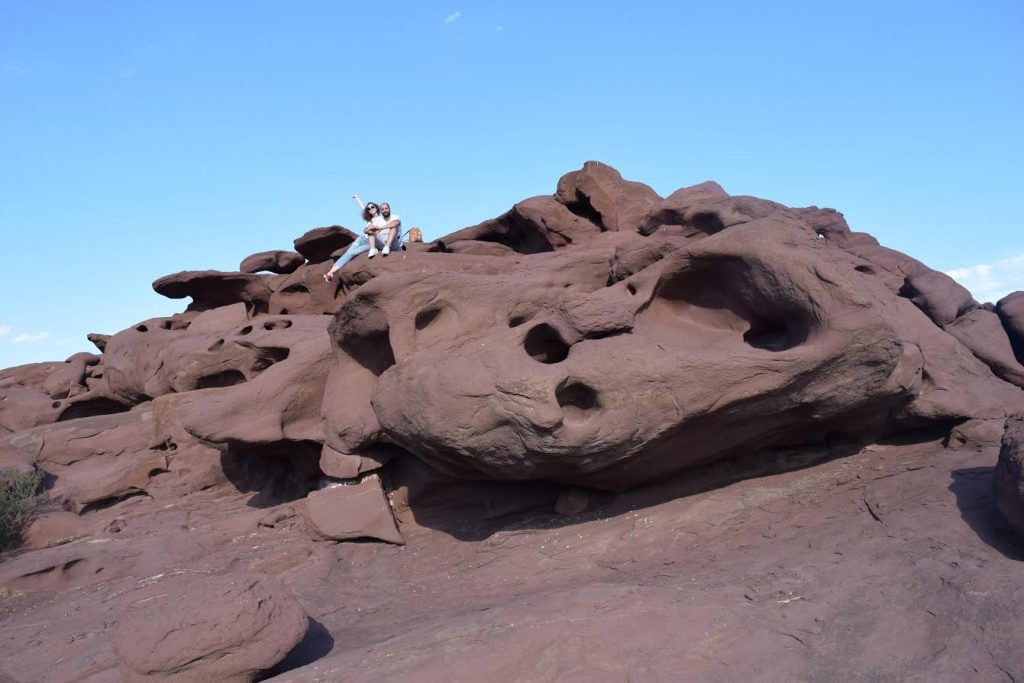 When we visited these places we really felt that we were in the middle of nowhere. This feeling, for me personally, is sometimes unique as it automatically makes you think deeper about your existence and appreciate life even more. While traveling around Kazakhstan there were a lot of times we thought of Mahatma Gandhi's response when he was asked about Western civilization: "I think that it would be good idea". Of course, as a teacher, I support human evolution, but I also believe that each one of us has to remember, appreciate and be in harmony with our common mother, Nature. Because nature is where you can achieve the noblest virtue, to know yourself.
After Aktau and Karatau, we visited a nearby settlement. A humble family welcomed us into their home. They were living there trying to cover their needs by growing their own food. I really like this cool photo of my sister Dimitra with them.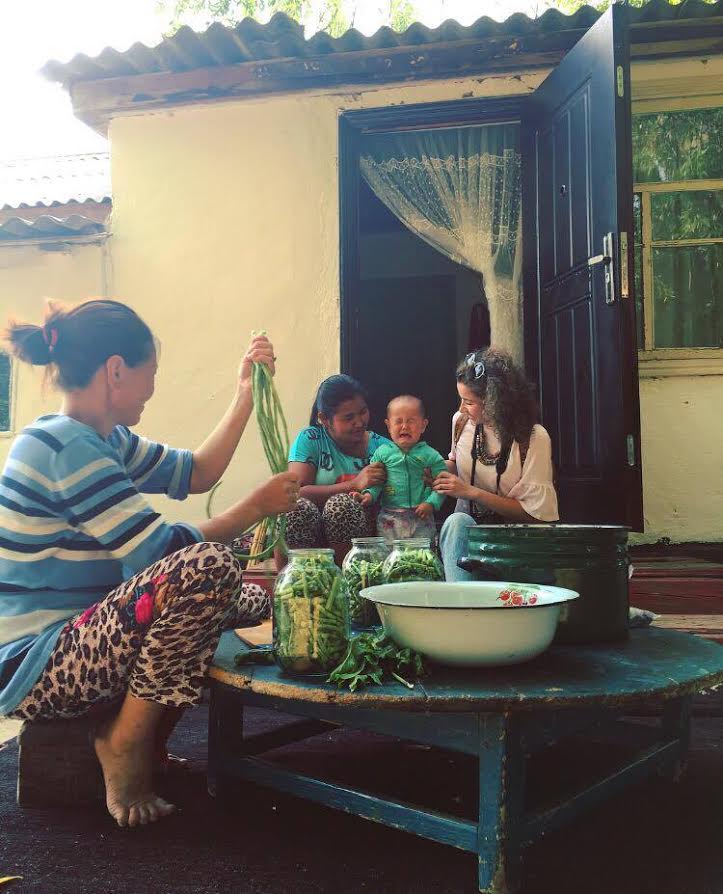 We then returned back to our hostel. I unfortunately do not have any photos of the places that we stayed during the three days of our tour. Accommodation is not a high priority for me as I am not spending a lot of time at the hotel or hostel. But, if I had to say something about the hostel we slept for two of the three nights, I would describe it as low quality. It was a big family house with many rooms and a common toilet.  My sister started cursing at me when we first arrived, but after a while she adapted to the situation lol!
In the next day we started early and drove for four hours to arrive to another place that stuck in my mind: The Singing Barkhan Dunes.
Here is our driver Askhat filling the required paperwork to enter the place.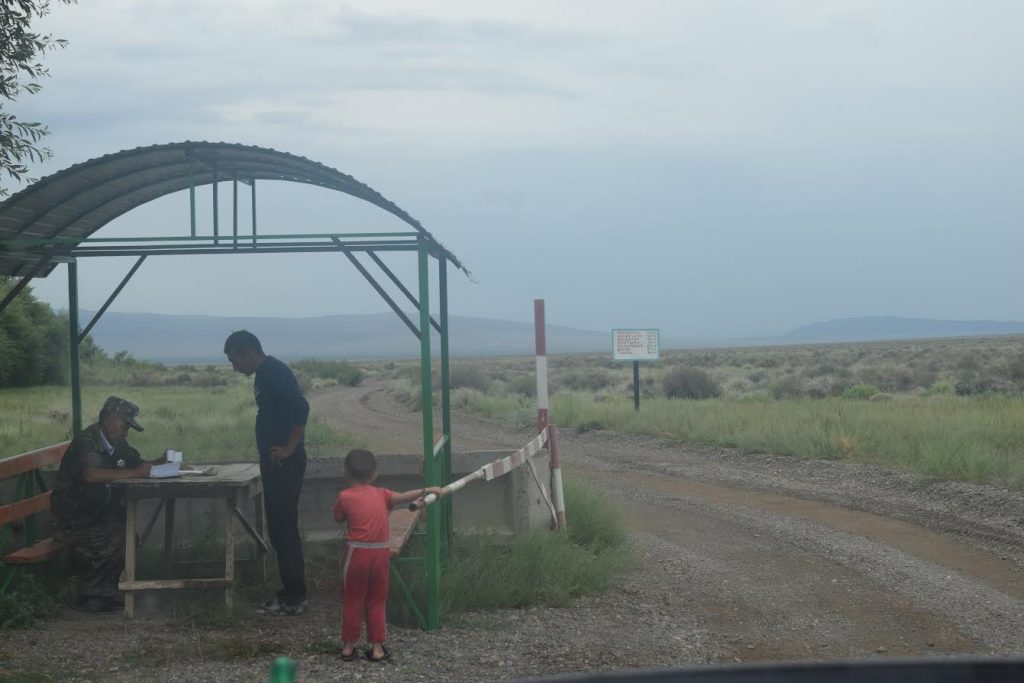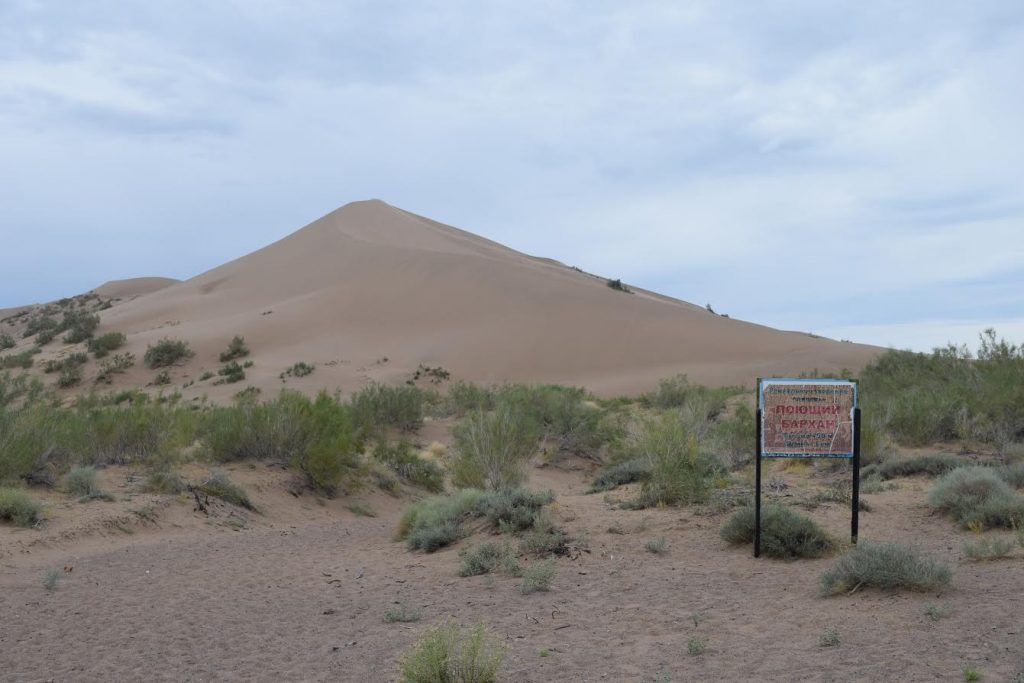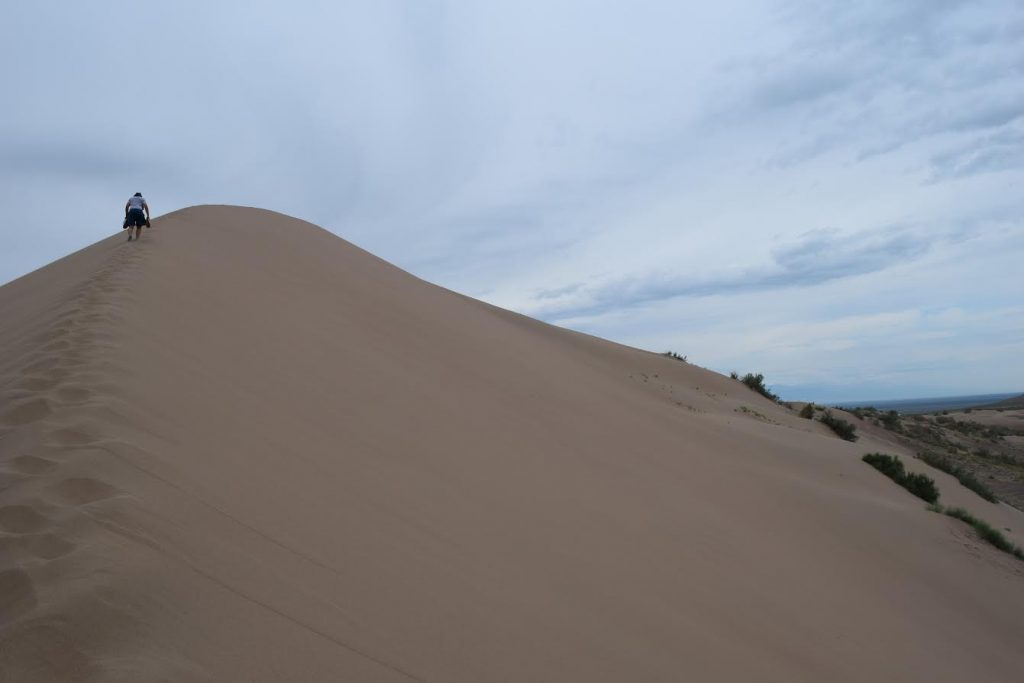 The Singing Sand Dunes consist of three big sandy dunes. They are described as "singing" because, when the weather is dry and the wind is strong, the movement of the sand produces sounds of various music instruments. Marco Polo also refers to this strange phenomenon while passing through the Taklamakan desert of China. Modern Kazakhs claim that medieval warlord Genghis Khan is buried under these dunes. For me, it was a unique experience to visit this place. I climbed to the top of the hill and enjoyed the view.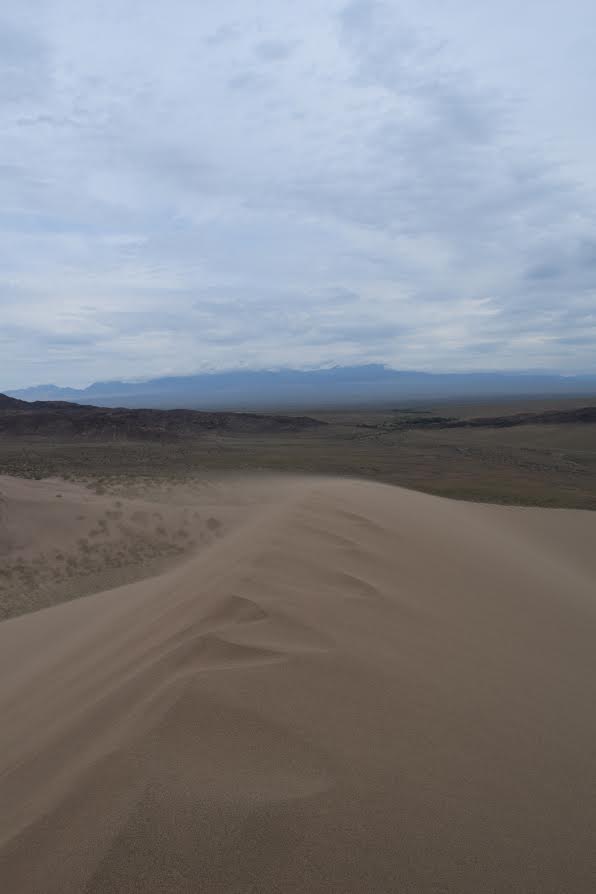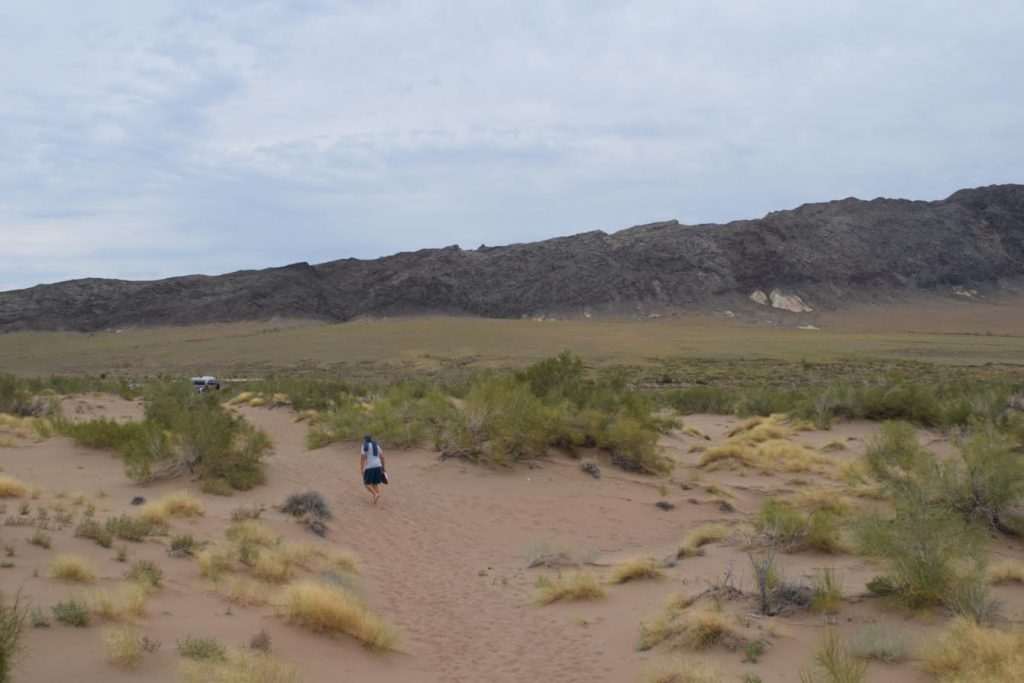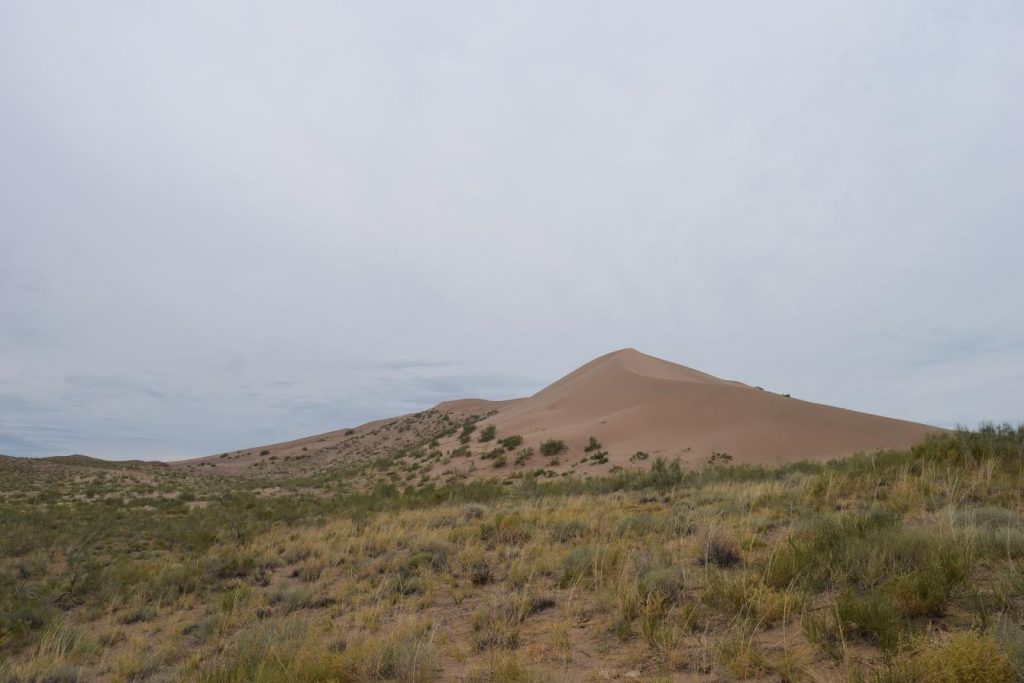 Nearby there was another not so exciting historical monument. What's so special about the three stones? Modern history researchers claim that Genghis Khan stopped here centuries ago, while he was on another war campaign, and requested from his soldiers to put a huge pot on the top of the three stones in order to boil some horses to feed his his army well. Tough guy!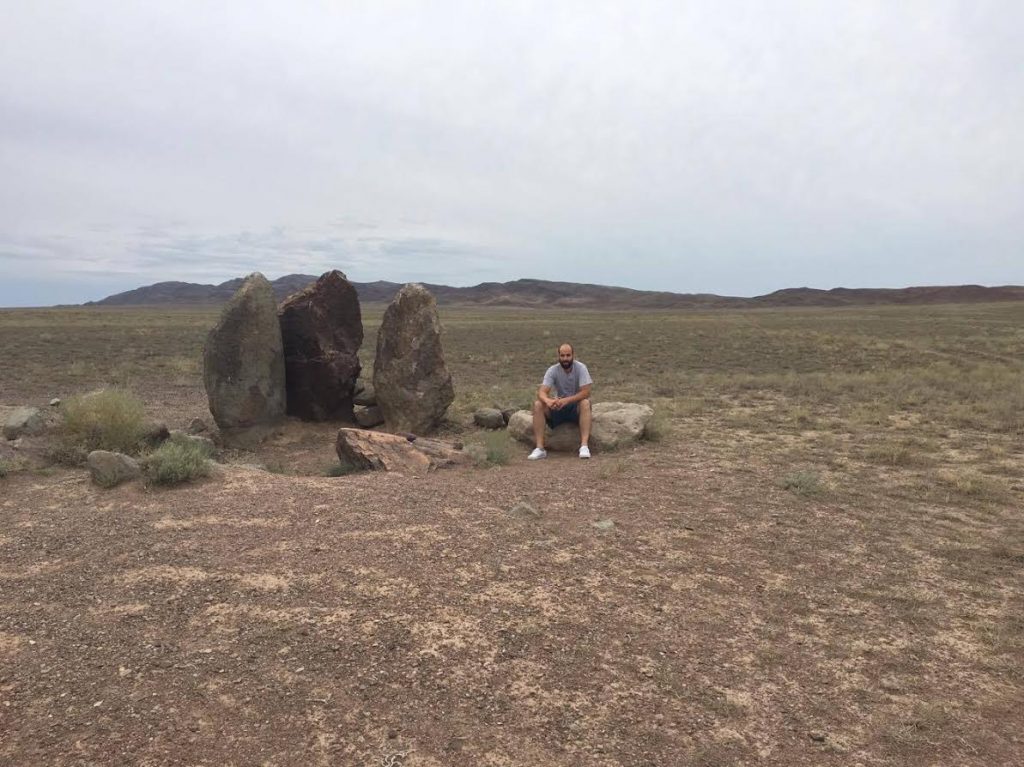 The next morning we woke up early, drank a cup of tea, left our hostel and we headed east to meet the little brother of Grand Canyon, Sharyn Canyon. This place was so imposing, the pictures just don't do it justice.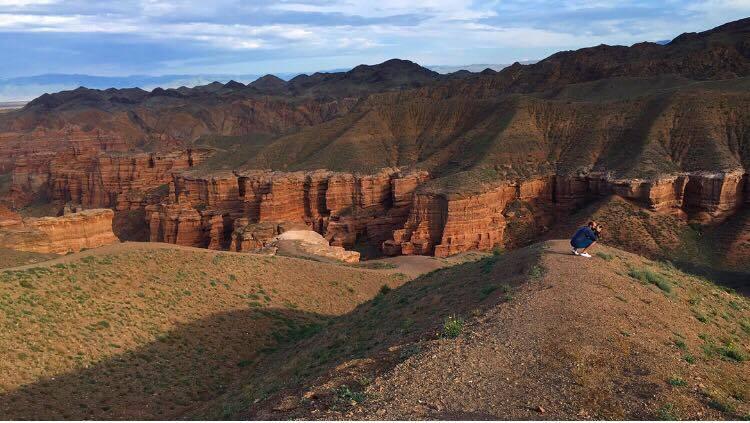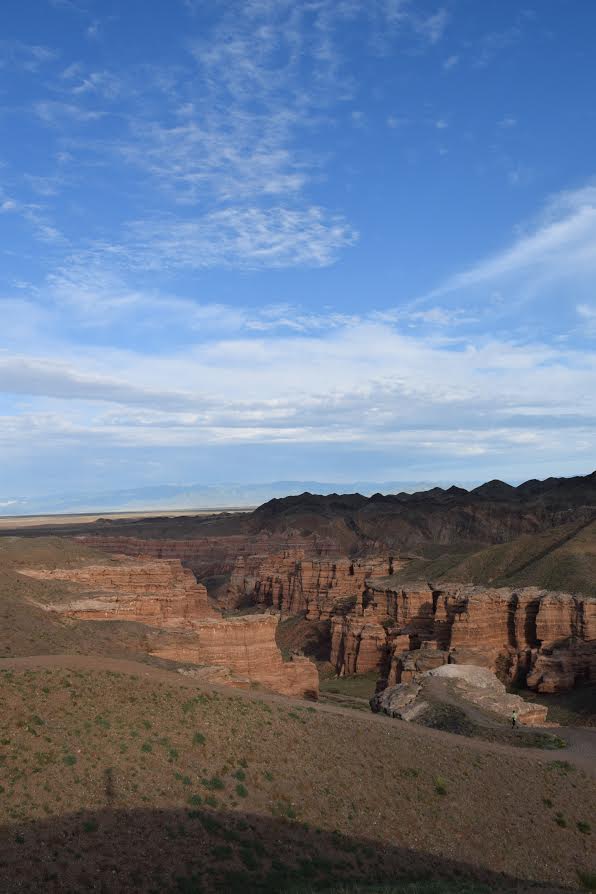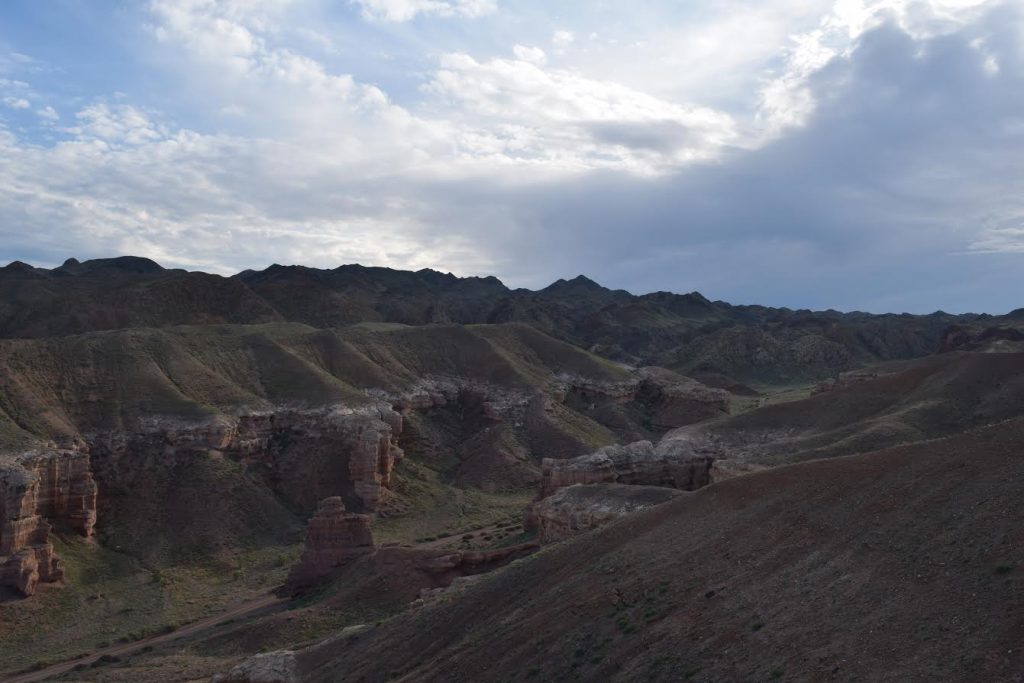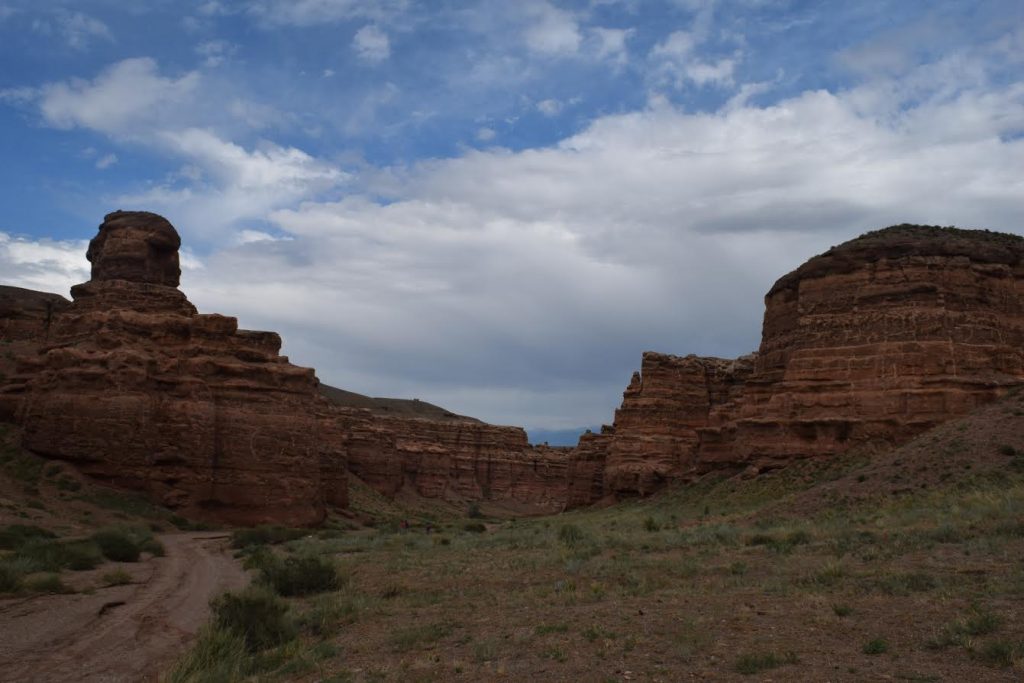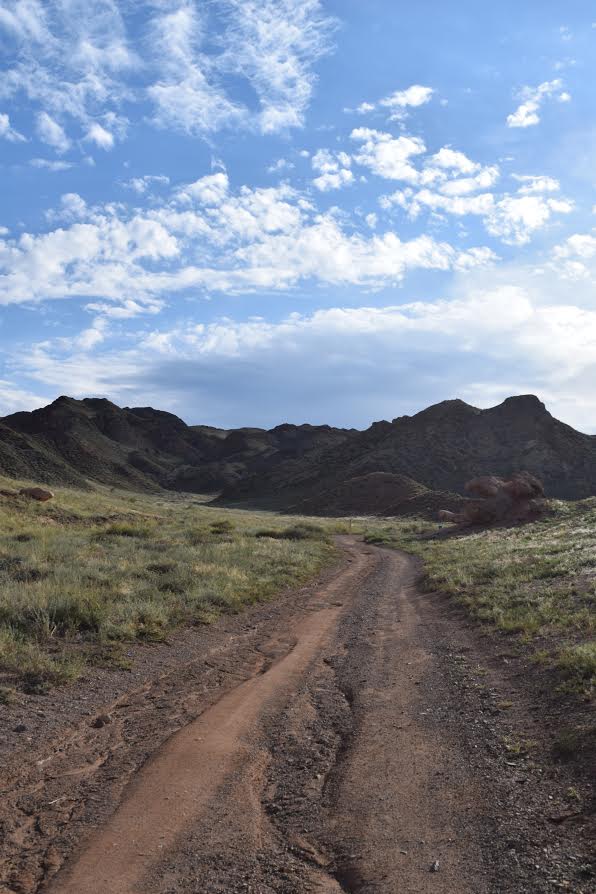 In Sharyn Canyon we met a lot of people coming from various countries. There were also a lot of bikers who had pedaled hundreds of kilometers to arrive at the canyon and camp over night. Way too adventurous!
And then, it was time to head to our last destination, Kolsai Lakes.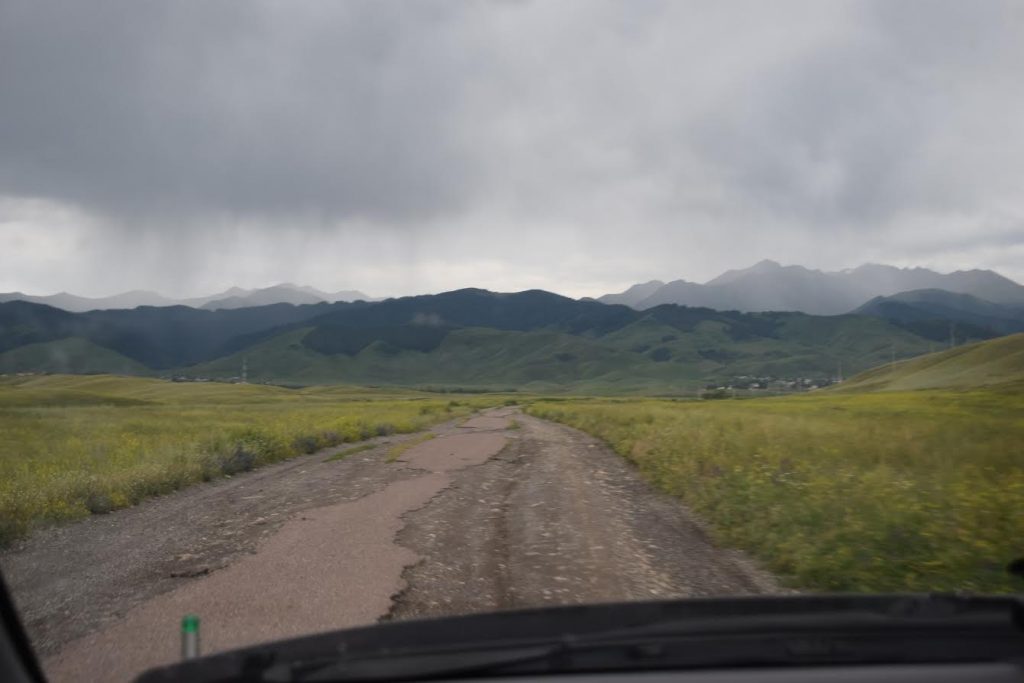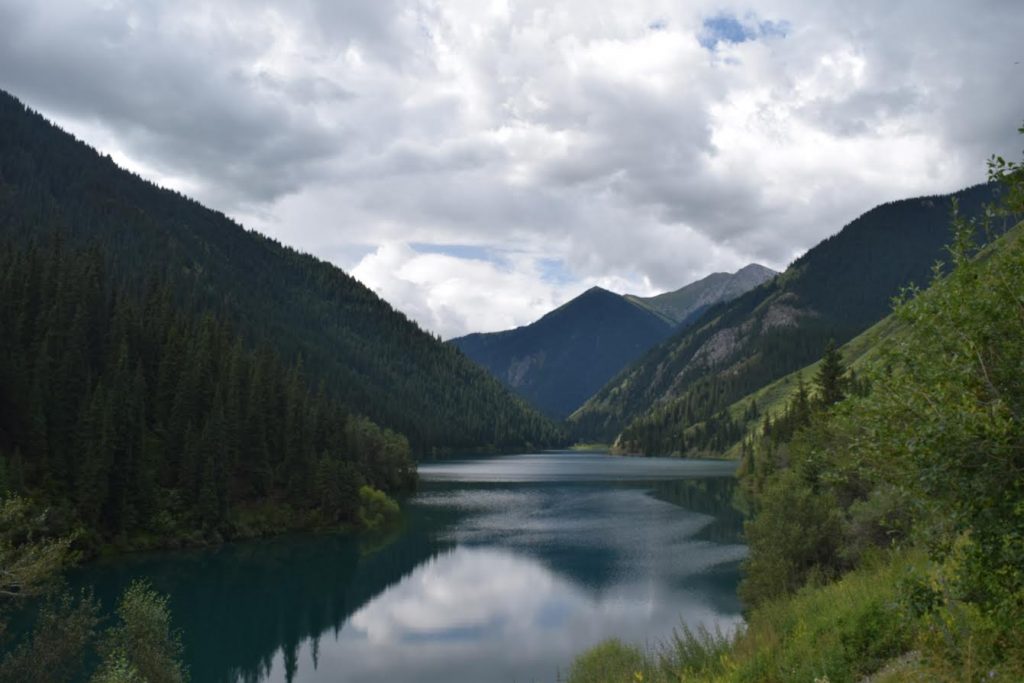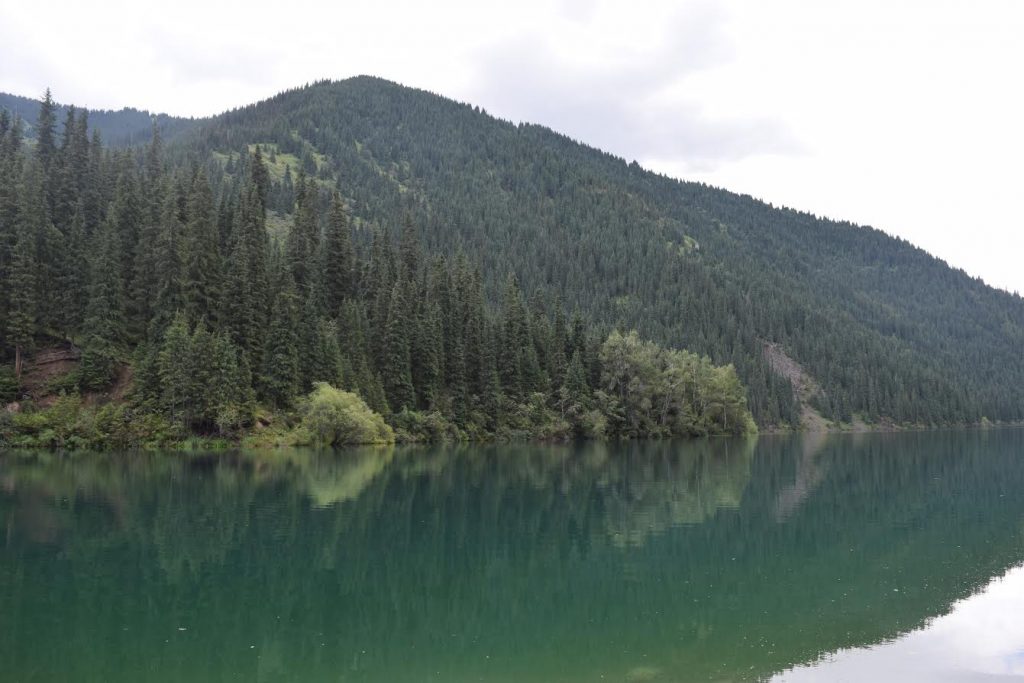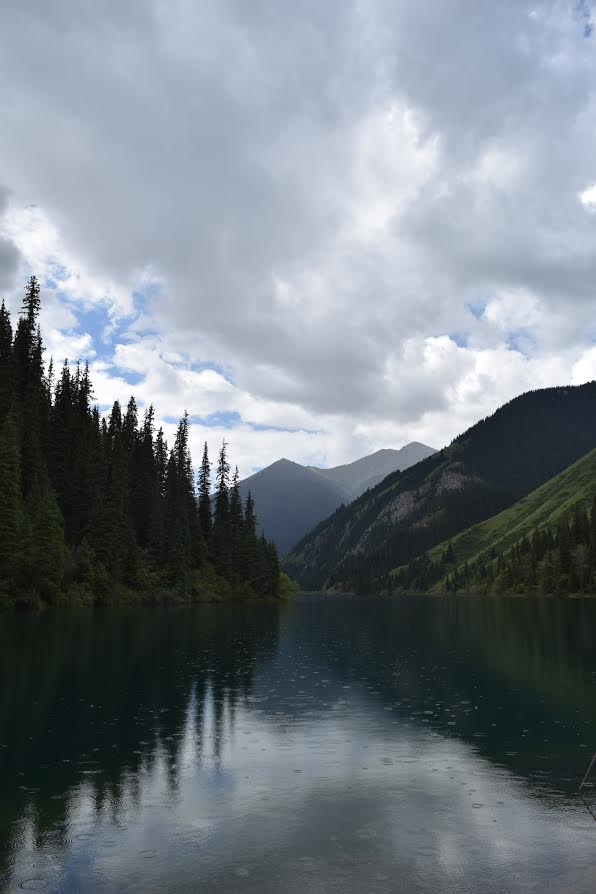 No, these pictures were not taken in Canada, they were taken in Kazakhstan! Pure natural beauty at its finest!
The three days of touring around Southeastern Kazakhstan were an experience that was very special, as I feel that the sights that I saw helped me re-examine the way I perceive a lot of things in my everyday life. While passing through remote villages I saw so many families living in hard conditions and many children playing around, not carrying much about their future Bachelor or Master degree. They were not using iphones or tablets to communicate and capture the moments of their everyday life. They were riding horses and donkeys and they were responsible for dozens of sheep. And even though they had no luxuries…they were happy. We had the chance to stop in some of these places and honestly I can't describe how excited and welcoming they were when they saw us foreigners. The girls kept persistently looking at Dimitra's earrings while the boys were curious to find out how the hell I am having such a big beard.  And even though they couldn't speak English they were trying to communicate with us by making signals with their hands. For me, some of these moments were really precious and I would not hesitate to describe them as life-changing, as they make you appreciate every single thing that you have in your life and stop complaining for insignificant things.
Being exhausted after that long tour it was about time to head back to Almaty, straight to the airport to catch our evening flight to Kiev. It was a long 6-hour drive to Almaty but we made a few stops to check out some more beautiful nature sights.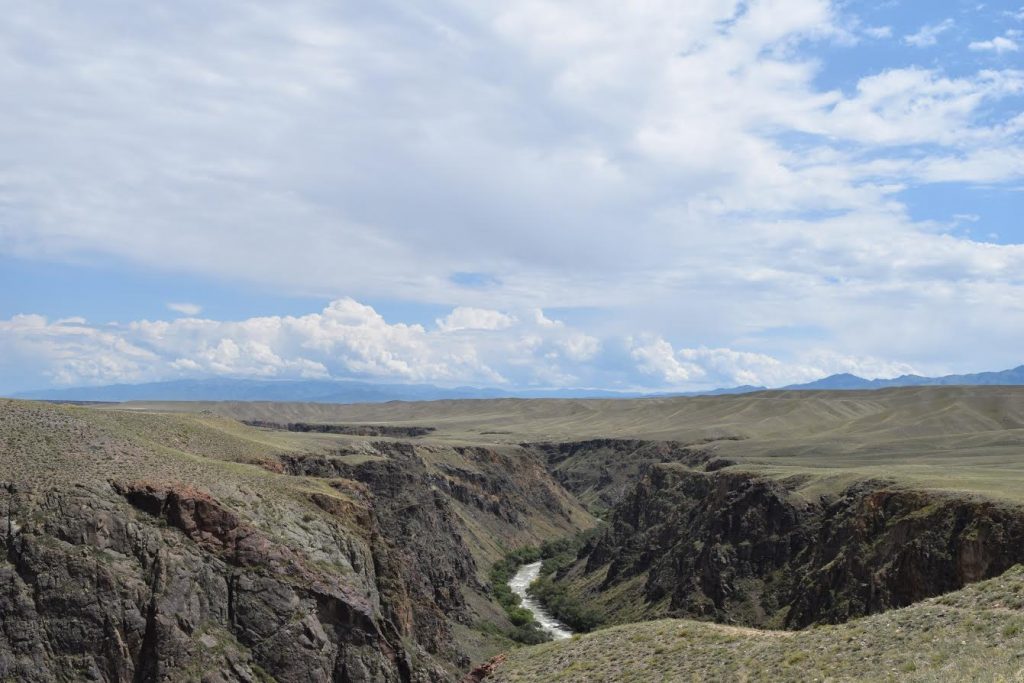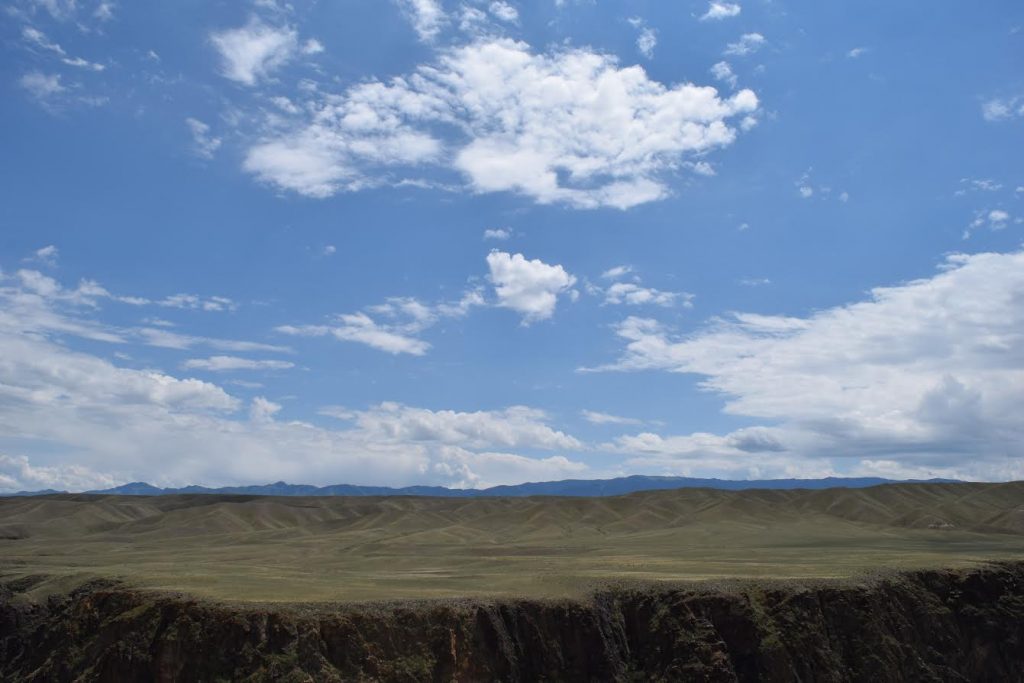 Having now returned to more familiar territory, I am still being asked relentlessly the same question: "Why did you decide to visit Kazakhstan? Was your choice even safe enough? And take your younger sister with you to such a far away place, are you crazy?".
Very difficult, perhaps impossible, to fit it into words what I saw and lived through in those two weeks away from home, lost in the middle of the Asian continent. Kazakhstan is huge, endless. The gaze of the traveler can get lost in the vast steppes of the countryside while it also can get excited being around impressive modern grand architecture building in the capital Astana. Traveling here can flood your soul with contradictory feelings as the images alternate rapidly in front of your eyes. Buzzing cities, silent villages, silent steppes, etc.
But what if someone just asks: "So, what is Kazakhstan and which one is its true face?" To me, Kazakhstan is its people. These people that you really want to get to know, and in order to achieve this you need to look into their eyes and understand their broken English to sense their strong love for the traditions, the manners and the customs of their country and the strong ambitious spirit that pervades their soul.
When I visited Nazarbayev University and I had the opportunity to meet and talk with some local students I must admit that I felt a bit weird. I was moved. It was easy to detect their deep desire to develop their country and to give Kazakhstan a higher profile internationally. But what struck me more was that they are totally dedicated to their aim and that they don't perceive it as something simple but as a "holy cause". No, not related to jihad at all. Just a sheer drive which resides in the soul and in their minds that makes them work very hard to accomplish this.
It would be a great omission to forget to mention the tough Kazakh men of the countryside who with so much mastery tame their wild horses. And the Kazakh women who with so much patience and dedication are preparing the wonderful dairy products and ensure the healthy upbringing of their children. I feel lucky to have had the opportunity to escape for a while from the conditions of the contemporary times and with the help of the images that I saw in the villages of southeast Kazakhstan to "travel" half a century back, when things were perhaps more pure. Again I started to wonder if people living in these harder conditions not burdened with luxuries of the modern world we take for granted…are ultimately happier…Who knows…
I believe that our experiences are the ones that shape us as individuals. "It is beneficial to travel to many cities" wrote the Greek writer Plutarch in his "About children's education project" wanting to highlight the value of travel and its benefits in the cultivation of the soul and the human mind, even from childhood. In the case of Kazakhstan, the benefit comes from the various images that your eyes are observing non stop, the oriental sounds sweetly assaulting your ears and the countryside fresh air that is hitting your face and gives you an incredible sense of freedom. Of course, all these wouldn't have been that valuable or special if it was not for the Kazakh people offering us their warm and truly genuine hospitality and their sincere efforts to present their country in the best way possible and ensure we enjoy it and tell others to visit too.
And this marks the end of our trip to Kazakhstan. Thank you for reading my first trip report.
Nikos Papadopoulos is a private elementary school teacher in Larissa, Greece. His passion is traveling. He has already traveled to many European countries and has been to Japan twice. His favorite city is Istanbul and he would love to live in Kyoto. He is still searching for opportunities abroad to utilize his skills, visit and live and work in other places of the world, practice in writing freelance work and in general to gain new experiences.