We bring you a new website Layover Ideas, read up on World of Hyatt confusion, visit the best Caribbean adults only resorts, check out all male Hooters, compare the new UBS premium card to the Chase Sapphire Reserve, travel in style to Bora Bora on a sweet private jet, travel in drenching sweat in a bus with no AC to a village in Burkina Faso, check out some awesome maps and we catch up with them bloggers.
TBB Blog Mission: To Entertain. Educate. Inspire. In That Order!
If you enjoy my blog, please pass it on to someone you care about so they can enjoy it too. I focus on content here and the blog mission. Big time bloggers and in conferences tell me to focus on SEO. Maybe one day I will get over it and learn about it. Until then…my readers are my SEO #keepingitreal.
I was going to save this for a weekend edition of TBB but, you know, why make you wait? Give LayoverIdeas.com a click and tell me what you think. What a great idea! Looks like a keeper (HT:JohnP).
UBS Visa Infinite vs. Chase Sapphire Reserve. Always solid info at commercial blog MileCards.com. Amazing how you can educate readers while treating them with respect while others pump & aim to convert them to oblivion in every post!
This made me laugh: The World of Hyatt Is the Confusingist Award Program. Confusingist here and, in the comments, reader Mileage Update mentioned Exhibitionist status…Oh poor World of Hyatt, what were these guys thinking? When I check in next to a Hyatt, I will find the most attractive female agent and just be direct: "Globalize me"…Woohoo! Ok, lets get serious now…I think the article nails what's wrong with this program!
Best adults-only all inclusive resorts in the Caribbean. Not an AFAR list. Some of these look really nice. But, you know. like all you can eat buffets…they are probably not the best idea for me.
Well, why not, nobody blogs about this stuff, so here we go: An All-Male Hooters: At Tallywackers In Dallas, Beefcake Is On The Menu. They specialize in, cough, hot dogs 🙂 Actually, I think it's a great business idea. Hope they…last 😉
The fiduciary rule is starting June 9. After it got whacked through several rounds of lobbying pressure that is. Until they kill it. I can't believe it in 2017 we can't pass a law to put clients' best interests first, WTF! Four Ways Retirement Saving is About to Change.
If you guys click on my links…I promise I will go and do a trip report of this: Deer Jet 7-night Dream Journey to Tahiti aboard the first custom Boeing VVIP 787 business jet. Lets do this readers, together we can change the world. And then I woke up, it was such a nice dream!
We'll go from an ultra luxury private jet ride all the way to the St. Regis Bora Bora Presidential Suite to southern Burkina Faso aboard a truck  with no AC and over 100 F degrees visiting the painted village of Tiebele with GlobalGaz. I like both environments 🙂
Mesmerizing maps show the biggest risks to humanity. These are. You won't believe what you will see, these will shock you! 🙂
BLOG BUZZ
This section is for advanced level hobbyists and veteran blog readers & personal rants & stuff
We don't know for sure what is going on with bank credit card offers. Unless we have an insider or you are so in bed with them they give you a heads up a few times so you can sell more of them to your unsuspecting readers who don't know much better (looking at TPG). Anyways, this is good info: Citi Has Removed The Hilton Cards From Their Website – Should You Apply Now? Sadly (for me, I am used to it), both of these cards are not available right now with my links.
To the four of you who applied for credit cards on June 5, you have all been approved! Starting the month with a bang, thank you for your support. When that happens…I smile more because I can see Ingy's face wondering how in the world this is even possible with your low credit scores lol. Add them to the Amex Blue Business Plus card Mrs. TBB got already and I am already halfway through the monthly quota, woohoo! And I just applied and was approved for mine today as well. These cards are a keeper (no annual fee, 2 MR points per dollar on EVERYTHING up to $50k per year and does NOT count for Chase 5/24 restriction!) and I will be canceling our Amex Everyday cards tomorrow (to free up a slot). I was getting to be a little rusty out there, good to be back 🙂
Well, after screaming from the rooftops that Plastiq was giving 3 points per dollar with the Chase Sapphire Reserve…guess what happened? It never ends… #dealkillings
I was at a CPA conference yesterday. They make me take 8 hours of Accounting & Auditing CPE every year. Even though the one audit I did ever was in the early 90s, WTF! So, I had some time to catch up on some reading and made some comments on my blog, see "TBBTheDude" and "TravelBloggerBuzz"…that's moi!
That Starbucks deal earning 250 Gold points (two free drinks) by loading $10 with ChasePay I posted a day ago…worked beautifully. Got me a super VentiOcho Macaronada Loopy Latte with extra shots of Kiwi and Tutti Gellatio. Light of course. 🙂 You won't believe what I order next!
Ok, the patented pic with the "gems" pumping away…smh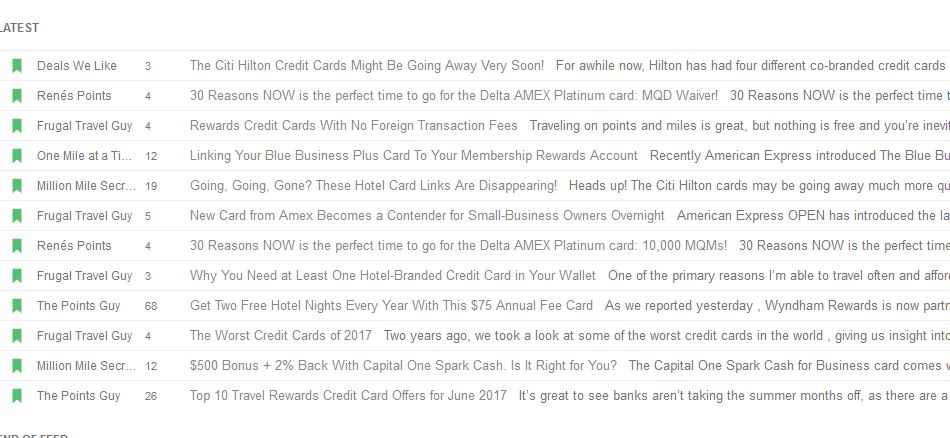 And I leave you with this…Actually, this is not that funny. Watch your elderly parents and relatives, they have a bull's eye target on their backs from scammers!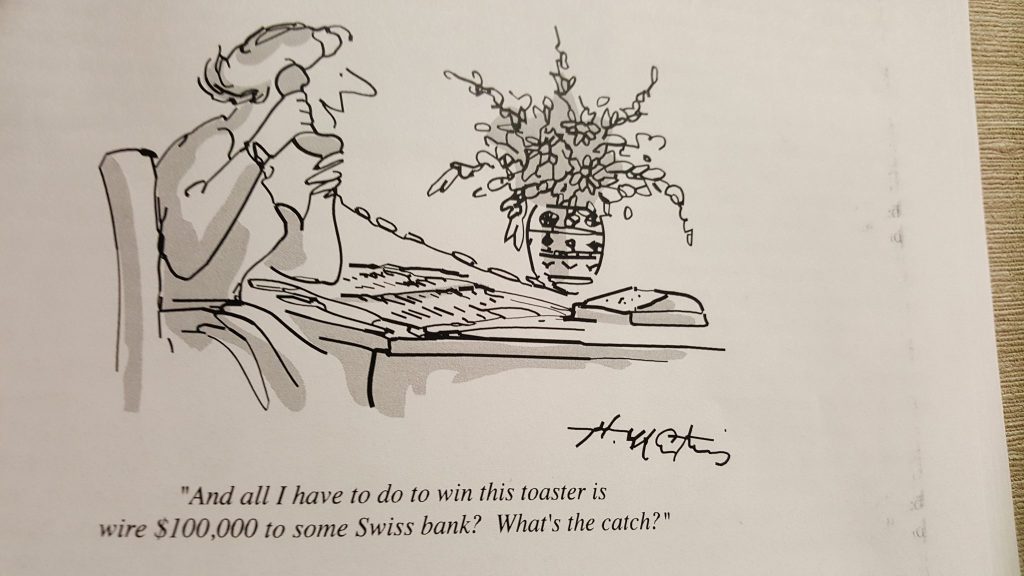 Check out my updated blog lists: Blogs I Love, Blogs I Like, Blogs To Ignore
TBB
travelbloggerbuzz@gmail.com
Follow TBB on Twitter @FlyerTalkerinA2
You can subscribe to TBB below, winners only!
Opinions expressed here are author's alone, not those of any bank, credit card issuer, hotel, airline, or other entity. This content has not been reviewed, approved or otherwise endorsed by any of the entities included within the post.