We bring you the new Amex Hilton cards FAQ, learn about United's growth plan, how annuities suck, Singapore KrisFlyer guide, how the media landscape looks like, learning more about how to use your Alaska Airlines miles, riding a totally insane wave and much more for you freeeee!
TBB Blog Mission: To Entertain. Educate. Inspire. In That Order!

Update: Going forward, this blog will publish three days a week, Monday-Wednesday-Friday. That's the plan anyway #developing #evolving
The fact that I am at a conference learning and having fun, in addition to the beginning of tax season upon us, may have something to do with it. Along with the promise to my wife that this blog will do exactly that if the plastic clicks hit less than the minimum (10 per month) three months in a row (ditto). But I got her to let me come back every weekday if they hit 10 for a month, lets do this you guys! 🙂
Knowing my track record here…I will check every day though…you just never know when I will feel the need to blog it out 🙂
This is good and honest advice, give him some support clicks too!  New Hilton American Express Credit Cards FAQs: Points Bonus, Elite Status, Lounges, and More. So different than all these credit card pumping machines who will never tell you NOT to apply for a credit card that pays them sales commissions! THINK!
Tell me a better blog for beginners and great affiliate linking practices? I am waiting…Will likely be back in this list soon…
We all know about Amex's ridiculous "once per lifetime" signup bonus policy. But try this to see if you can get around it. Then again, I have found the Amex chat reps not to be relied upon for, well, almost everything so ymmv.
Stop reading self proclaimed travel thought leaders when they are in fact credit card marketing leaders instead! Go a real travel thought leader instead for aviation news. If you are interested to learn about United's new domestic growth plan, read THIS post by the Cranky Flier.
The 5 Best Places to Hike in Japan. Just in case you want to.
This is totally INSANE! Surfer rides a wave 115 feet tall.
Your personal finance fix of the day:  Retired and considering annuities? Wait! You have been warned!
Who owns what in Big Media today:
Awesome indeed!  People That Live to 100 in Barbados Get Their Own Stamp and that's Awesome.
BLOG BUZZ
This section is for advanced level hobbyists and veteran blog readers & personal rants & stuff.
For Best Offers credit cards, click HERE
Another great post by Seat 31B. This guy is on a major roll lately! Flying Alaska Airlines For Fewer Points. Must read.
Excellent guide of the Singapore Airlines KrisFlyer Program.
When you manage to book a trip with miles and points for six to Managua. Sometimes stars do align!
Back being a fan boy of Autoslash. Got car rental from $199 to $77 all-in. Canceling and rebooking on Priceline with the links they provide is very smooth!
Please don't laugh. I started back again my trip report of my Iran trip. Last time I had stopped when I landed in Tehran. Now I managed to write (and add pics) of my way through the airport and to the hotel and crashing that first day. I will continue after I got up to hit the town at night 🙂 I am the world's slowest trip report writer WTF! Then again, you do not come here for the trip reports 🙂 #patience #oneday.
What my eyes see every day for you guys? Can you tell there must have been a juicy commission to the bloggers on that underwhelming Capital One card?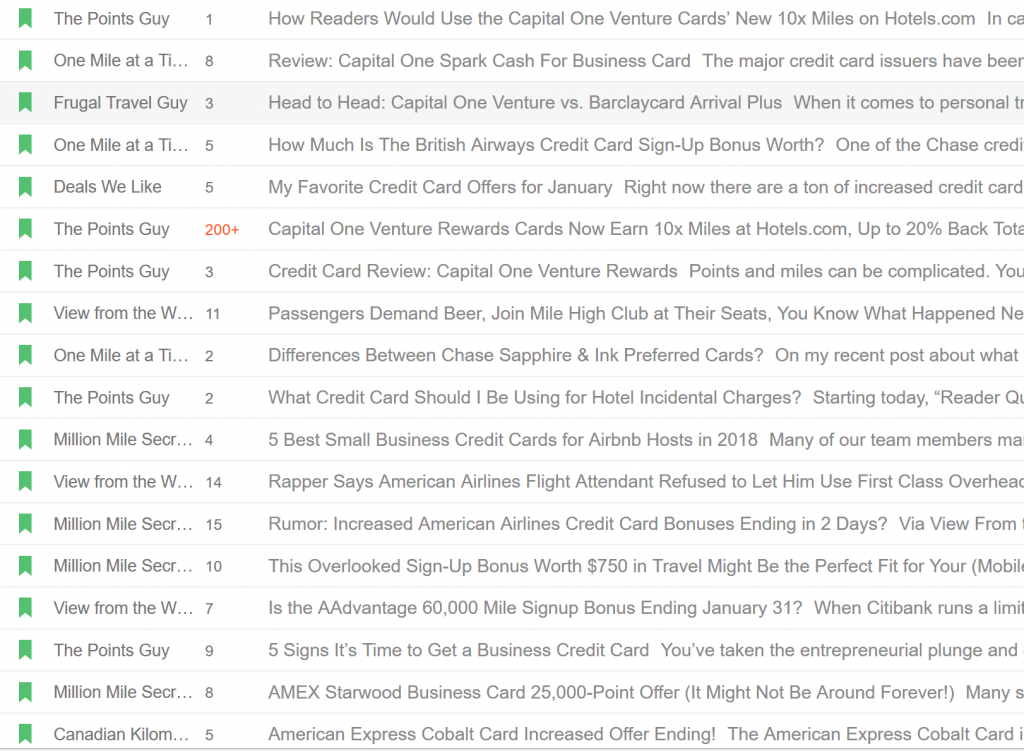 And I leave you with this…cuteness alert!
TBB
travelbloggerbuzz@gmail.com
Follow TBB on Twitter @FlyerTalkerinA2
You can subscribe to TBB below, winners only!
Opinions expressed here are author's alone, not those of any bank, credit card issuer, hotel, airline, or other entity. This content has not been reviewed, approved or otherwise endorsed by any of the entities included within the post.