You learn everything you need to know about the glorious Southwest Companion Pass, the US Airways awards you should look to book soon before they go away, read an interesting scenario about lying for upgrades, visit Armenia, marvel at my dream car the new Ford GT, and we have links for new direct Marriott & Amex Gold Card Offers.
TBB Blog Mission: To Entertain. Educate. Inspire. In That Order!
You can support TBB by shopping with our AMAZON AFFILIATE LINK or click on the Amazon Banner on the right side, thank YOU!
Everything You Ever Wanted To Know About The Southwest Companion Pass  –  Doctor of Credit    Stop reading all the blog posts with the endless $$$ links on this topic, they suck anyway. This is all you need to know!
US Airways Awards to Book Before the AA/US Merger  –  Miles Remaining    Going, going…You don't have much time left for these, burn, burn, burn…or they become AA miles…which is fine I guess.
Is lying to get an airplane upgrade so bad?  –  MarketWatch    Moneyologist answers a question about lying to get an upgrade to First Class. Hmmm…Interesting story here. It involves carrying a walking stick…oh my. Confession: I have had wedding anniversaries at hotels a few times 🙂
This Video Of The Largest Breakage Of Ice From A Glacier Ever Filmed Is Absolutely Frightening     This video is from the documentary "Chasing Ice" which I wanted so bad to watch but somehow never managed to do so. It is breathtaking to watch!
Picture of the Day: Winter at the Wiesen Viaductn  –  Twisted Sifter    What a pretty landscape, reminds me of Ann Arbor…like right now!
An Armenia Retrospective – And An Inspiration  –  Seat 31B    Post links to a fantastic trip report posted on FlyerTalk. Give me stuff like this and let the Titans stick their caviar and Krug…wherever they want, we don't care!
24 Awesome Cars You Can't Miss At The Detroit Auto Show    I LOVE the new FORD GT. Hope we get an employee discount and the only way I can get it is if every reader got every credit card from me and did online shopping at Amazon for…several years. I like impossible goals. LETS DO IT YOU GUYS!!!!
The Basic Simple Truths of Investing  –  The Big Picture    This is excellent, must read. I could have written this…but I didn't as I was busy with all the fantastic blogs at Boarding Area…cough 🙂
8 Things Happy People Do Every Morning   – Mind Body Green    This is for the inspiration part of the TBB mission. I should add #9 "Checking Twitter every morning at Panera drinking hazelnut coffee".
BUZZING IT UP:
I am adding again this section with interesting developments in the blogosphere & personal stuff. Please note that this section will generally NOT be for new readers in the hobby! So far the main "negative" rant will appear in the Blog Buzz once a week…if we can get to it as the plastic pumping is totally out of control!
Apparently it looks like so many Titan bloggers who are in bed with Hyatt are being fed horse food. It appears there is no Diamond challenge anymore…or whatever they call it. Or maybe it is for certain people. When you email them to enroll, the Hyatt Gold Passport reps are just clueless and get back to you with a canned response saying NOPE. It is funny how some of these "connected" bloggers who pass as experts broke the news to us how this program was "enhanced" after they repeatedly blog to death this "deal" and then…SILENCE. So watch out where you get your travel & miles/point fix. We are proud we have not been offered anything yet…maybe it is because we are not Titans or, more likely, nobody knows we actually exist lol!
Reader BOP (Best Offers Patrol) let me know of this 70k Marriott offer in the comments in yesterday's blog post. And he did a summary of the best credit card offers appearing in my glorious Credit Cards tab, thank you! If you have any corrections to it please let me know. I may throw it back in the comments again today hoping for a click. Hey you can be FIRST this week 🙂
Another direct offer from Amex for 50k Membership Rewards Points for the Amex Business Gold Rewards Card. If it does not come up keep clicking, use other browsers, do the cookie thing or the benito thing (or incognito or whatever that is called).
I would not be shocked if Delta Points contacted Miles To Memories expressing his feedback on how amazing the blog is and how wrong I was. All I can do is just giggle.  Update: See Post #61  I.Am.Buzzard!
I am expecting a post at Million Mile Secrets about how to use a walking stick at the airport, after of course making some quarters hijacking some carts and flashing some cards to cut in line! Yes, I am still blown away by that "inspiration" incident yesterday! Should I send you all a survey pretending I want to hear your feedback whether to start using my own direct affiliate links next? 😉
Where is Steve? And harvson3? I don't care where Rick is but I sure would like an update on the TBB Alexa rankings you know lol.
Son may enroll in a University of Michigan camp geared to incoming freshmen that takes place when we were planning to be in Greece….so that first major miles burn is likely not going to happen. Thank you for your understanding, you know how much this hurts!
My wife in Facebook posted this picture of our daughter from several years ago which I had totally forgotten about. It is one of my favorites!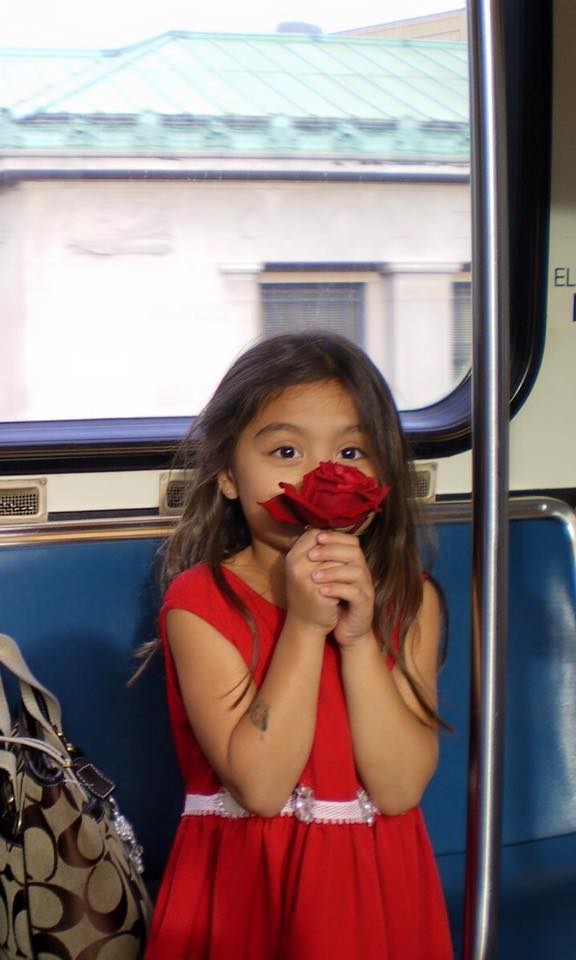 Check out my updated blog lists: Blogs I Love, Blogs I Like, Blogs To Ignore
Thank you for reading and supporting my blog! Please pass my blog link to your friends and family if you think they will enjoy it too.
TBB
travelbloggerbuzz@gmail.com
Join over 3,358 TBB followers on Twitter @ FlyerTalkerinA2 and add TBB on Google+