We bring you all the summer flights to Greece from the US, visit Portugal & Mexico, maximize your Hertz Gold Rewards points & much more!
TBB Blog Mission: To Entertain. Educate. Inspire. In That Order!
This site is

ad free

! You can support it by applying for CREDIT CARDS, consider doing your shopping with our AMAZON AFFILIATE LINK and clicking/forwarding any of our REFERRAL LINKS.
The juicy stuff is in the MILESBUZZ section below. Before that I try to keep it respectable and behave 🙂
Well, I like to take some time off in the weekends so I can recharge my TBB batteries. Meaning, the TBB Buzz post on Mondays is more miles & points oriented as we have some material coming from Friday, Saturday and Sunday, phew!
As so many of you are looking to visit Greece this summer, here are all the non-stop options for flying to Athens! Please go and spend some money, they really need it. Just when you thought it could not get worse…it did with almost 40,000 refugees stranded as Greece's neighbors closed the borders.
We get Part Dos on the new JetBlue credit cards. I would be more thrilled about them if JetBlue had more flights from Detroit and I had less miles in the bank. I guess when I run out they will likely still be there and maybe they improve the offers…
What Delta is saying about the future of SkyMiles. Be afraid, be very afraid…
Magical Portugal, an AFAR Travel Guide. Looks so nice…
Have you seen an ostrich run chasing after cyclists? Well, you can watch one if you click on the link. Wow, just wow, pretty amazing stuff!
Christian "prophet" loses his buttocks to an angry lion while trying to prove God would save him. Lol…I mean, you just can't make this stuff up…
A Retirement Cost Reality. Your personal finance fix of the day.
Amazing photos from Mexico. It is from the same guy who managed amazing photos from North Korea!
The epic collapse of American soda in one chart. Stop drinking this junk!
MILESBUZZ
We have an award price finder tool search comparison, interesting stuff. Part Dos is here. This is the killer app but so hard to pull it off because there is so much change going on with these award charts. And Delta even hides them now!
The new FU card is available! You will hear so much about it when bloggers get paid to sell it, I guarantee it. Until then, not so much. We never let that stop us from informing our readers!
And just when you think you knew everything about this miles & points stuff, a post comes out of the blue showing us something new. Like transferring Hertz Gold Rewards points to Southwest!
As you know, I really appreciate stuff that makes me laugh. I think this space is lacking some humor! I think lots of what I blog and whine about is about…stuff…that makes me laugh! And some misunderstand me that I am this mean guy. You should see some emails I get, I shake my head to oblivion! Anyways, DEM Flyers has a post up titled: The DEM Flyers "Swimsuit" Calendar and is full of their pics holding…credit cards. Hilarious indeed! Well done, well done. Clap, clap, clap.
The favorite charity of Frugal Travel Guy: Wounded Warriors. Mother frackers, 46% of their haul went to overhead, including high-end events and travel. Nice guys. Hey, maybe ask for a refund if you fell for the "donate part of the haul to Wounder Warriors" crap. Get angry, it's OKAY sometimes!
I unload on Twitter, trying to keep it entertaining and show everyone how the affiliate credit card money is driving your favorite bloggers. I could do this all day long but who has the time? So whenever I get on Twitter and see something I…react:
Like this or expressing my disappointment at Forbes, or these guys who make me smh repeatedly. Giving just 5 reasons to get the SPG cards is so inadequate! My eyes are rolling now. If you do the Friday MMS interview you lose a lot of respect from me, nothing personal. Never stop selling! Please someone attack me, like that Carson dude lol.
I'll give him a dollar…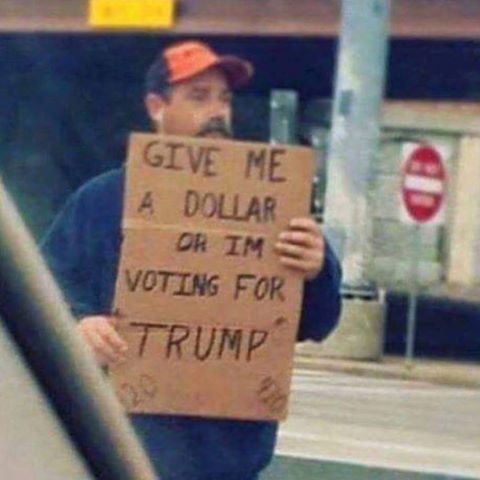 And I leave you with this…
Please help bloggers you appreciate & make a positive difference in your life by spreading the word about their blogs, emailing and commenting and using their few $ links, thank you!
TBB
travelbloggerbuzz@gmail.com
Follow TBB on Twitter @FlyerTalkerinA2
You can subscribe to TBB below, winners only! You can win a drone!