Another TBB post featuring the most eclectic links around the web such as tax havens, credit card recommendation flowchart, best water parks, transitory inflation, most beautiful places in the world, doing road trips, maybe remote works goes poof, Dogecoin creator rips crypto, the latest Covid numbers in the US, maybe the pandemic started in Italy, a beautiful short film, population changes in US states from 2010 to 2020 and a lot more, enjoy!
TBB Blog Mission: To Educate. Entertain. Inspire. In That Order!
Support TBB by applying for CREDIT CARDS or visiting our

LINKS

or Donate

You like my blog? Send a link to someone please!
TRAVEL
I used to take my kids to water parks and we all loved it! It has been a while since they grew up. 10 best outdoor water parks in the United States.
Are you into road trips? Did you ever want to do the ultimate road trip in the US? Well, this is for you: Computing the optimal road trip across the US.
Interesting list for sure: The most beautiful places in the world. This one may finally convince me to get to Seychelles and use some of my Hilton points and free night certs…
If you have been reading my blog for a while you know how much I despise clickbait and "shocking" videos. Well, I dare you to click on this link and if you are not shocked I will drop and give you fifty pushups pronto! This is not a time-lapse video. Amazing footage of a river of lava moving at an incredible speed captured by photographer Ken Boyer.
PERSONAL FINANCE
If you have been reading my blog for a while (wait, am I repeating myself?) you know I am not a crypto bro. And here comes the creator of Dogecoin in a Twitter thread that just rips it apart. Frankly, this shocked me! Just a few excerpts:
After years of studying it, I believe that cryptocurrency is an inherently right-wing, hyper-capitalistic technology built primarily to amplify the wealth of its proponents through a combination of tax avoidance, diminished regulatory oversight and artificially enforced scarcity.
The cryptocurrency industry leverages a network of shady business connections, bought influencers and pay-for-play media outlets to perpetuate a cult-like "get rich quick" funnel designed to extract new money from the financially desperate and naive.
One of the themes in my blog lately how the whole concept of work is changing in this new pandemic reality. Where the work is done more specifically. I think we are not going back to normal. But, then again, when Covid is behind us…will we all go back to the way it used to be? I wish I had a crystal ball, time will tell as it always does. Why Remote Work Might Not Revolutionize Where We Work.
Beyond remote work, there's the question of whether Silicon Valley companies will move more of their office work to cheaper locations. Moretti says they've been doing this for years — and, if anything, Apple has been an outlier in not doing it more. But Moretti believes the braintrust of the company — product design, research and development, and big-thinking business strategy — will continue to be housed in physical offices in Silicon Valley, where brainiacs can interact with other brainiacs. The gravitational vortex, he believes, is still spinning. And it will be centered in places like Apple's doughnut.
You should not be surprised US is at #2! The World's Biggest Private Tax Havens.
COVID-19
Here we go with Covid cases going back up again, when will this nightmare end? If you are reading this and you are not vaccinated, I mean, what are you waiting for? I still bookmark this page to keep an eye on the US virus developments, here is an Archive.is link to it. A state of the virus as of July 14:
Case numbers are climbing across most of the country as the Delta variant spreads among unvaccinated people. Arkansas, Missouri, Florida and Nevada are experiencing full-fledged outbreaks.
The country remains in far better shape than at almost all previous points of the pandemic. Deaths remain near their lowest levels since spring 2020, and hospitalizations are a fraction of their winter peak.
The vaccination campaign has largely stalled. About 550,000 shots are being administered each day, down from more than 3.3 million at the peak.
Well, let me be consistent then revisiting another theme in my blog. Like how and where Covid-19 started. I always thought that this did not excuse in any way the horrific way we handled it here in the US. And I always thought it may take some time to find out and maybe we will never know. And more than likely it came from an animal somewhere in China. I am NOT trying to excuse the pathetic way the Chinese authorities handled it when it broke out! Anyway, we will see what happens, time will tell eventually. But wait, maybe the virus was out there before Wuhan. Maybe it was in…Italy! Clues to Covid-19's Origins Include Anonymous Skin Sample in Italy. Yeah, this person can not be located, let's get your conspiracy theories going, sad lol. And this from the Wall Street Journal, you know, very anti Communist territory! Archive.is link. I have seen this before and to see it reappear in WSJ of all places…mind blown!
ODDZ & ENDZ
This is great: How the U.S. Population Has Changed in 10 Years, by State. Between 2010 – 2020. Most interesting: Michigan +2%, Utah +18%(!!!), Texas +16%, Florida +15%, Puerto Rico -12%.
What a sad story: The Hollywood HIV Doctor Who Was Secretly Peddling Eternal Youth. At some point this guy lost his way because, you know, greed!
For some reason I LOVED this short film: A little piece of earth. I always dreamed about doing something like this but no way it is ever going to happen because my hands can not fix anything. At all. Then again, how could I live without wifi? 🙂 Respect to this good man, what a life!
MILES & POINTS
HOT CREDIT CARD OFFERS: 100k CHASE Sapphire Preferred, 100k CHASE United Quest, 100k CAPITAL ONE Venture Rewards, 75k CHASE Ink Cash, 75k CHASE Ink Unlimited, 100k CHASE Ink Business Preferred, 60k CHASE Sapphire Reserve, 80k CITI Premier, 20k CHASE Freedom Flex & CHASE Freedom Unlimited, 150k CHASE IHG Rewards Club Premier (& a free night) and many more, including many American Express cards! Please check out my Affiliate links. Terms apply to American Express benefits and offers. Visit americanexpress.com to learn more.

If you do not see a credit card with my affiliate links, perhaps I could refer you? Contact me!
This section is about my hobby addiction of collecting frequent flyer miles and hotel points since the early 1990's! Feel free to skip this section and parts of the next one if this is not for you.
Newbies: The 100k Chase Sapphire Preferred card is now available with my links. If you are totally new and looking for a keeper card I think THIS is the card. Apply for it, get approved, do the required minimum $4k spend, get the 100k points signup bonus, transfer the points to United or Southwest or Hyatt or just cash out for $1,250 spend for groceries using the "Pay Yourself Back" feature assuming you do eat, right? For the annual fee of only $95, COME ON, do the math! Ok, here is the math: $1,250 – $95 = $1,155. So, if a bank offers you all this money what is your problem? Just ALWAYS make sure you NEVER EVER carry a balance ok? If you currently have the card, you can refer your spouse or significant other or third cousin or travel starved friend and you the referrer can earn 20k Chase points for the referral and the referred still get the full 100k bonus. You may even get the annual fee waived if you go inside a branch if you are that brave and have that much free time (this ends on July 17, hurry).
Newbies and the rest in this weird hobby: This flowchart is for you! Card Recommendation Flowchart. Save it and study it and make your plan to take money away from the banks. Just remember to keep your excitement AND spending under control so you NEVER EVER carry a balance ok? You are noticing a pattern here? Yeah, sadly, the ones who carry balances and pay obscene interest fees to the bank are the pour souls who are paying for us smart ones taking from the banks. Hey, it is what it is. I found the flowchart in this reddit thread. Again, looking out to educate the newbies, in that reddit thread link you can find some links on the right hand side under "BASIC READING". You know what to do if you are hungry for more. What you should NOT do is take advice from these blogs! If you did, well, we all make mistakes and learn from them.
I am not sure if the inflation we are seeing on pretty much everything is transitory or not but the 100k signup bonus offers currently being thrown at us sure is. And it will come more from the devaluation side sooner than we all expect. So maybe we are seeing the last gold rush era of this hobby as everything appears to go revenue based all around and award charts we can research the loopholes and pounce on them also disappear. So you can sit back and do what you always did. Procrastinate. Or maybe change yourself and attack. Or stick with your one reliable cash back card and keep your life simpler, nothing wrong with that if you are happy! I want you to be happy, these blogs want to sell you plastic because of how much money they can earn! You will not find me linking to these blogs like other blogs do. I do my thing my own way, je suis TBB.
One card offer going away on July 19: 100,000 Point Offer on Capital One Venture. Not for everyone, the link will lead you to a good write up on the card if interested.
If you are somehow open for Citi card slots, maybe the 80k Citi Premier card is for you: How I'd Use 80K Citi ThankYou Points – Maximizing the Citi Premier Card. Some of the uses in this post are for advanced hobbyists. But still, 80k is hard to bypass. You know, with so many 100k offers around, seeing the Citi Premier at 80k is a little exciting now. If this offer came out two years ago we would be all over it, how inflation has messed us all up lol.
BLOG BUZZ
We are now entering BLOG BUZZ, a section for advanced hobbyists and veterans of this fast imploding hobby and also a section where I go on and on about some stuff that happens in my life because it helps me feel better about myself.
I was hoping to have Hyatt give me AA Executive Platinum elite status as it did last year to all Hyatt Globalists. But instead we got kind of a dud: Hyatt & American Airlines offering fast tracks to elite status. I may even forget to register lol.
This link will show you all your AmexOffers.
A glossary for our hobby. I miss KATE so much lol.
If you do bank bonuses this is a warning about Citi. You have been warned!
Hyatt keeps adding SLH (Small Leading Hotels) in its World of Hyatt program. Another 32 joined this week. And the pictures of this one are great: White Coast Pool Suites in Milos island, Greece.
The AmexPlat offers out there are insane. But you would not know it if you read these blogs because they want to maximize their own revenue and ONLY push their own affiliate inferior card offers that pay them sales commissions while screwing their readers who of course are kept in the dark! Frequent Miler will not do that and THAT should count for something! Anyway, this is where I found the Resy offer for the personal Platinum for 125,000 Membership Rewards points and 15x per dollar earned on restaurants and small businesses in the first six months (up to $25,000). Son holds the Chase Sapphire Reserve and he wants to upgrade from a $550 premium card to a $695 card. Plan is to drop the CSR and then also go for the 100k CSP as it has been more than four years since a Sapphire type signup bonus. The bang here is on the initial 125,000 Membership Reward points and the huge 15x earn. Talk about inflation, we were always excited for 5x and then some 10x came through but 15x is WAY out there! We'll try to take advantage of as many credit/benefits as we can ($200 airline credit, I pay for my New York Times subscription as my handling fee for doing all this for him lol, get a "free" CLEAR membership, we'll try for the $200 hotel credit, of course the lounges, the Gold elite membership for Hilton and Marriott, and many more). Again, doing the math works for the first year for sure. We'll see about the second year and beyond….maybe son goes back on old business travel schedule #developing.
I replaced my old reliable Panasonic 50 inch TV I bought in 2006 for the World Cup and aimed to keep it for at least two World Cups. After four World Cups it was time! For the first time I connected a Roku device and may even watch Amazon Prime Video and YouTube stuff on it. Hey, I am slow when it comes to being high tech.
Will spend one day in Detroit this weekend. Eastern Market, River Walk, DIA if we have the time. Any places to eat you recommend? Meanwhile, going back to the day I ran my first Marathon in Detroit, I look at this picture and I am sad realizing I may not hit the same natural high again, boo!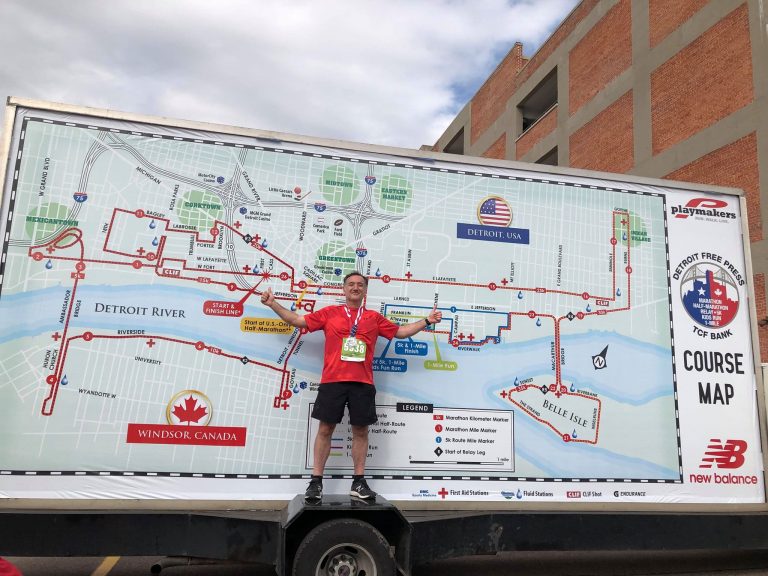 The Ann Arbor Art Fair is here. We will not have the DO again, it looks like all good things come to an end. This was my post about the 2016 meeting.
Let me leave you with this…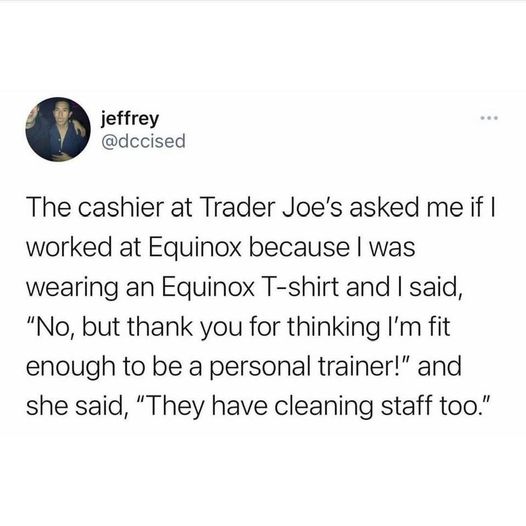 Thank you for reading my blog. If you enjoy it please pass it on to a family member or friend, thank you!
TBB
travelbloggerbuzz@gmail.com
Follow TBB on Twitter @FlyerTalkerinA2.
You can subscribe to TBB below, winners only!
Opinions expressed here are author's alone, not those of any bank, credit card issuer, hotel, airline, or other entity. This content has not been reviewed, approved or otherwise endorsed by any of the entities included within the post.