We cry all together over the apparent end of Redbird, checkout an awesome spending bonus list, learn of the Marriott Rewards changes, checkout Southwest Transfarency, visit some awesome tents & tree houses, ride with a Japan Rail Pass, shake our heads with some incredible beards & moustaches, enjoy the best beer bottles, and then I show how I burned over 1 Million miles & points again because I am an expert or whatever you call them bloggers in this space…
TBB Blog Mission: To Entertain. Educate. Inspire. In That Order!
You can support TBB by applying for CREDIT CARDS, please consider doing your shopping with our AMAZON AFFILIATE LINK and clicking/forwarding any of our REFERRAL LINKS. Or click on the Amazon Banner on the right side, thank YOU!
Well ladies and gents of The Hobby. Look for another hobby I say. Every hack is being killed left and right. The mega "hack" so many bloggers kept raving about, the one resembling a communist bird, you know, the Redbird at Target, appears to be dead. First, Miles to Memories came out with a good post on what to do and leaving some hope. Then Frequent Miler called it dead, cash only going forward and all, omg! Who the phuck would use this to load cash? Oh wait, don't answer that. It is like one of those historic days we lose one of our own. Just when we lost the Vanilla Reloads with CVS and I made THIS video in one take! I am way too busy to make another one so please amuse me if you dare! To feel better, just blame them asshole bloggers killing deals left and right, today and tomorrow blah blah blah. Update: We have a photo of the memo now!  Please, please, compose yourselves. Life will go on. Trust me or just get a CSP with my links bwahahahaha! Update: Target memo story was broken at NoonRadar, for the record!
Complete list of spending bonuses for credit cards. Awesome find at reddit.
50k Delta Skymiles if you never had this card before. Gold. (HT: MileCards)
There are some changes in the sucky Marriott Rewards program which make it just a tiny bit less sucky.
Southwest introduces Transfarency and Crankly Flier pounces on it. Key takeway: "Because when it comes to fees, Southwest is always the lowest. When it comes to the total cost to fly? Not so much."
Another set of awesome travel photographs from Matador Network. My favorite is the first one…from the Maldives…for obvious reasons, wow!
Another great list at AFAR, this one of tents and tree houses where you can spend the night. Some of them look so cool, you can have your Hyatt suite again #boring. Anyone been to any of these?
This is an incredible story of a young guy with a brain tumor that gave him amnesia and dementia. Then a surgery unlocked all his memories and they all came back.
My colleague takes down the pro active investment management arguments by a Goldman Sachs investment guy. It's awesome!
Well, I have not seen many Japan Rail Pass, Shinkansen, & Narita Express train reviews!
10 incredible home theaters you can buy for millions. I swear when I become a Titan I will invite you all as a humble thank you for making me a Titan blogger. Bwahahahhaha
The 2015 World Beard and Moustache Championship. You won't believe the pictures here, OMG! How do they come out? How many hours do they spend on this?
Ladies and gents, I present to you the ten most beautiful beers on the planet.
I went over 1 million miles & points burned this year, woohoo! To be more exact: 1,005, 704. And this is after burning more than one million in 2014. I went over the 1M mark after burning 15,160 Southwest points for a round trip between Detroit and Orlando for an early February conference. I then proceeded to burn 18,000 SPG for the Four Points by Sheraton Studio City where I usually stay every other year this conference is held in Orlando. For 5 nights. I made a rental car reservation on the Thrifty site after looking around a little bit (Orbitz, Hotwire, Carrentalsavers) and then fed the res # to Autoslash which already saved $7.03 less than a minute I fed the res # into it, wow! This hobby can get you some aspirational experiences but it can also save you some cold hard cash which…is addictive I must admit lol. To me it was and is about gaming it and see how much you can….win lol.
I am parking my cash from my rental property sale into Discover Bank for the 0.95% interest. They gave me a targeted promo for $50 if I open an account with more than $5k in it, I did not turn it down. I could have gotten some more miles with a brokerage company but then I would have to invest the dough but my primary goal is to keep it safe and liquid before I pay off the mortgage which was one of my main goals in life, be completely debt free by age 50 and focus on getting the kids a great education. I know it would hurt my credit score and my churning lol but I think I will eventually get over it 😉 Any ideas to whore that cash around please let me know. Please also be aware that Fidelity has banned me from getting any more miles with them because I overdid it years ago. And yes I 've tried, bastards they remember me…and my wife 🙂
And I leave you with this…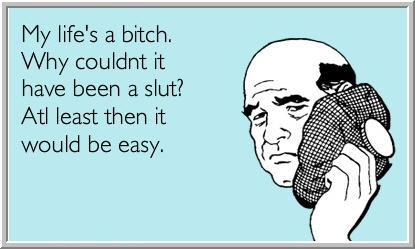 Thank you for making TBB a part of your life, I am honored!
Help bloggers you appreciate & make a positive difference in your life by spreading the word about their blogs, emailing and commenting and using their few $ links. Thank you!
TBB
travelbloggerbuzz@gmail.com
Join over 3,906 TBB followers on Twitter @ FlyerTalkerinA2 and add TBB on Google+