Happy New Year to all TBB readers! Wish you the best. Health above all!
TBB Blog Mission: To Entertain. Educate. Inspire. In That Order!
This site is

ad free

! You can support us by applying for CREDIT CARDS, please consider doing your shopping with our AMAZON AFFILIATE LINK and clicking/forwarding any of our REFERRAL LINKS. Or click on the ugly Amazon Banner on the right side, thank YOU!
After burning 1,053,524 miles & points in 2014, I managed to burn 1,266,596 in 2015. I have been doing this for over 15 years while some newbies have come on the scene and managed to become bank credit card salespeople selling a lifestyle they had never heard of until recently. Be careful out there, ALWAYS pay the full balance of your credit card bills EVERY month and enjoy while it lasts…which, save for a huge recession, is not going to be much longer.
The best is yet to come does not apply to this hobby #sosad so make the best to come elsewhere!
Keep rocking in 2016!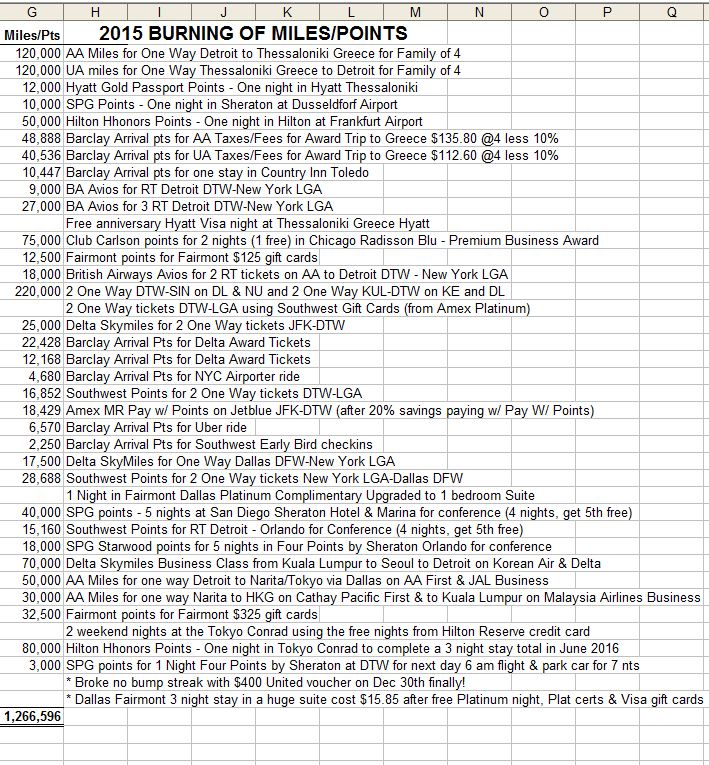 Thank you for making TBB a part of your life, I am honored! Help bloggers you appreciate & make a positive difference in your life by spreading the word about their blogs, emailing and commenting and using their few $ links.
TBB
travelbloggerbuzz@gmail.com
You can subscribe to TBB below, winners only!