The things we do using miles/points in this hobby allows us experiences like the ones I list below.
TBB Blog Mission: To Entertain. Educate. Inspire. In That Order!
You can support TBB by applying for CREDIT CARDS, shopping with our Amazon affiliate link and clicking/forwarding any of our Referral Links. Or click on the Amazon Banner on the right, thank YOU!
If you are a new reader please read how TBB managed to take a trip to Hong Kong using 227,750 miles & points and $0 cash out of pocket!
By the time you are reading this I should be back in US soil and probably in catch up mode at the New York City La Guardia's American Express Centurion Lounge! I am preparing this post at The Wing, Cathay Pacific's First Class Lounge in Hong Kong while waiting to board my flight to JFK in F…This was a pure George trip to burn some miles and take advantage of United's pre mega devaluation awards. I have been reading all these bloggers for years showing off it was time to experience this myself for a change. I would rather have my family with me but I think once a year doing a trip alone is good. This post is NOT about the destination.  As Frequent Miler says why take a trip in style?  Simply because…we can!
Top 10 First for TBB this trip:
1.  Flying Air France Business Class from Detroit to Paris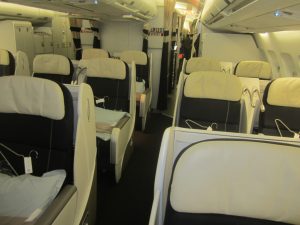 2. Flew first class on Thai Airways. From Paris to Bangkok. Loved it!
3. Flew finally the Airbus A380 on this Thai Airways flight. Yes it is an awesome plane. And the camera on it is awesome too!
4. Visited the super awesome Thai Airways Royal First Lounge in Bangkok
5. Got the ground treatment of Thai Airways F passengers in Bangkok. It was fun being driven by a buggy and sure beat walking after an 11 hour flight!
6. Got the famous one hour massage in the Thai Airways Royal First Lounge! Slipping into a tiny piece of cloth after told it was going to be served as "underwear" was a bit of a shock but got over it and managed to really enjoy it!
7. Flew First Class in an intra- Asia flight on Thai Airways from Bangkok to Hong Kong. It was on a 747-400 and the First Class configuration was incredibly spacious. Very unique!
8. I was given a private tour of the Presidential Suite of the Intercontinental Hong Kong hotel! Blown away. Totally LOVED my stay here!
9. Visited the famous THE Wing, Cathay Pacific's First Class lounge in Hong Kong Airport. The food here is incredible!
10.  Flew Cathay Pacific for the first time and in First Class from Hong Kong to New York City's JFK. 15 hours of bliss. My best flight ever. The food was amazing! I am glad I got to experience this once. But after you experience it once is it worth the splurge in miles? Not imho. So go ahead splurge once before American Airlines does a United like move, hurryyyyy!
11. Hey, like the plastic pushing bloggers who never stop at just ten credit cards why should I huh? 🙂  I never ordered a $40 hamburger until this trip. This baby was eaten at the lobby bar in the Intercontinental Hong Kong lobby after a full day of walking around and having no energy to go out and as I was drinking a glass of red wine (free drink voucher at check in) I tried to find something reasonably priced and this was it! Hey, this is why you earn Barclaycard Arrival points and this is how I will pay for it! Needless to say this WAS indeed the best hamburger I ever had!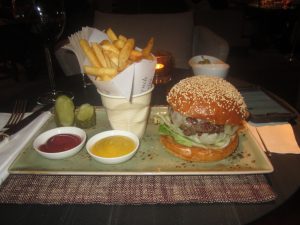 Check out my updated blog lists: Blogs I Love, Blogs I Like, Blogs To Ignore
Thank you for reading and supporting my blog!
Please pass my blog link to your friends and family if you think they will enjoy it too.
TBB
travelbloggerbuzz@gmail.com
Join over 3,286 TBB followers on Twitter @ FlyerTalkerinA2 and add TBB on Google+