We bring you the not shocking news that Travel Is Free joins ThePointsGuy Inc, more Delta sales, the best ways to Hawaii, all you need to know about Bulgaria travel, the best bird photos, the new IHG Rewards Pointbreaks hotel list, register for the latest Choice Privileges and National Car Rental promos, Accor comes out with a new top tier elite level, United miles no longer expire, minor enhancements in the British Airways Visa card, no more capital controls in Greece, airlines to fix alliances finally, no more National Geographic Traveler print editions, and LOT more, enjoy and have a hell of a Labor Day weekend!
TBB Blog Mission: To Educate. Entertain. Inspire. In That Order!
You like my blog? Send a link to someone please!
Buckle up, there is a lot to cover in this edition!
MILES & POINTS
The huge news in the miles and points world was the not shocking announcement that Travel Is Free Drew blogger is too joining the mega corporate The Points Guy Inc goliath! His own post is here: Starting a New Chapter. I think I may have a few things to say in the BLOG BUZZ section below.
We have a new IHG Rewards Pointbreaks list out for stays until October 31. These used to cost just 5,000 IHG Rewards points per night. Now they are 5,000, 10,000 or 15,000 points per night. Still a great deal if they can work for you and you are fast in booking them!
If you are interested in burning some of your miles to fly to Hawaii, this is a good reference post: Best ways to fly to Hawaii from the US mainland.
In case you missed it, and you have lots of time on your hands to find any remaining deals, you only have a few more days to try to see if this Delta Vacations deal is good for you. I tried to book something but did not see anything worthy. Then again I don't have much time these days to devote to this task…Wait, Delta is on a roll, here are some international award deals as well, bookable by midnight tonight!
Every year for a long time now National Car Rental brings back its One Two Free promotion. It can be lucrative, especially if your employer pays for you to travel to different cities! You can register HERE.
Accor recently let us now that it is changing the name of its rewards program to Accor Live Limitless. And it also let us know in advance that it will be adding a new Diamond top elite level. We all thought we Platinums can finally get free breakfast. Nope, only Diamonds get that, sad!
You can register for the fall Choice Privileges promotion: "Stay two separate times between September 4, 2019 and November 8, 2019" and you can earn enough points for a free night.
A totally minor "enhancement" of the British Airways Visa credit card became a fodder for blogger financial product salesmen to make it out to be huge so they can sell more of these credit cards. Things my eyes see every day, yikes. If you want to learn more about it: Chase Adds New Benefits To British Airways Card: $600 Flight Taxes/Fee Credit & 2x Earning. Major yawn!
For move #369 United has copied Delta, we get this: United Airlines frequent flyer miles will no longer expire. I guess it is good I don't have to monitor all of our United accounts and then scramble to do a Rewards for Dining restaurant visit to extend their life anymore. And you know what is coming is not good when a main stream news site such as CNBC writes this paragraph in the article:
While miles may not expire, airlines, of course, control over just how much they are worth. The system is becoming increasingly opaque. Starting with travel on Nov. 15, United will no longer publish an award chart showing how many miles are required for travel between certain regions, following a similar move by Delta. [move #368]

Silver Car is launching a loyalty program. Enrollment is automatic, one dollar spent is worth a point. No elite levels. Could be worth up to 10 cents per point. It is the car rental company renting only Audis. Email or DM me if you plan to use them so you can register an account with my referral link, thank you.
TRAVEL
Nooooo, an icon is gone. The printed edition of the National Geographic Traveler will cease to publish after the December- January issue. So sad!
Now that airlines are making some good money, they are finally going to put some resources towards their alliances, it's about time! The Travel Headache Airlines Took Decades to Fix.
Bookmark this if you plan to visit Bulgaria Travel: All You Need to Know.
Great article: The Most Colorful Places in the World. I bet you can't wait to burn 765,000 miles for a Premium economy round trip to the Maldives after November 15 you guys 🙂
This is from a Greek english language newspaper: A landmark of a man in Syntagma. It is a piece on the Grand Bretagne hotel doorman in Athens. A job he has held for thirty five years and recently was awarded the highest Marriott award for excellence. What he says about Bill Clinton will shock you 🙂
I have a feeling that this guy will find her! Exclusive: Inside the search for Amelia Earhart's airplane.
An Instagram account with pictures from a drone: @dailyoverview Feast your beautiful eyes!
Hilarious parody video: Every Hotel Ever.
ODDZ & ENDZ
Finally, after four long years! Greece fully lifts capital controls. It is really weird you guys that the politics in Washington/London/Rome are insane while in Athens we are back to normal #mindblown
In the land of twitter, we have Fintwit. As in Financial Twitter of which I am a part of. And we have this guy RampCapital who is anonymous, very active and hilarious (especially when the markets go south!). And then the other day he posted how his wife lost their baby after 11 weeks. A Gift to Exist. It is a wonderful read, very inspiring, an amazing video interaction between Anderson Cooper and Stephen Colbert talking about losing loved ones and an excerpt with the best description of grief you will ever read. You are welcome. Get your third cousin a Chase Sapphire Preferred, you know he/she wants it and I want the conversion #brutalhonestyalwayshere 🙂
3 LINKS WITH AN AWESOME PHOTO
Lets look at some of the best bird photos of 2019!
Wow! The Entire Plane of the Milky Way Captured in a Single Photo.
These are neat to look at for different age brackets. But remember, we are all different! How Americans Make and Spend Their Money, by Age Group.
BLOG BUZZ
We are now entering BLOG BUZZ, a section for advanced hobbyists and veterans of this fast imploding hobby and also a section where I go on and on about some stuff that happens in my life because it helps me feel better about myself.
Update: I am typing this way past my bed time on Thursday night to share a few thoughts about the bombshell news in the miles and points blog world that Travel Is Free Drew will also be joining The Points Guy Inc. corporation. As of right now, I see just 7 comments in Drew's post and, as expected, they are all not that welcoming of the news. I wish Drew and his wonderful wife the best. At the end of the day, it is a free country and we do what we think is best for us. Do I feel sad that yet another independent voice in this quirky hobby big business has joined a huge corporation that now has surpassed the 100 employee count? Hell yes! I think it is naive that he expects to do as much as he thinks in a corporate environment. Looking back, I think Drew was the best miles and points blogger and is probably the blog that I linked to the most. No other blog came close! And then one day…poof, he disappeared. Without a word. Only to come out after a long time to say "Hey, I am working on a startup, etc.". I think if he had kept going the sky was the limit. Or maybe not, nobody knows. Well, the startup did not work out and he was looking to get back in the miles and points world and the stable income and offer he received was worth it to him. So I welcomed him to the Chase Sapphire world.
I think readers Sam and casual_observer both had guessed Drew was going to join TPG next. Great job you guys! So, who is next? 🙂
I think everyone there at TPG are just milking the Red Ventures money. There is soooooo much money floating around these days looking for…a way to be spent. One day the bubble will pop and I don't think I am going to be around as I do not have the stamina to keep producing posts like this you guys for almost seven years now, wow!
Of course this was the subject of many comments in my blog. The observations by reader casual_observer are really good food for thought.
You all be gentle now, I am going to shut up. I think. I need help. Why am I doing this? I don't need it and is this a sign for me to move on as well? This blog is losing money this month and that does not even count my time! Stop laughing Ingy, get back to pushing your crappy referral links prepping your newbies for the real cc conversions coming…soon?
On Wednesday I wrote a comment in my blog and got some things off my chest 🙂
If you really really want to find out more about the British Airways Visa enhancement, you should read this: BA Visa $200 Award Fee Credit. 8 things you need to know. Don't get me wrong, it is a positive change. But it will be more positive when the airlines kill these ridiculous fuel surcharges! And earning 2x at hotels, LOL! But of course…if you are out of credit cards to churn about in this hobby and you are under 5/24 please consider using my links, thanks!
Knocked out a min spend and a few other things in the past few days with good old MSing…Good to be back in the front lines you guys. The smart "expert" bloggers do not do that…they keep pumping their readers with credit card sales posts instead….because, never forget, that is WHERE THE MONEY IS in this hobby big business! And hell no, I won't be doing MS play by play blog posts like Pointchaser!
I want to salute the many pure hobbyists out there hitting the pavement every day earning cash back and miles/points and screwing corporations (NEVER doing anything illegal of course!). And doing it without drawing attention, keeping a low profile and raking it in. Don't start a blog okay? 🙂
In the meantime, as long as this blog is up, enjoy it. I cherish my independence and I am not for sale! This has always been my hobby and it is phucking imploding before our beautiful eyes!!!!
Scott at Travel Codex and his thought about the United miles not expiring. This is important:
If you are a fan of what was once called "travel hacking," then you should also bemoan the shift to easier, friendlier, always-available awards. Travel hacking is all about finding the holes in a broken system so that you get the cheap awards others overlook. There is no game to win when the bowling alley puts up bumpers on your lane.
And I leave you with this…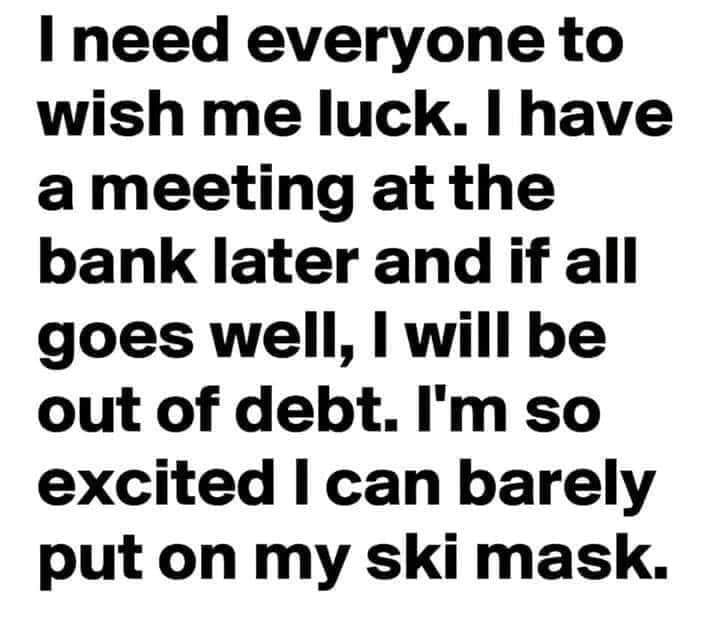 TBB
travelbloggerbuzz@gmail.com
Follow TBB on Twitter @FlyerTalkerinA2.
You can subscribe to TBB below, winners only!
Opinions expressed here are author's alone, not those of any bank, credit card issuer, hotel, airline, or other entity. This content has not been reviewed, approved or otherwise endorsed by any of the entities included within the post.