Another trip report by my son from one of his weekend side trips to Tokyo while studying in Hong Kong. Well, actually I am not sure there was much studying done but lets just not go there. I am not sure what I will face when he gives me the green light to go ahead and review it. This one turned into a foodie trip report. Both my kids really like Japanese food. I like it too…but not as much as I would have if I was not allergic to shrimp #sosad!
TBB status: Traveling
TBB Blog Mission: To Entertain. Educate. Inspire. In That Order!
This site is AD-FREE! You can support it by applying for CREDIT CARDS, and visiting our REFERRAL LINKS page.
During my time studying abroad in Hong Kong I took a few side trips.  This post will be about my time in Tokyo, Japan.  A family friend of mine was visiting at the same time and offered a place for me to stay so I took a quick flight out for a weekend.  You can read about my Cathay Pacific business class flight experience & lounge hopping in the Hong Kong Airport HERE.
Navigating the subway to get to my friend's hotel was not too difficult due to the very helpful tourism desk at the airport.  The whole bus and subway system is much more complicated than Hong Kong's.  The first night we hung out in Shinjuku, a busy commercial district.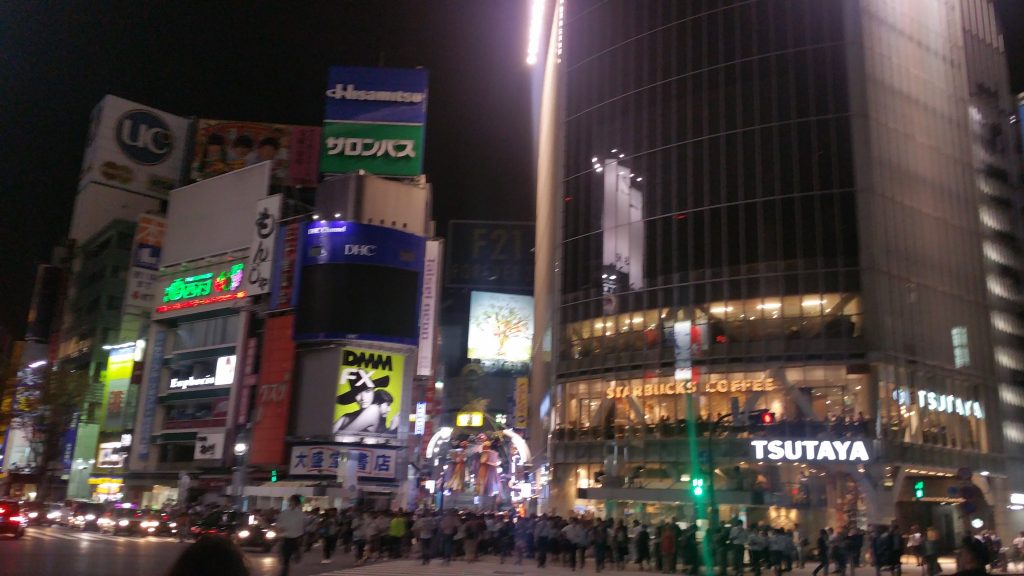 It was Friday night and as expected there were a lot of people out and about.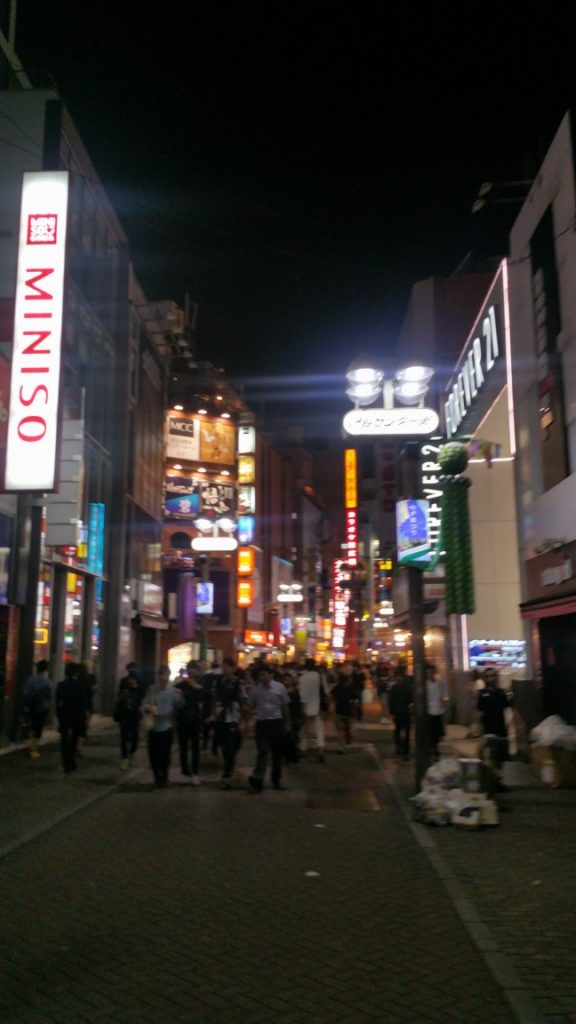 We went to this style of restaurant/cafe called Yakitori.  My friend is fluent at Japanese and familiar with Japanese culture since he lived there for a year as an exchange student and says Yakitori is a very common hang out spot to drink and eat.  Everything on the menu, drinks and food, was 280 Japanese Yen or $2.80 USD.  The drink seletion includes all sorts of beers, mixed drinks, and sodas.  The food consisted of small appetizer type dishes.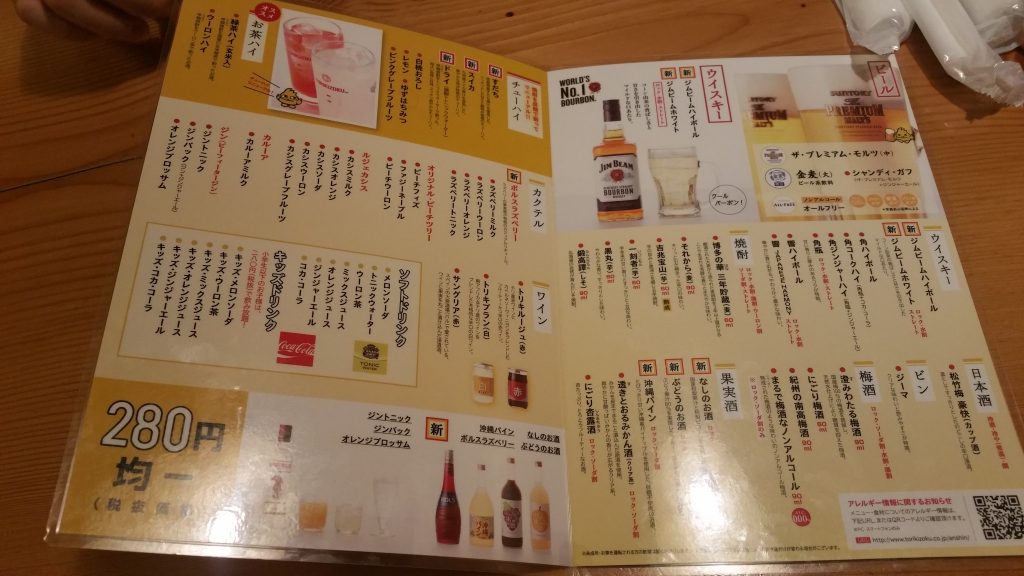 This is karaage – japanese fried chicken.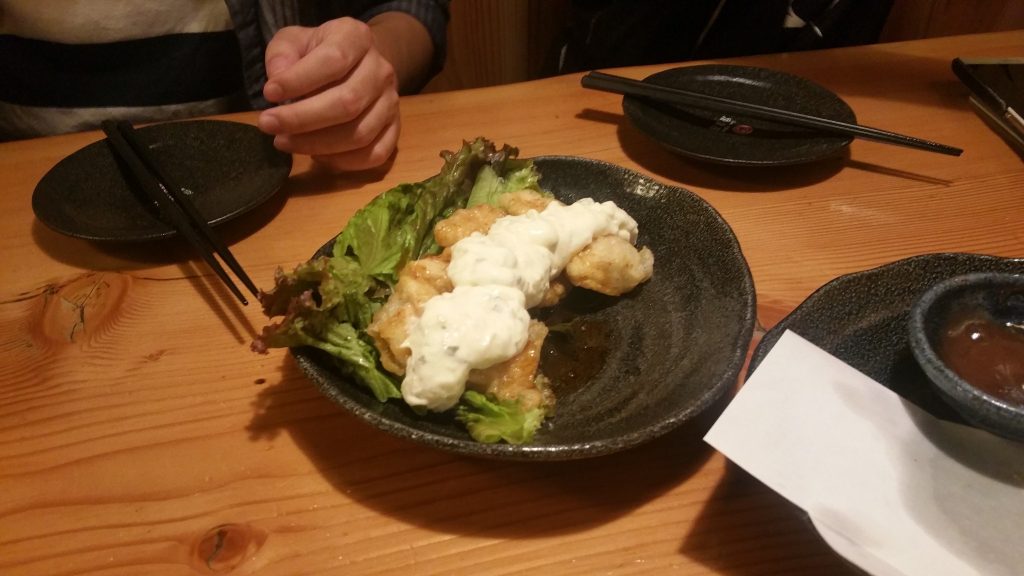 The next day we went to an area called Asakusa to look around.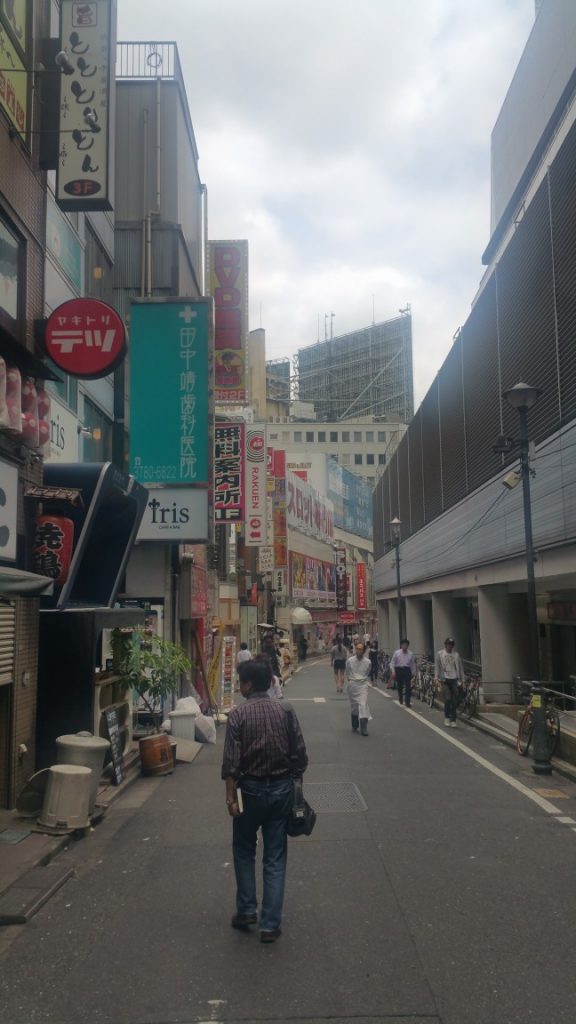 Asakusa Station: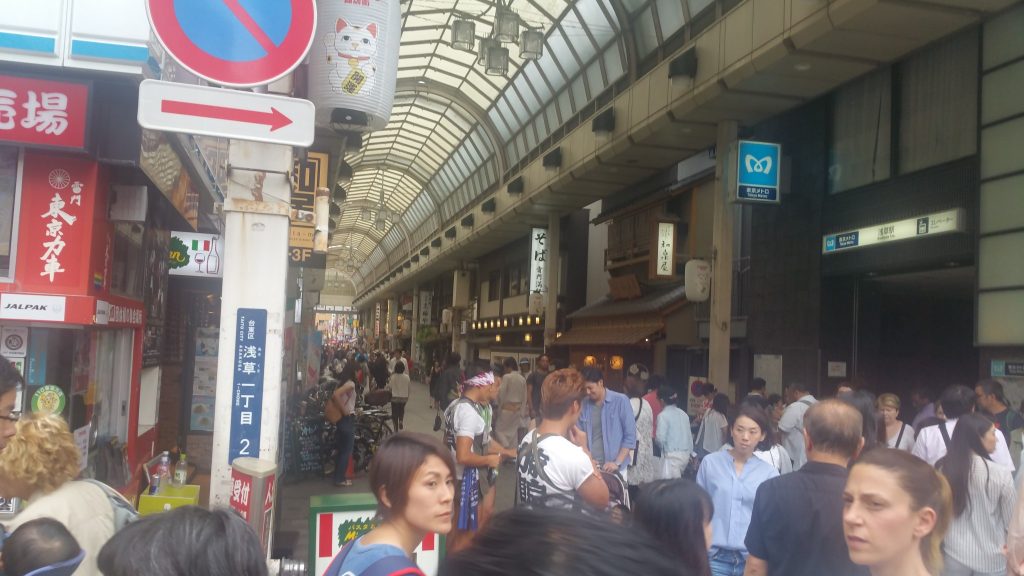 Nakamise Shopping Street: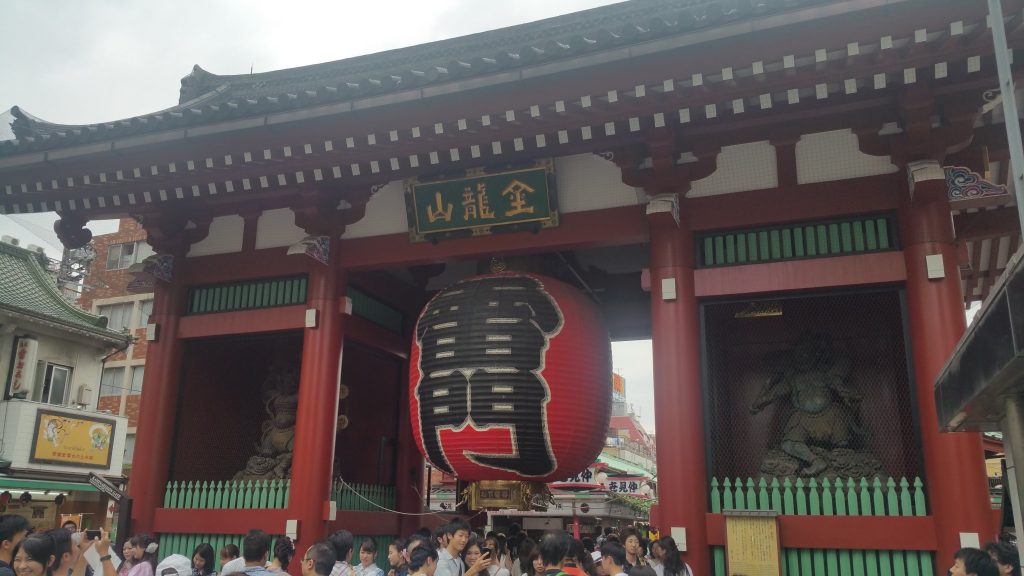 Me with my friend and his brother in front of the grand Nakamise Shopping Street gate.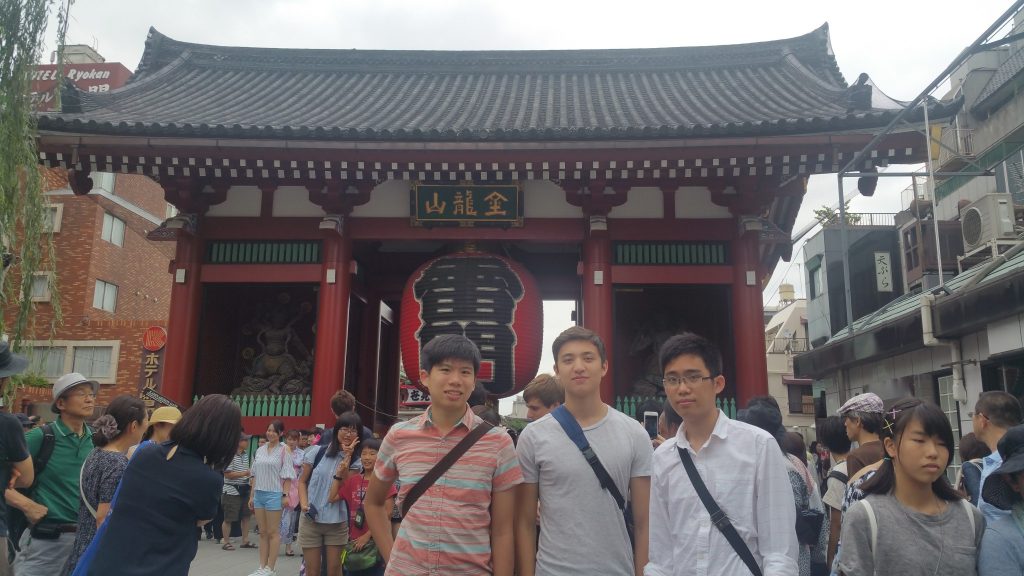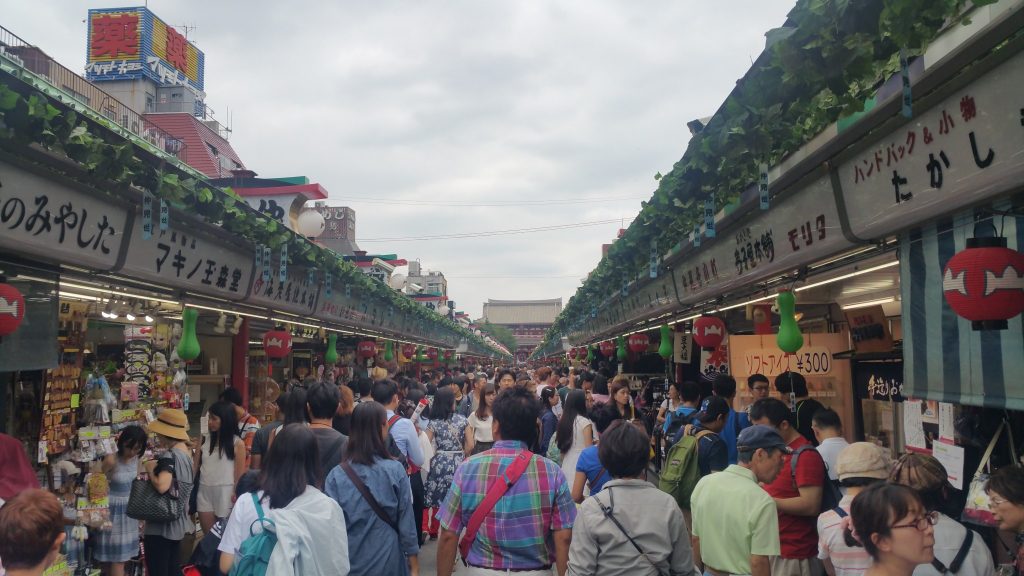 The street was lined with assorted shops.  The majority of them were souvenir and snack shops.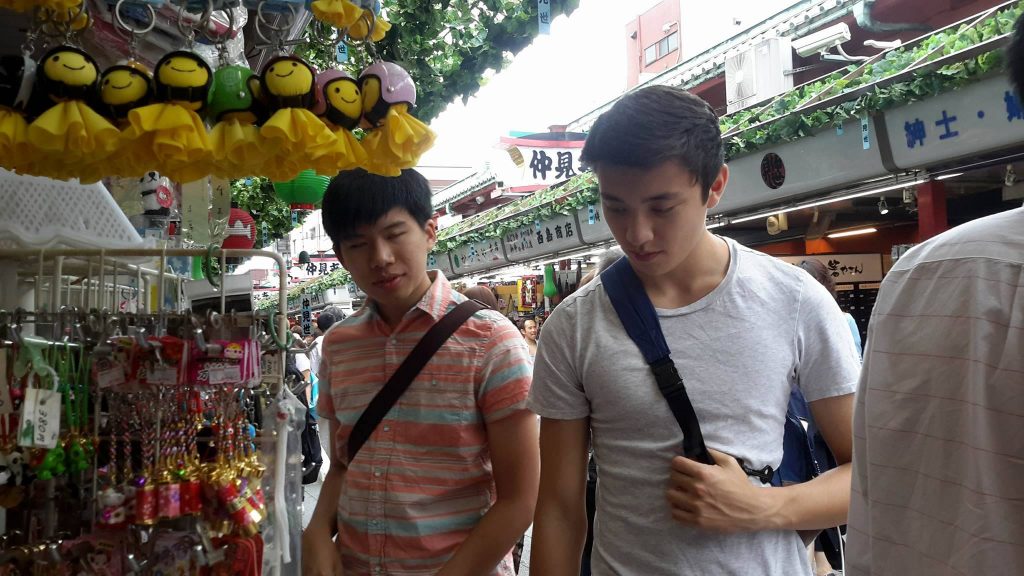 We tried a very interesting oyster stick snack.  Very odd tasting,  I didn't exactly like it.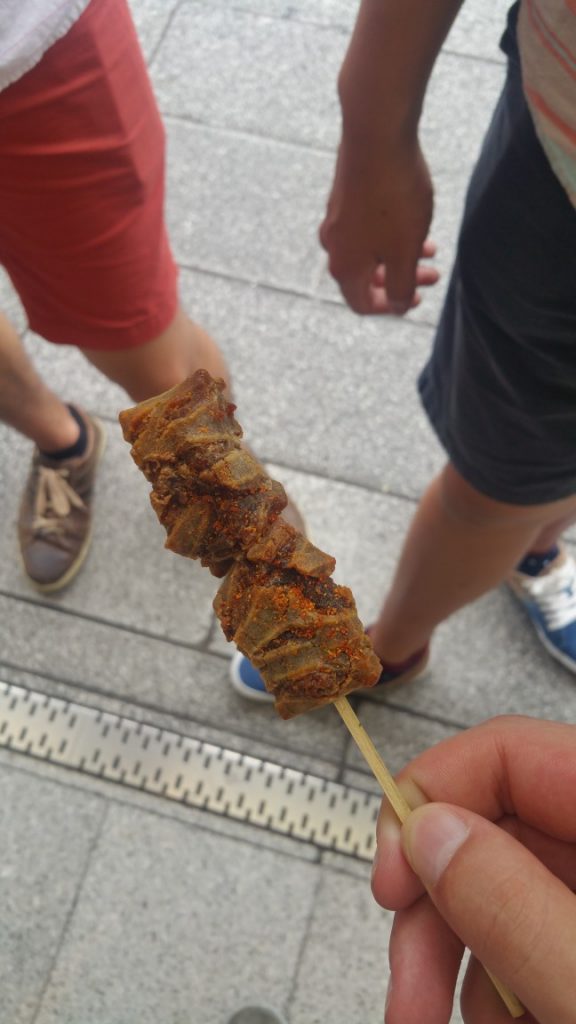 View of the Tokyo Skytree: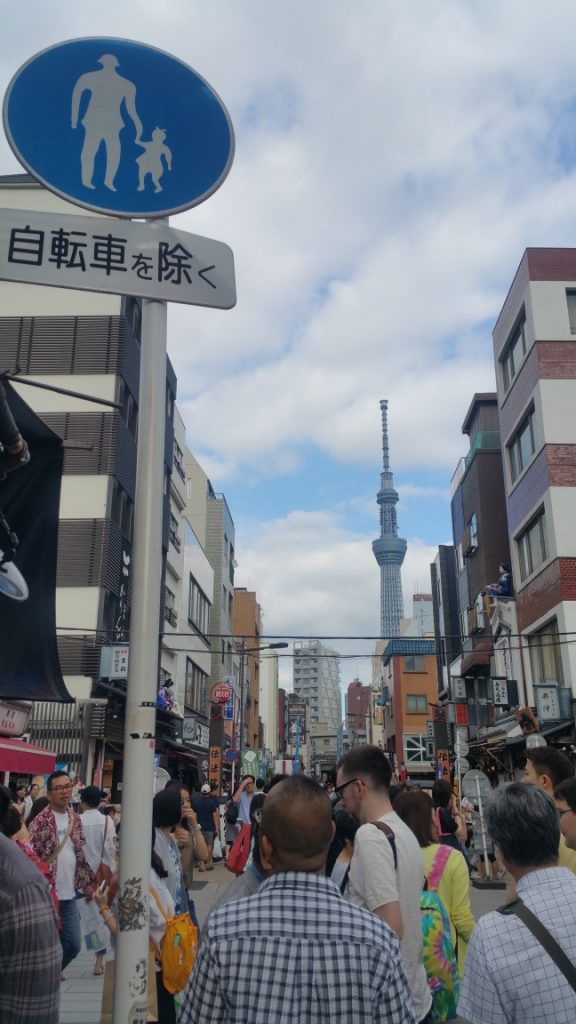 At the end of the street there was another temple.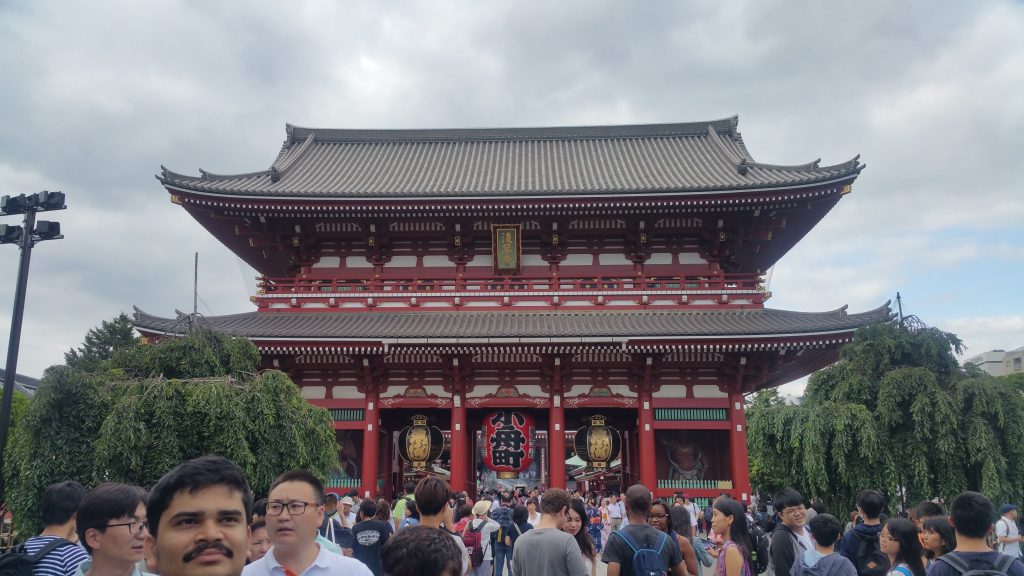 There were some people dressed in traditional Japanese kimonos: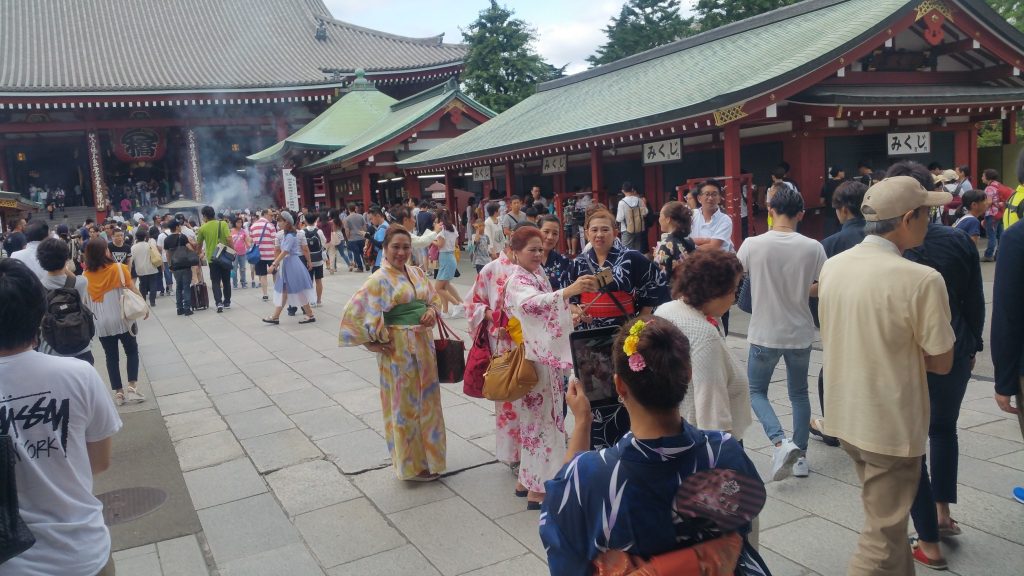 People at the temple were doing some sort of prayer or ritual with smoke and ashes.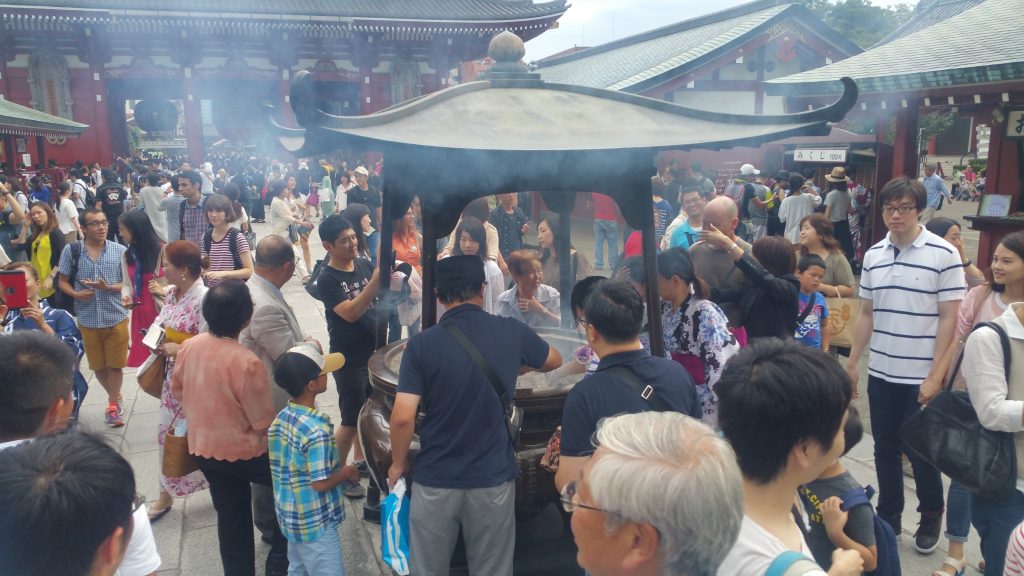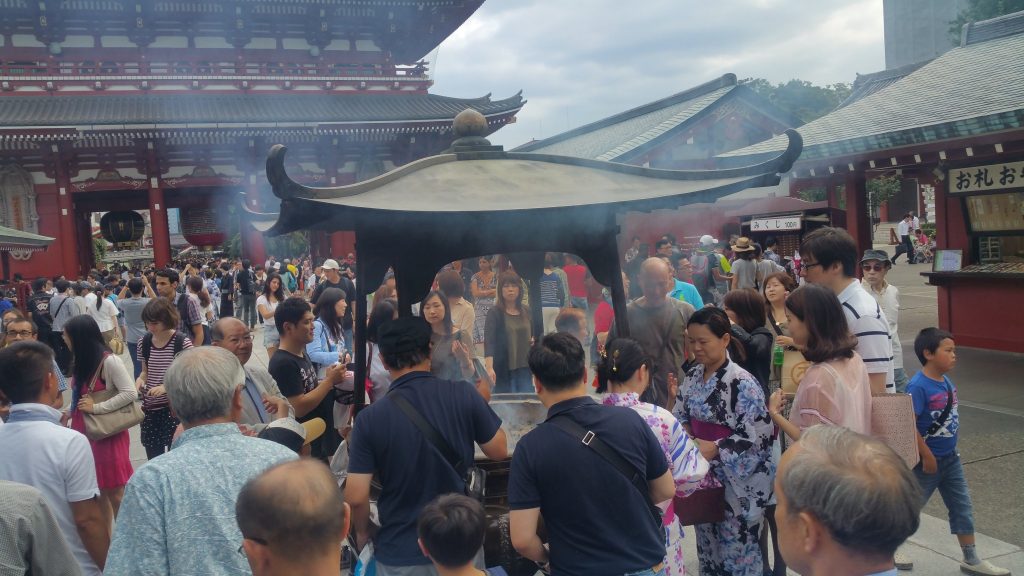 People were surrounding this fountain and washing themselves with the water.  I am not familiar with the significance of these rituals or if they are just touristy things to do.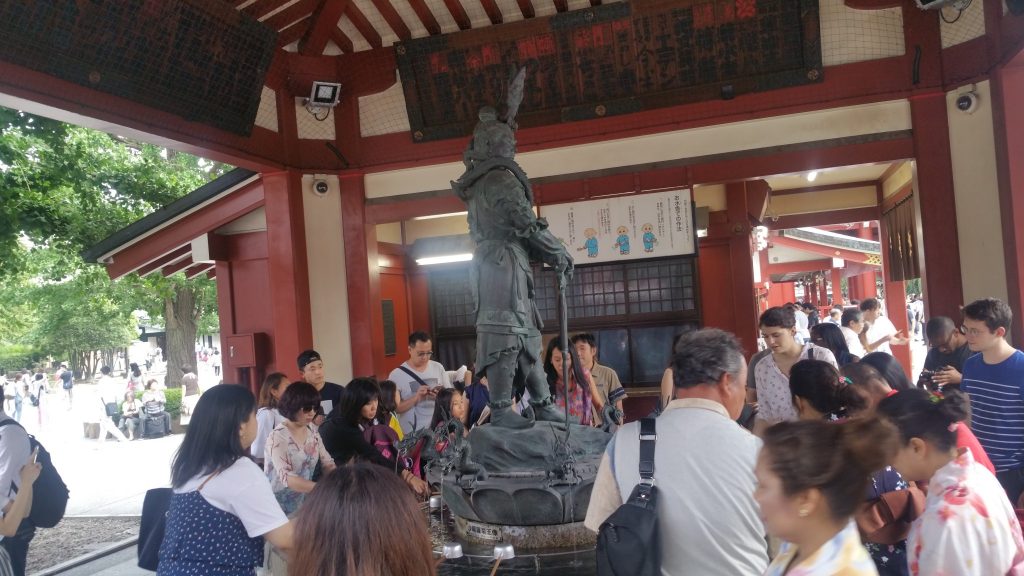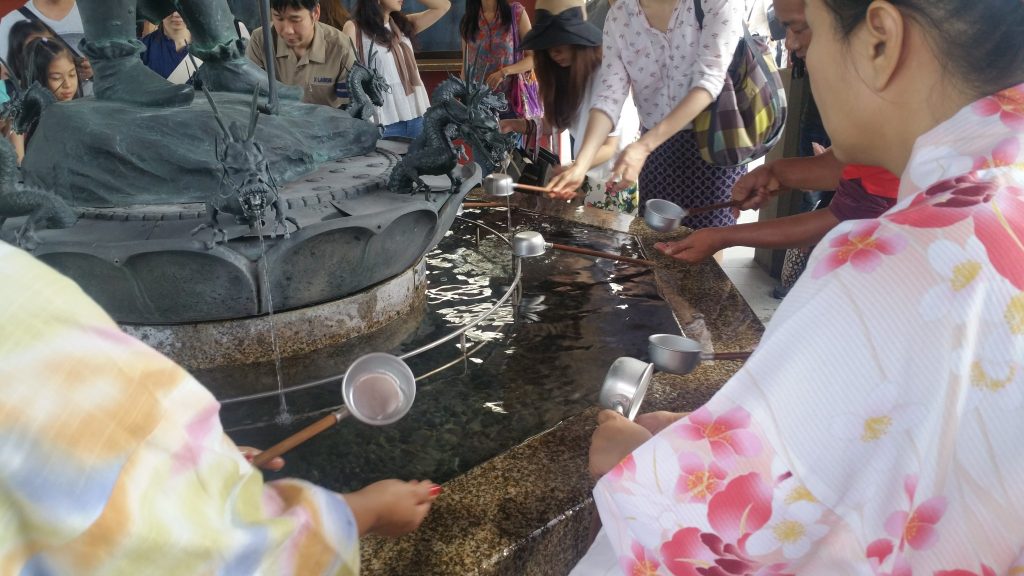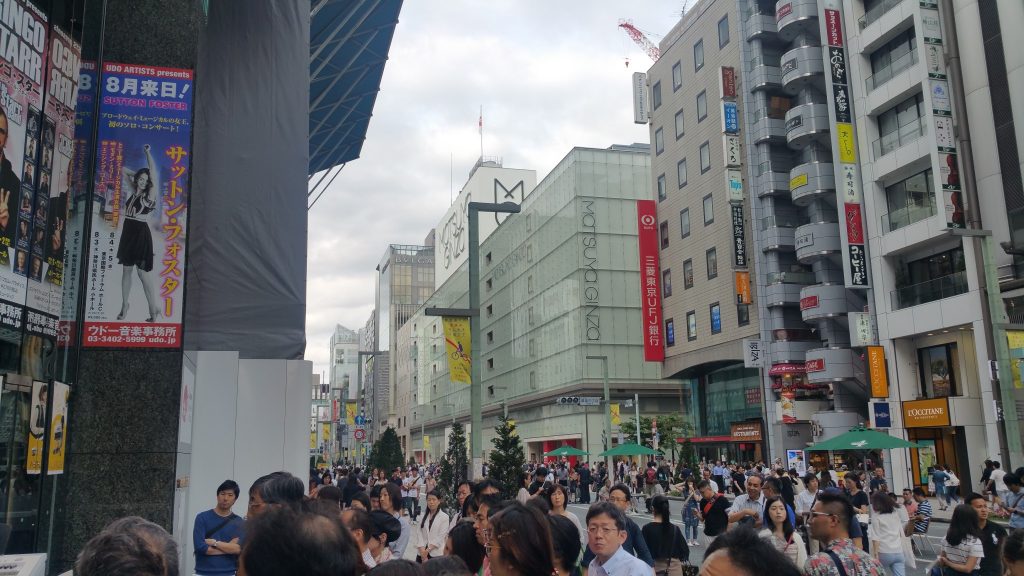 Later that day we went to get dinner at one of the best sushi places in Tokyo,  Hina Sushi.
I was super excited since sushi is one of my most favorite foods.  The outside displays just got me more hyped.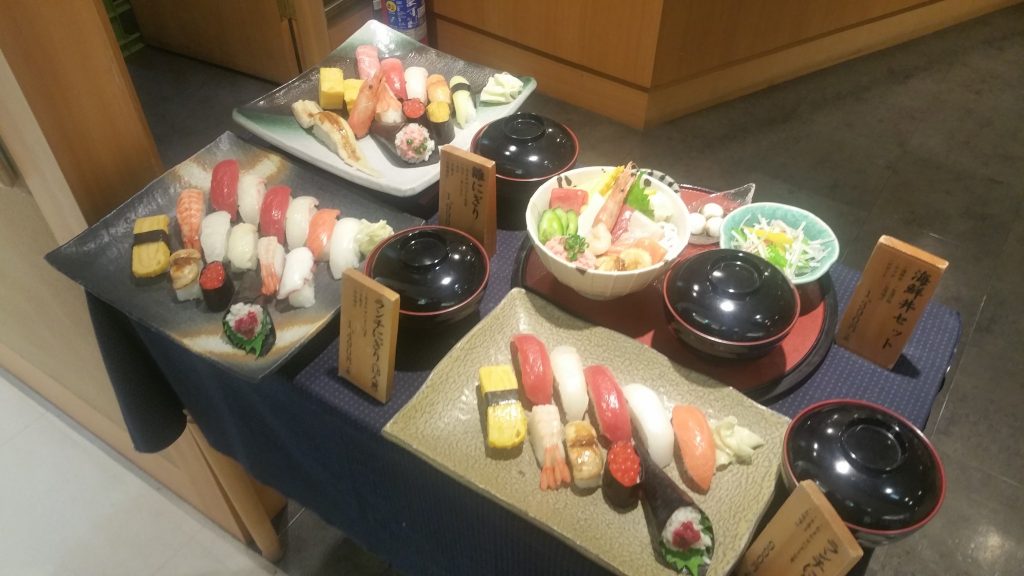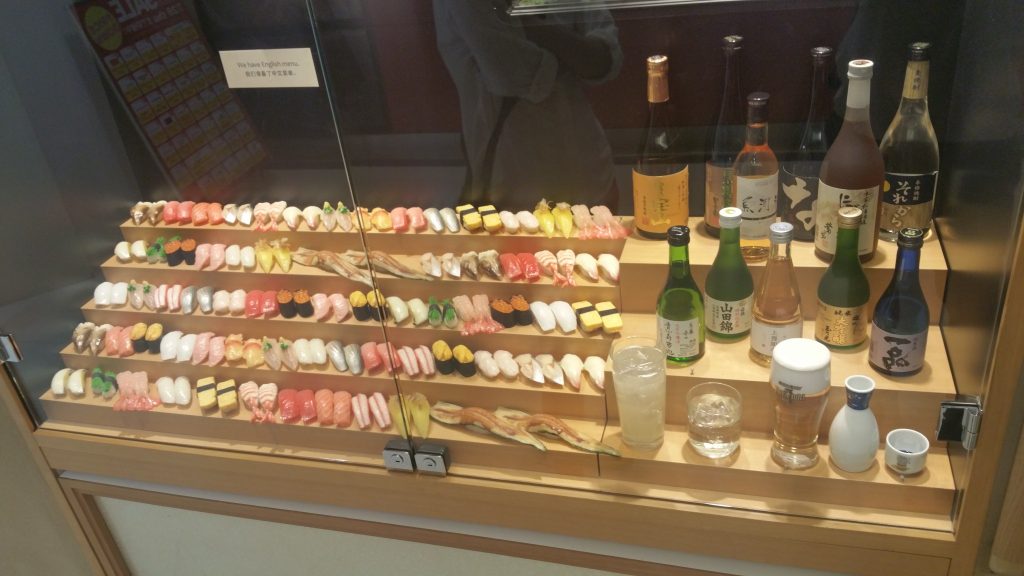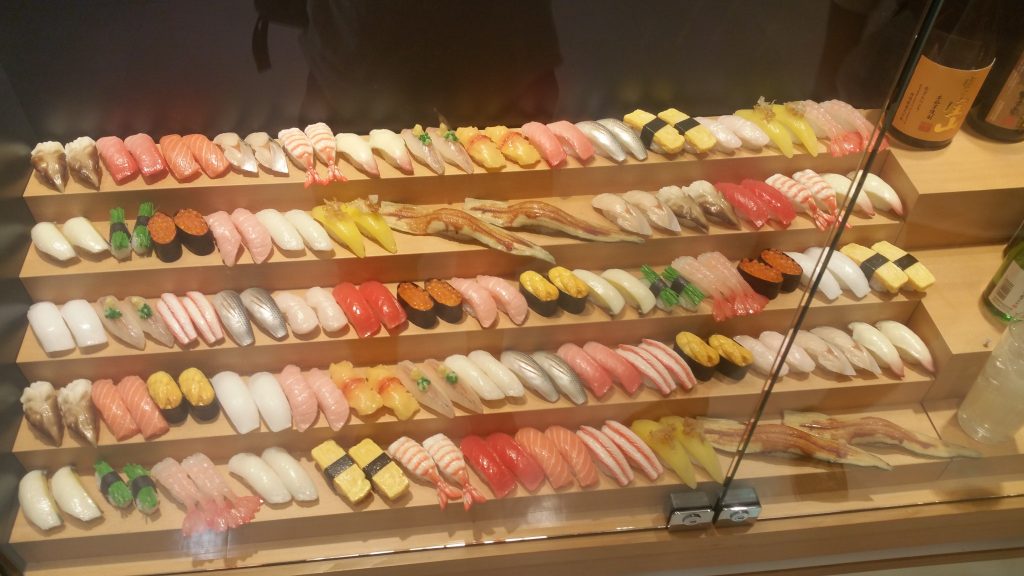 We ordered all you can eat which was around $40 USD each.  Very expensive but when is the next time I'll be in Japan eating authentic sushi.  Here are two of the four plates that we split among 3 people: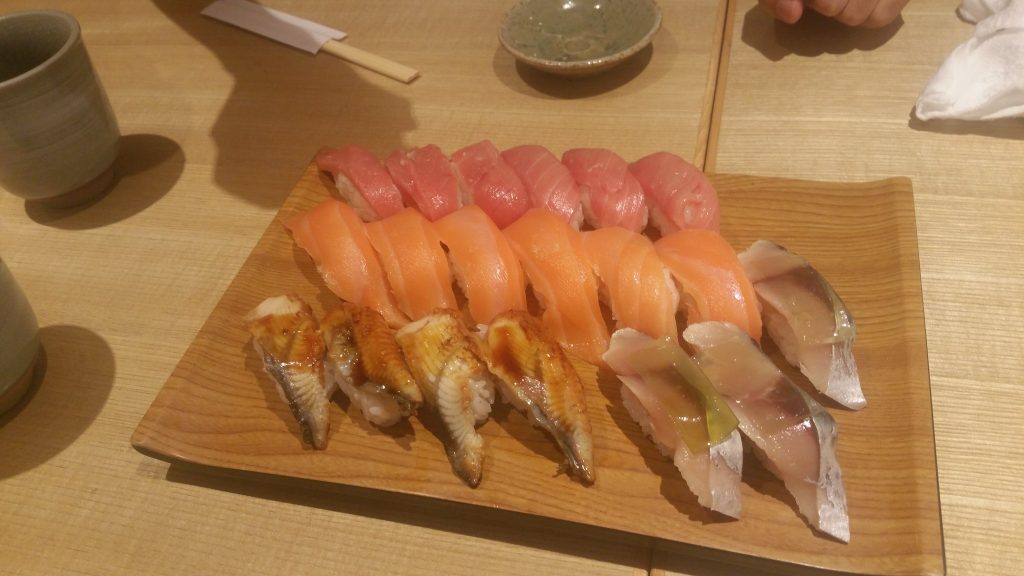 Needless to say the sushi was absolutely amazing.  Everything was so fresh and tasty.  Definitely the thing I will miss the most from Japan.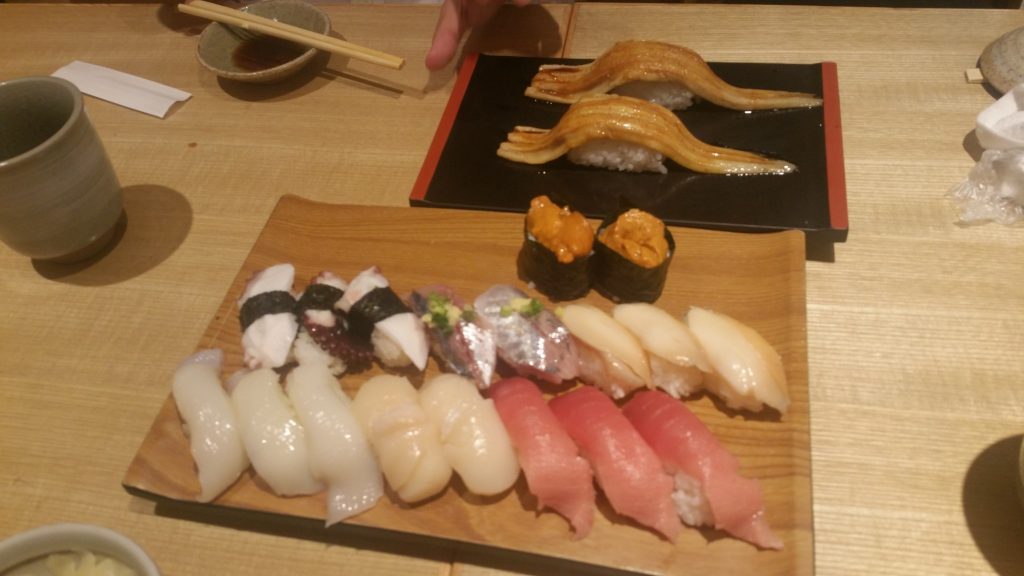 Japanese street food: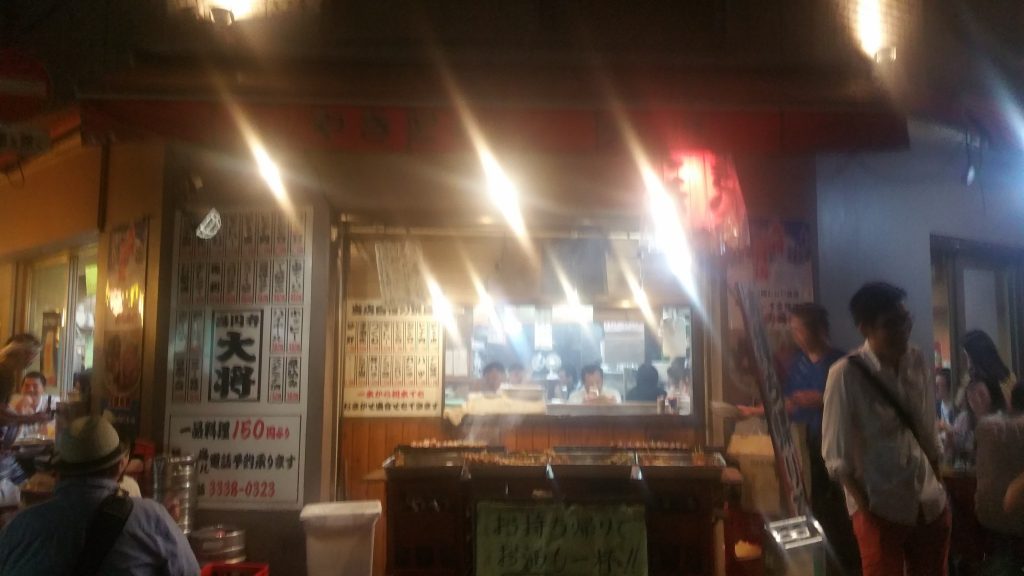 Billboard for the upcoming Olympics.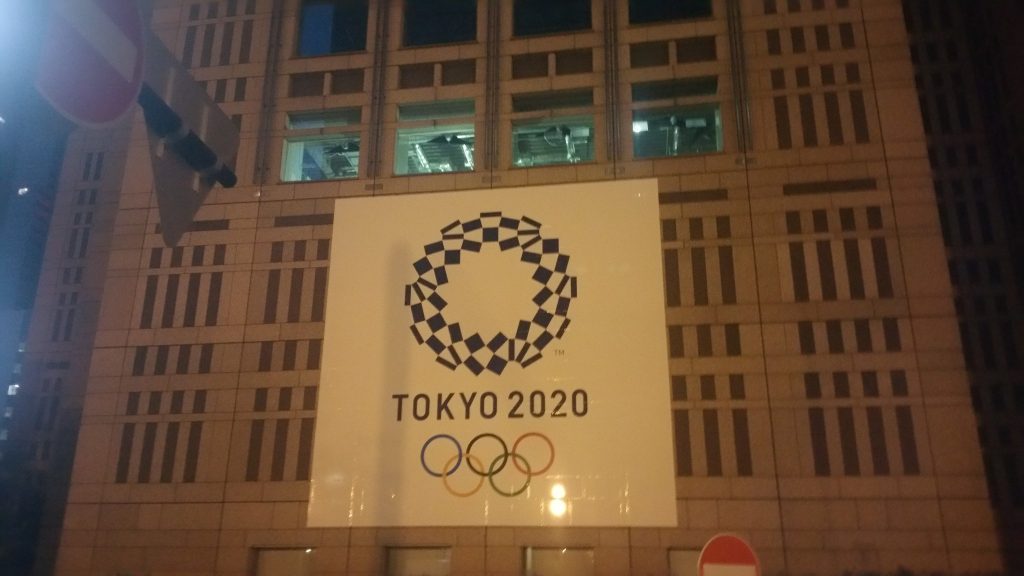 The next day I had to try the other famous Japanese food that I love: Ramen.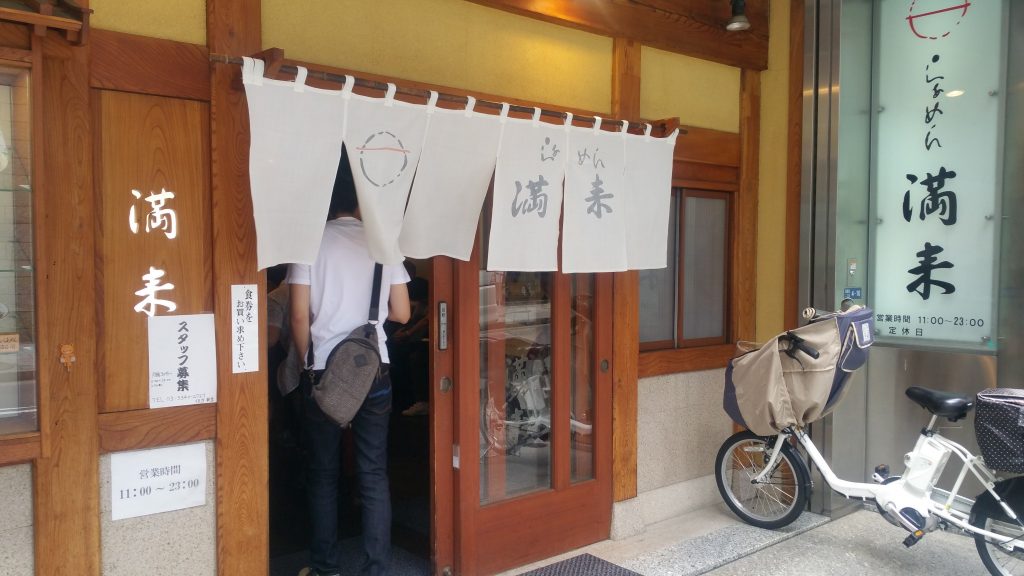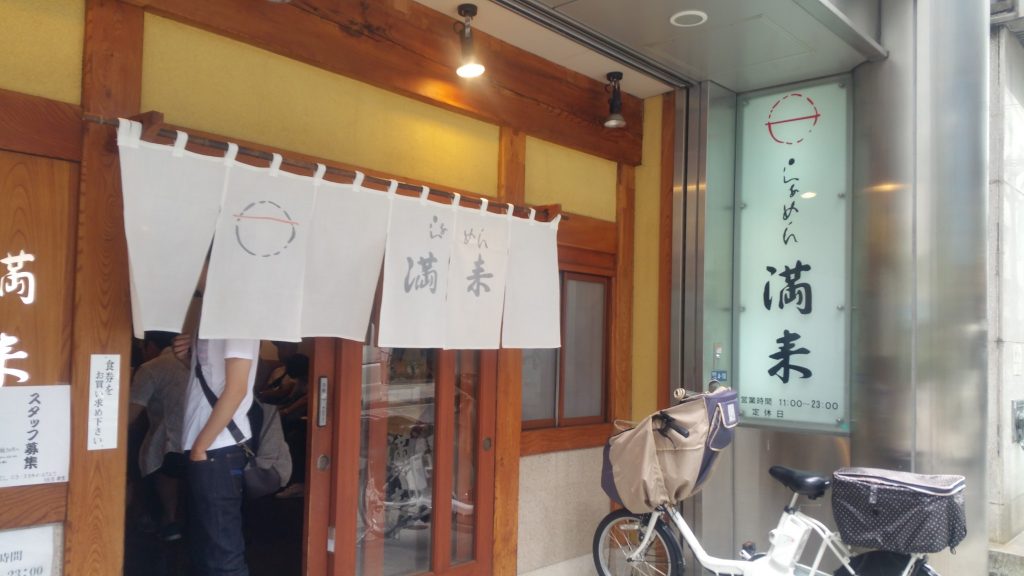 My friend took me to a place known for their pork ramen.  The structure of the restaurant was very interesting.  Customers go to a vending machine where they key in their order and insert money,  they get a receipt and hand it to the chefs while you wait in line until a spot on the bar is open.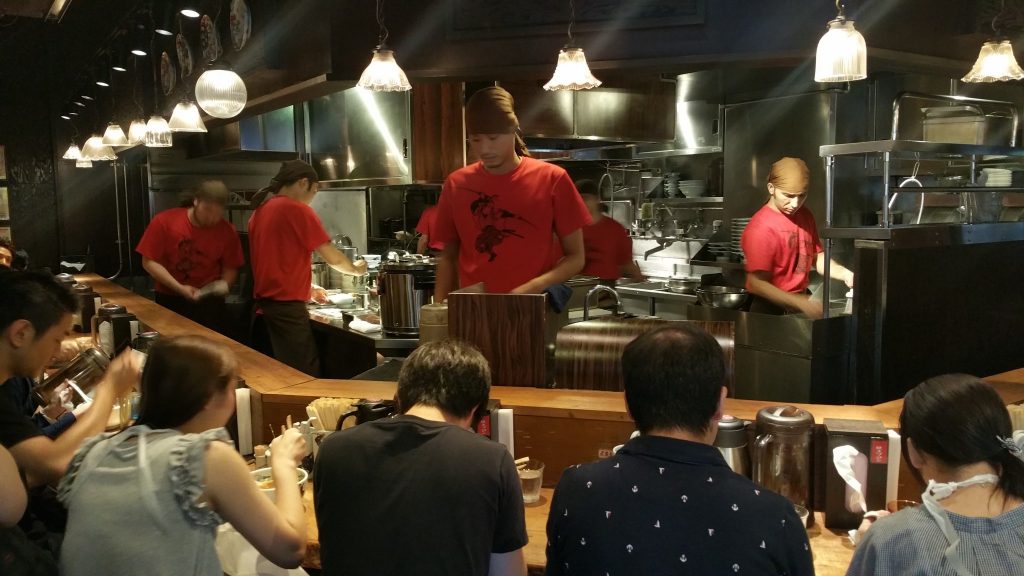 The ramen was very different that what I expected.  The noodles were a bit flat and thicker than what you typically think of ramen.  It was delicious, the pork was insanely tender and flavorful.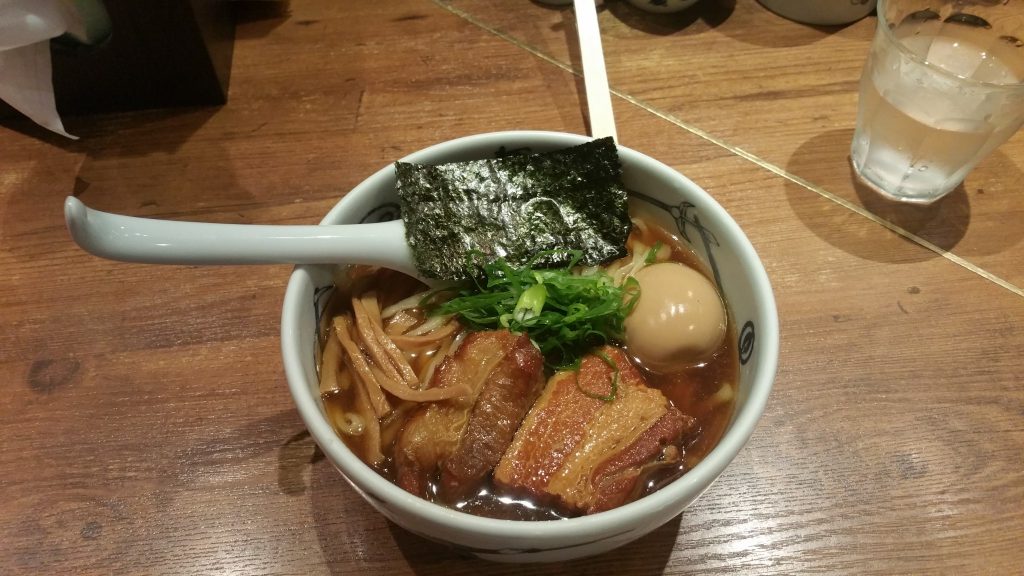 The next day we went to Akihabara, the "technology district" of Tokyo.  There I spent the day looking around a bunch of arcades,  video game stores, and assorted gift shops that brought a lot of memories back from my childhood of playing Pokemon.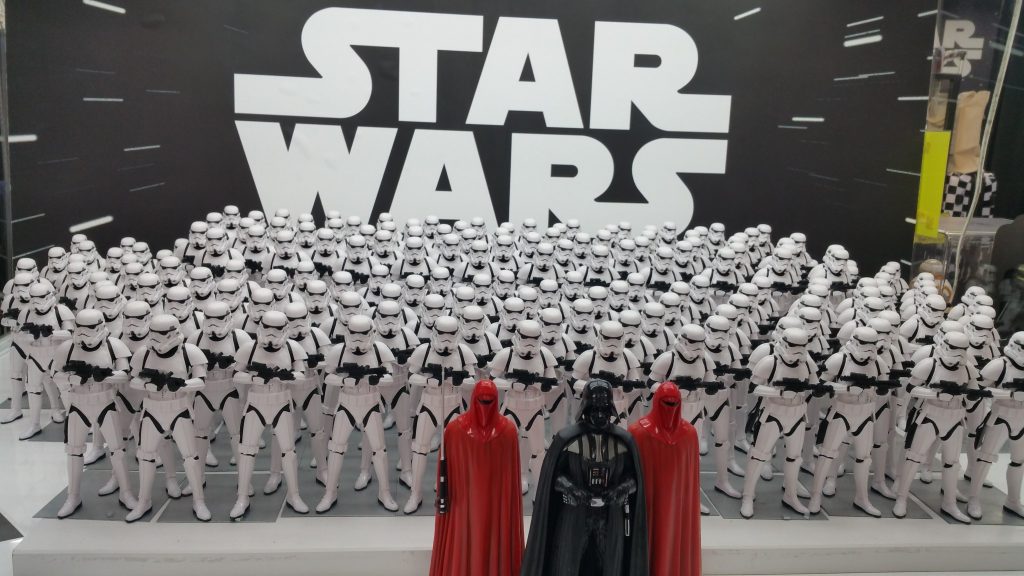 Stopped for a quick bite of sashimi over rice.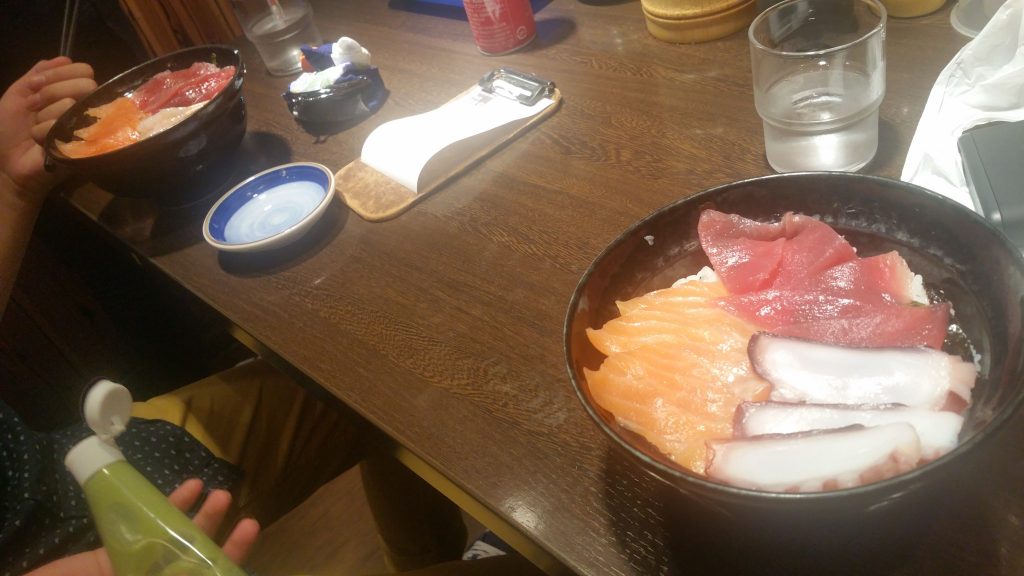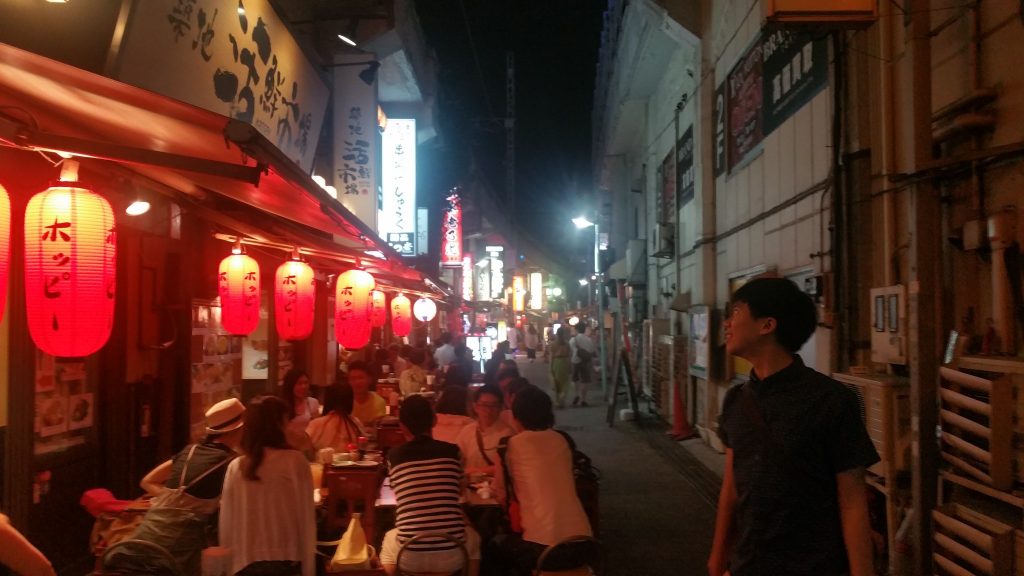 Later that night… more sushi of course.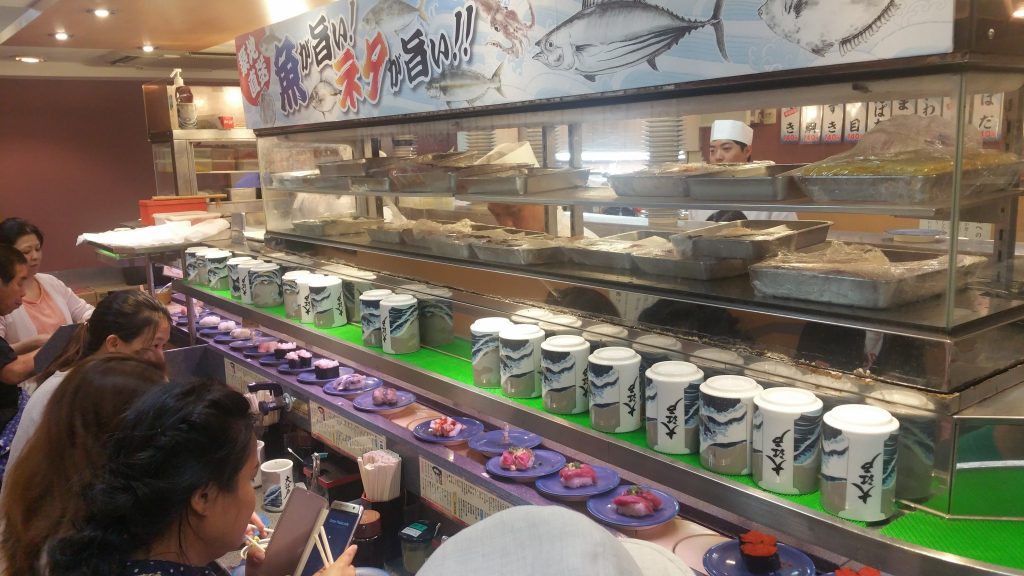 We later went to a traditional fish place.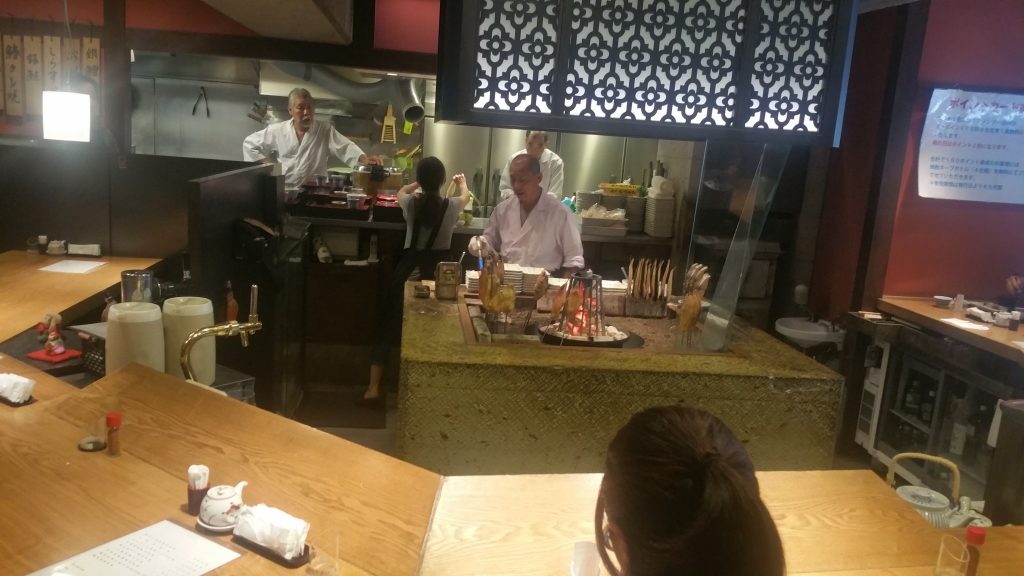 We had to take off our shoes and sit on one of these very low tables.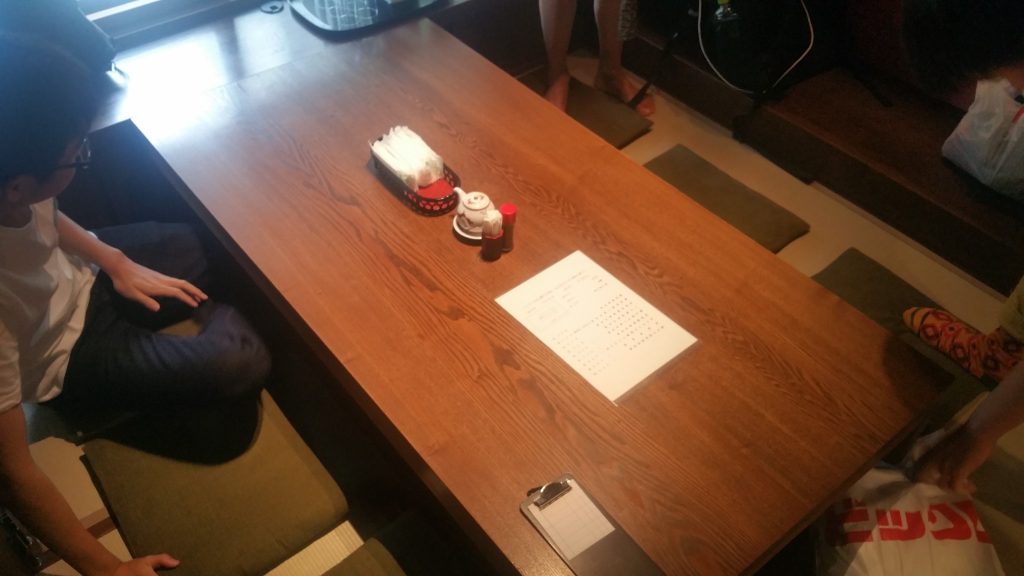 The food was very fresh tasting and unique.  Just writing this blog post makes me miss Tokyo so much.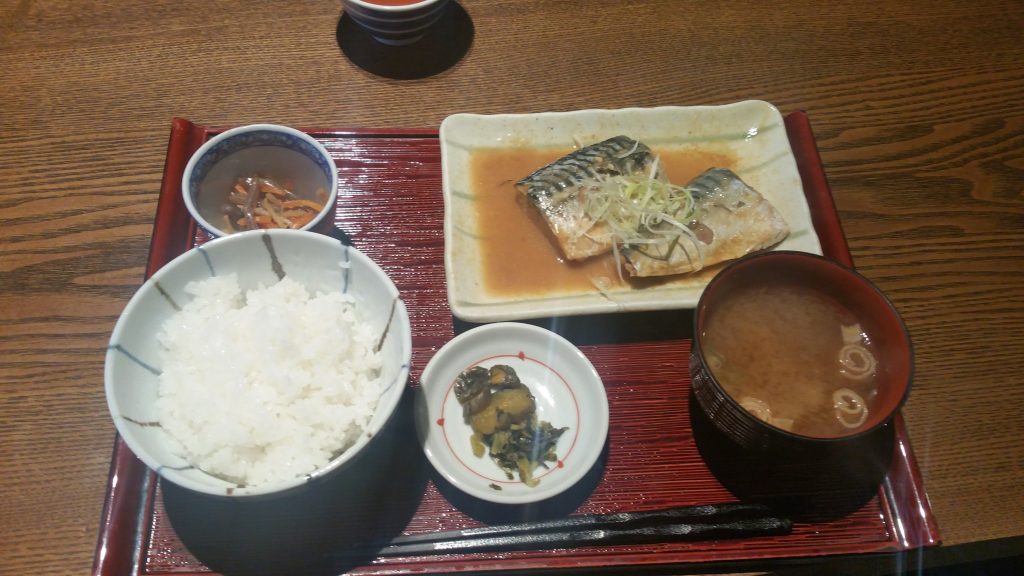 One of the huge multi-directional crosswalks that Tokyo is known for: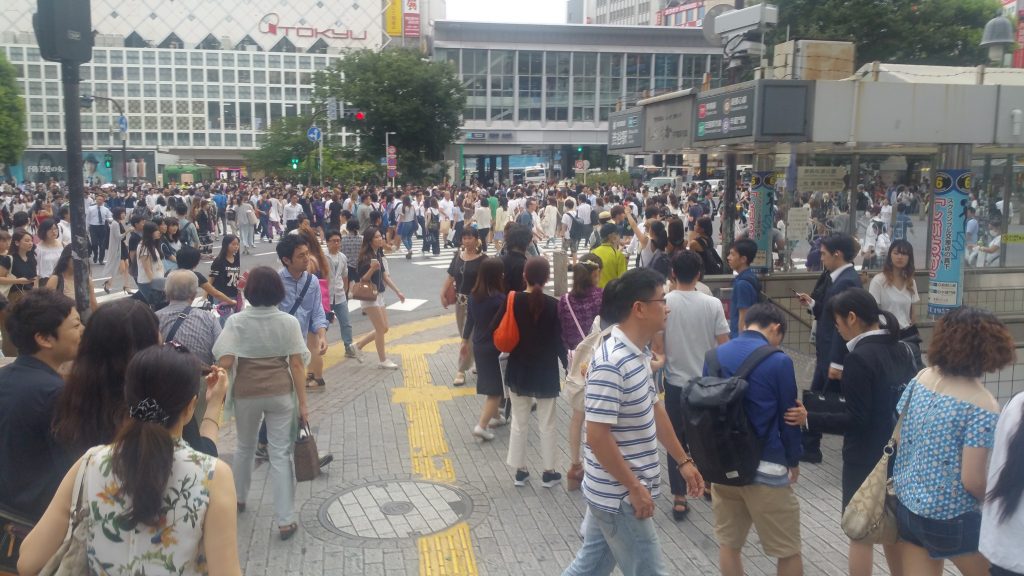 Next up on my list of famous Japanese foods to try was tonkatsu – fried pork cutlet.  The tonkatsu here surprised me with how much better  it was than the ones in the States, it was actually my favorite meal of the trip.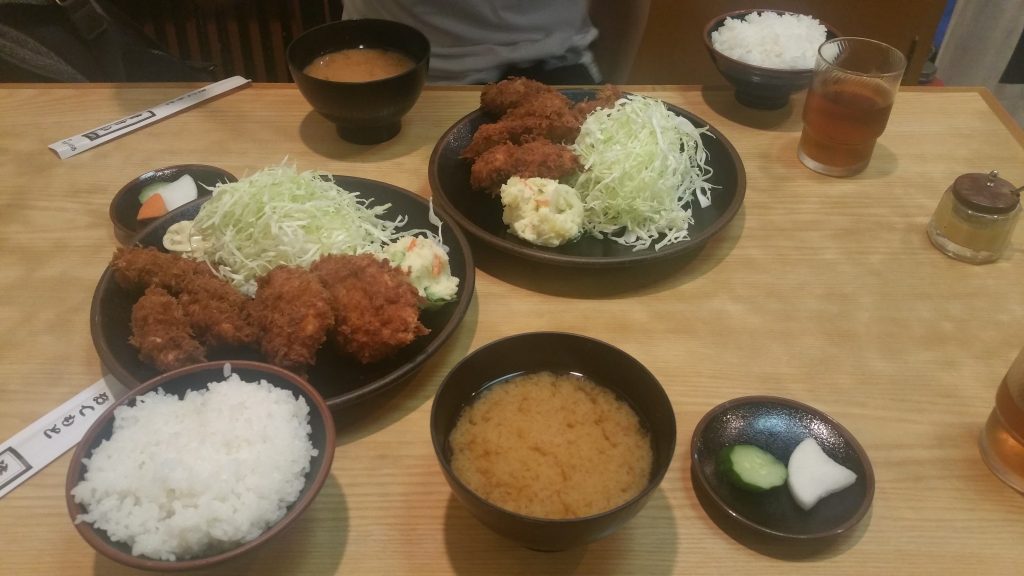 View from during an above ground subway ride: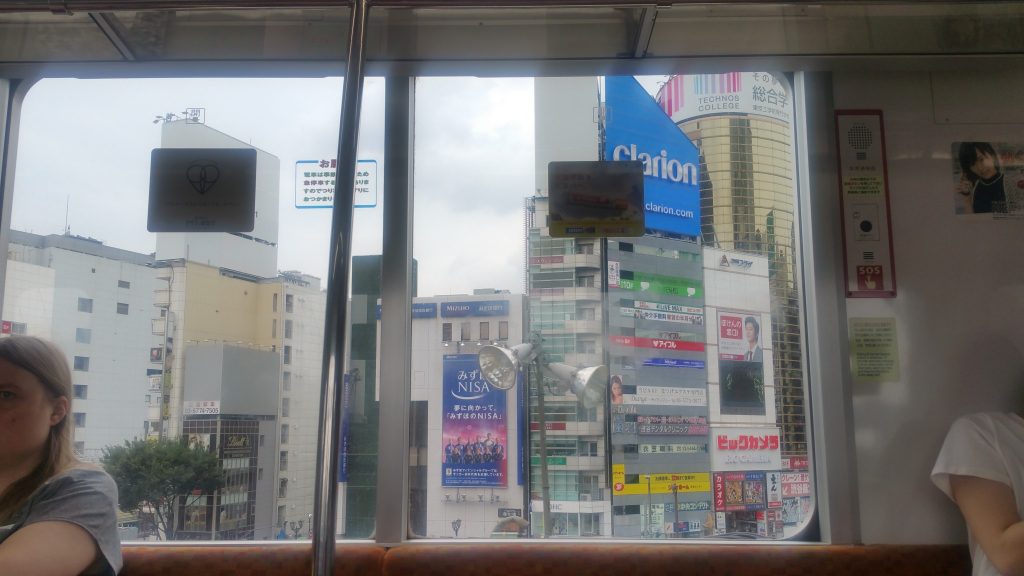 I spend the last day in the shopping district of Harajuku.  Most of the stuff was more expensive than in the U.S. but I found a few cool clothes at some thrift shops really cheap.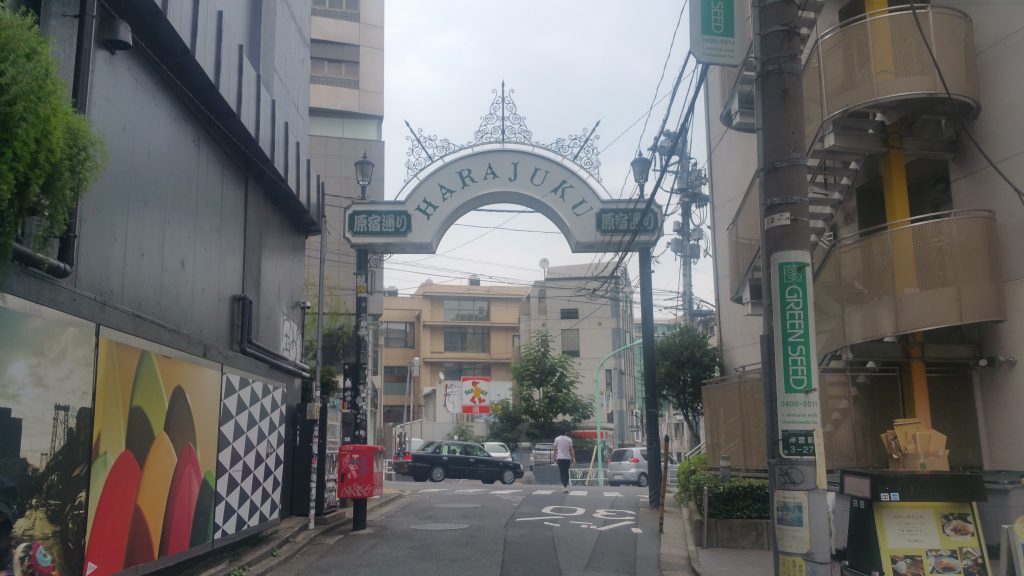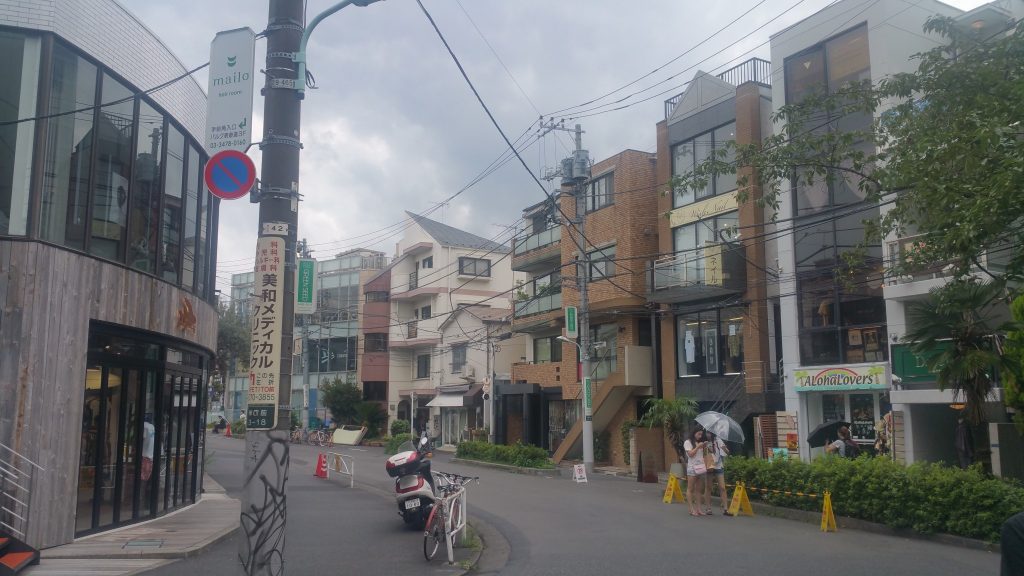 To kill time before my flight we sat down for a cup of coffee at a highly rated trendy cafe called Blue Bottle Cafe.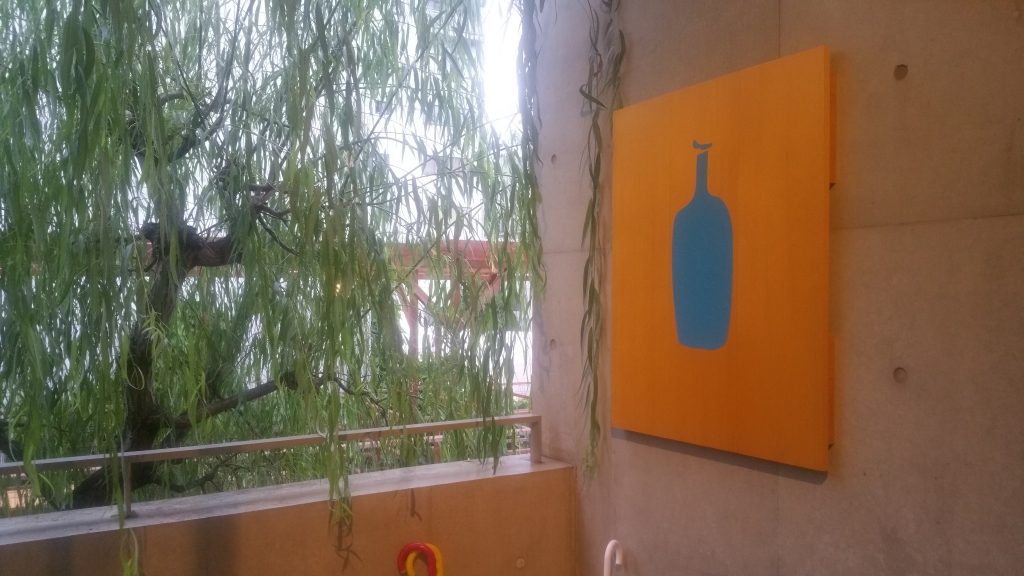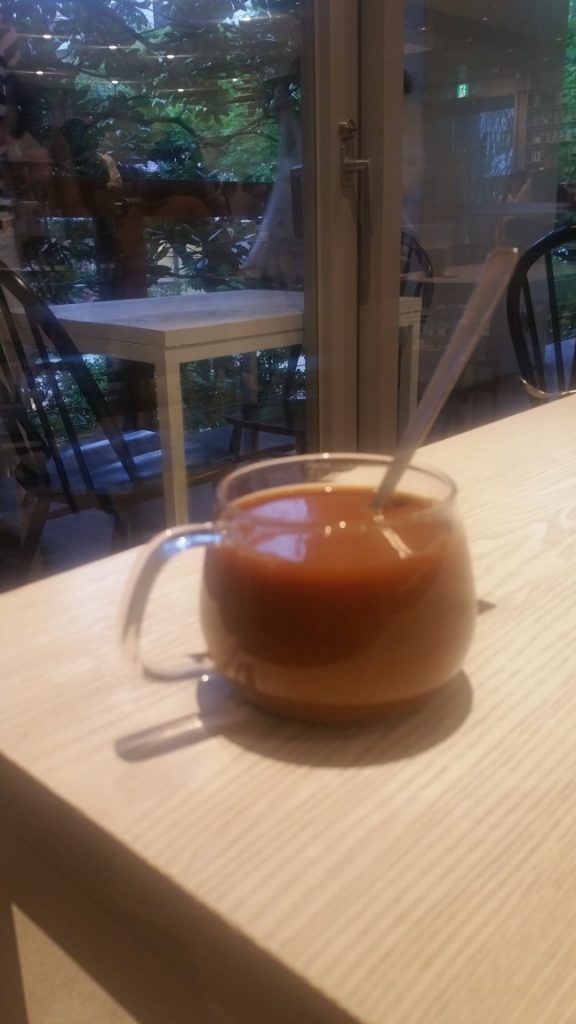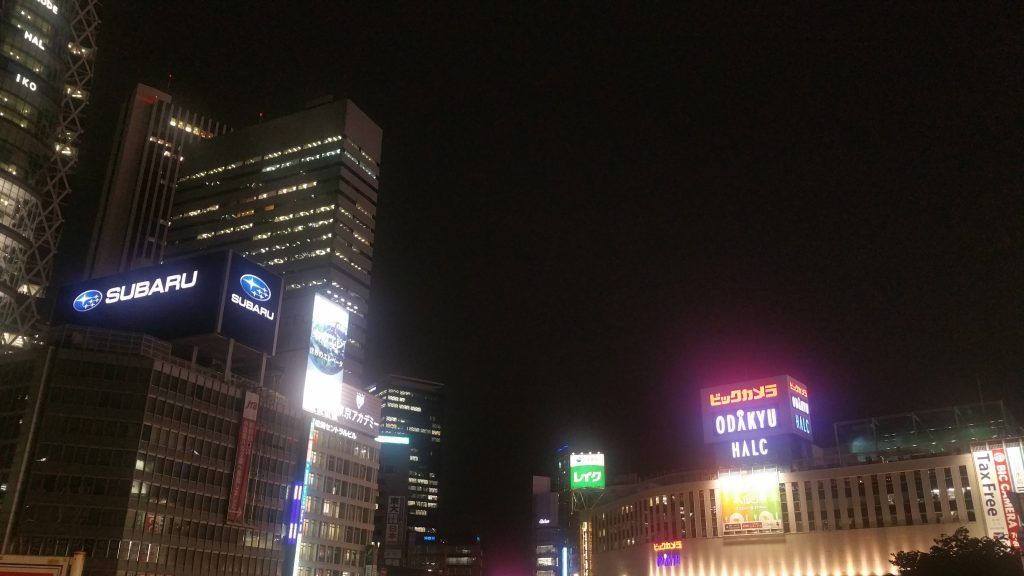 The last supper… that ended up giving me stomach issues on the way to the airport.  Avoid small sketchy looking curry katsu places!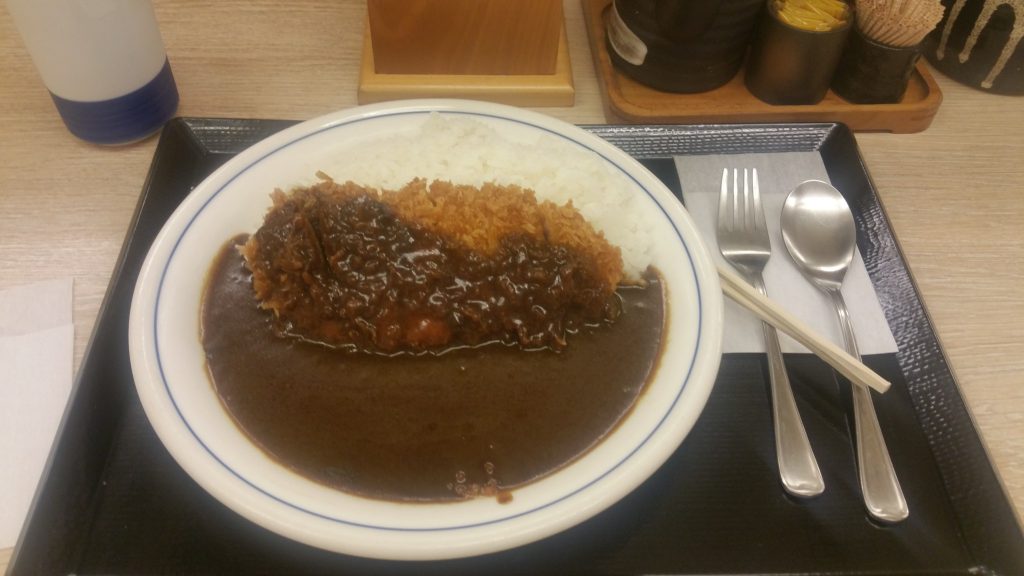 It was time to say goodbye to Japan.  I really enjoyed my time there since the culture was really different than anything I have experienced before. Please tell my dad to burn some miles on me, thank you!
Please help bloggers you appreciate & make a positive difference in your life by spreading the word about their blogs, emailing and commenting and using their few $ links, thank you!
TBB
travelbloggerbuzz@gmail.com
Follow TBB on Twitter @FlyerTalkerinA2
You can subscribe to TBB below, winners only!