We bring you info on what do with United flight disruptions, promote PointsCentric, show you how awful pollution is in China, please do dot feed trolls, the latest Club Carlson promotions, teach you about idioms and their meaning, visit Pitcairn Island, laugh with Tupac's Hail Mary and snoring dog, ponder the candy diet and how clickbait is poisoning us, bring you the latest triumph of the Greek Freak in the NBA, shake our heads at the resident blog troll and more!
TBB Blog Mission: To Entertain. Educate. Inspire. In That Order!
Heads up, I will be at several events at MGM and Cobo during the Auto Show in Detroit Saturday, Sunday and Monday. If you are around, let me know.
Doctor of Credit has been on a major blog groove lately, wow! What You Need To Know About the Chase Sapphire Reserve Bonus Reduction. Exactly what the title says! To recap, the 100k goes away and drops to 50k on January 12 so January 11 is the last day to apply online. To get 100k Ultimate Rewards points after January 11 you have to visit a Chase branch and you can do this until March 12, 2017. Lets see which bloggers keep readers in the dark about the 100k so they can sell their 50k affiliate link! Keep them honest, call them out and if they don't do the right thing, LEAVE them, there is NO excuse!
This site sells credit cards, heck…its name is MileCards.com! And they have great content. My blog was never against monetizing, it was and always will be about valuing and rewarding great content! Here is another useful post: Your rights when a United flight is delayed or cancelled.
Register for the Club Carlson First Quarter promotion. Just do it, ya never know. Remember the free night per each award days? #sweetmemories (HT: GringoLoco).
Loyalty Traveler analyzes the IHG Rewards Club 2017 hotel category changes. The conclusion is not pretty: "This is a another significant devaluation in IHG Rewards Club points value."
I know things got heavy in the comments yesterday so lets return to real entertaining stuff. Such as how a church mistook Tupac Shakur's "Hail Mary" for catholic prayer. Oh Tupac, you are a legend in Sri Lanka lol.
You are not laughing yet? Ok, how about this 32 sec video of the cutest dog who wakes up by a video of him snoring. The dog's face is…priceless! If you don't laugh I don't want you around here, go work on your taxes or something woohoo!
The 50 most useful Idioms and their Meaning. This is very cool. It was passed around in the TBB comments, I forgot who to give the HT to, please let me know. My favorite one for many of us bloggers is:
Don't give up the day job
You are not very good at something. You could definitely not do it professionally.
Have you guys heard of the "Greek Freak" in the NBA yet? If not, you will soon. Giannis Antetokoumpo was drafted by the Milwaukee Bucks out of a small team in Athens, Greece to complete shock, I had never heard of the guy. And what a story, illegal immigrants in Greece, dirt poor family, obviously raw talent. Most importantly, a VERY good kid whose brain is in the right place. The future is bright, he may make it to the All Star game this year. I remember the day he was drafted after they called his name he got the Greek flag out, brings tears to our eyes. So proud of him!
Ok, this next one is important! The candy diet over at Seth's Blog. Some excerpts to highlight are below and are so relevant to the clicbait BS that is littering the blogosphere as well. Don't become bait, ignore the bank sales reps masquerading as travel "experts"!
The economics seem to be that the only way to make a living is to reach a lot of people and the only way to reach a lot of people is to race to the bottom, seek out quick clicks, make it easy to swallow, reinforce existing beliefs, keep it short, make it sort of fun, or prurient, or urgent, and most of all, dumb it down.
Clickbait works for a reason. Because people click on it.
The thing about clickbait, though, is that it exists to catch prey, not to inform them. It's bait, after all.
Turn the ratchet. We can lead our way back to curiosity, inquiry and discovery if we (just a few for now) measure the right things and refuse the easy option in favor of insisting on better.
Oh hello Pitcairn Island. Less than 50 inhabitants are left, the place will become extinct. You see they have a dark secret over there, it involves children. WTF!
Pollution in China, some eerie photos, wow! If that was not enough, watch this 12 seconds creepy timelapse video, wow!
No personal finance link for you today, just a picture. Needless to say, all my clients were diversified in Ethanol, Heating Oil and Orange Juice! #notreally What the hell is Rough Rice, I prefer soft!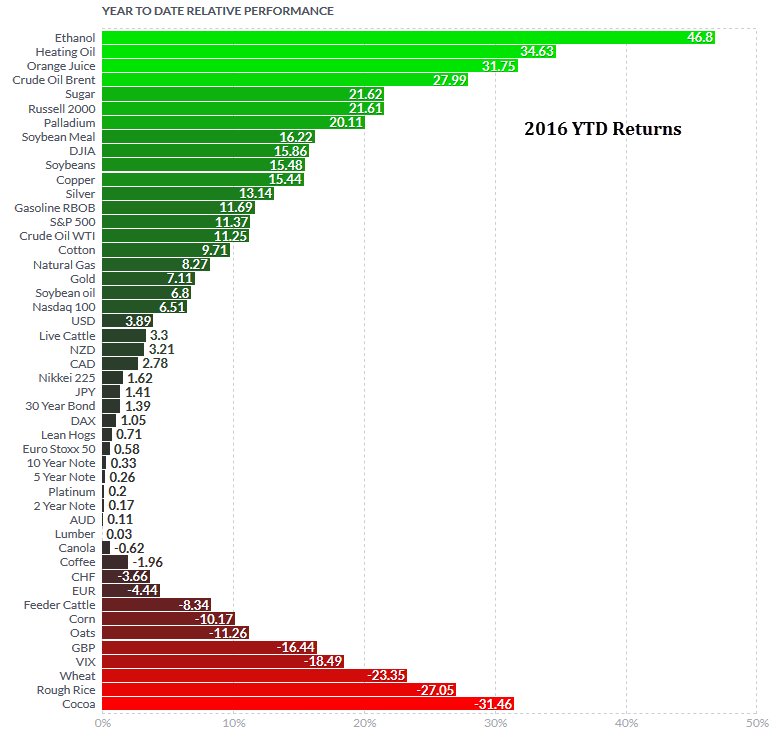 BLOG BUZZ
This section is for advanced/old timers of this quirky hobby…
Apologies to readers for my contribution to feeding Ingy, this blog's troll. This is the second time I do this and intend to to do my best to stay away from feeding the troll who thrives on attention. Please do the same! Obviously, there is a problem here, WTF!

Dear reader smittytabb, I am turning the other cheek, hold me to it please, don't allow me to have a relapse 😉
For the record, I have no problem against ANY blogger at all. I may have issues against blogging practices and I sure do not agree with many of them. Nobody forces you to read any blog, it is up  to YOU! The only two people I do not consider friends is the troll and his disciple Rene. Both happened to be the only bloggers who have repeatedly bullied and threatened to sue me multiple times. I wish them the best too.
I have finally added PointsCentric to the Blogs I Like list. You know I move slow, this blog belonged here a long time ago. All the best with the baby!
Anyways, there was a hell of an exchange of comments yesterday. I love the feedback, logical arguments and calling me out if you think I deserve it. Remember the comments by Dan of DansDeals when Southwest devalues again. We may have won a battle (for 2 months) but they can always win the war so we ALL lose while the blogger gets brownie points and more clicks which is always a good practice for for profit ventures! I prefer the approach not to be too greedy, get what I can get, don't create any noise and unnecessary attention, if something is taken away shrug it off and move on, not sue for age discrimination (lol) or create unnecessary labor expenses to deal with DoT complaints blah blah. Anyways, I did not have a dog in this fight at all, this was not the Fairmont Lifetime Platinum deal lol. Southwest is a good company and they proved it, so thanks. I guess.
I am tired, I need to move on, this is a one man operation…No wait, it looks like son is done with his Hong Kong post #winnning
Ok Dan, stop counting paragraphs now 🙂
And I leave you with this…
See you Monday, have a great weekend everyone, thanks for reading!
Check out my updated blog lists: Blogs I Love, Blogs I Like, Blogs To Ignore
TBB
travelbloggerbuzz@gmail.com
Follow TBB on Twitter @FlyerTalkerinA2
You can subscribe to TBB below, winners only!
Opinions expressed here are author's alone, not those of any bank, credit card issuer, hotel, airline, or other entity. This content has not been reviewed, approved or otherwise endorsed by any of the entities included within the post.