We bring you the latest on United upgrades, how to get on Hyatt cruises, credit card history in tweets, visit the amazing Buzludzha monument, how I hit a conversions drought, another Hyatt brand, register for an Amtrak promotion, the biggest importers in the world, see an NPR article how Stefan traveled to every country before he was 40, Bank of America credit card rules, yet another award booking service, explain climate crisis to the choir (TBB readers) and lots more. I am also looking for tips on how to cure my blogging addiction, thanks, I need to move on, come on!
TBB Blog Mission: To Educate. Entertain. Inspire. In That Order!
Support TBB by applying for CREDIT CARDS and visiting our

LINKS

!
You like my blog? Send a link to someone please!
Lets get the party started!
United is enhancing (for real) the way it processes upgrades for its elites. You can find out more info here and also here. The good old days of 100% upgrades to First Class as a Northwest Airlines Platinum Elite have been over for many years now, sad!
Register for the latest Amtrak promotion HERE. You earn double points between October 1 and November 16.
It is very interesting how Marriott is doing this peak off-peak thingie. Is there any link between Marriott Bonvoy peak and off-peak dates and the actual cash price? Apparently, not yet! There may be some opportunities and I have no doubt that Marriott will close them soon and stick it to its members. You know, #Bonvoyed!
Big loss for American Airlines and OneWorld as it is now set to lose LATAM to Delta's SkyTeam alliance: LATAM Will Leave OneWorld After Delta Buys 20% Stake In The Airline. Any of the old timers remember them wonderful US Air call center agents? 😉
Amazingly, hotel brand introductions just keep coming. And coming, it is becoming totally ridiculous! Hyatt introduces another one and they named it Caption. You know, you can be held captive there. Or something. Smh!
We are seeing a trend of banks killing some benefits we rarely used. Amex may saw an opportunity to gain some brownie points by adding some of them. I must admit I don't really care for them and I have never actually used them. Maybe I did once or twice. But that's about it. Dan has made a table of all the changes: Major Changes Are Coming For American Express Benefits! Master Chart Of What's Being Added And Removed.
Dan is also very excited it appears about the latest Citi enhancement of its Double Cash card: On The Heels Of Removing Nearly All Card Benefits, Citi Creates Their Own Incredible Credit Card Trifecta. I wouldn't go that far…Anyway, it is exciting for us bloggers when you use our links to get these cards lol!
Hyatt does it again. Is there another hotel chain out there that has been on a roll like this? No! Hyatt Announces New Partnership with Lindbald Expeditions. These small cruises look very nice. Maybe I blow my almost 200k Hyatt points on a special one? 🙂
One of our own, Stefan of Rapid Travel Chai, gets his well deserved media breakthrough at last: How One Man Used Miles To Fulfill His Dream To Visit Every Country Before Turning 40. Amazing accomplishment indeed. I am sure the places he has visited…he has probably picked up some radioactive material. This is the only way to explain the last time he visited my house we lost power! (true story) 🙂 I almost choked when I saw the writer's first name, Darius! I thought..ahh, never mind!
The Norwegian dude Gunnar Garfors is back with his selection of The World's 13 Best Countries.
Amazingly educational link! History of Europe: The Populations and Borders of Nations by Year.
Amazing Twitterstorm about something we know very well in this hobby, the credit card! How did we get here? Enjoy!
The Climate Crisis Explained in 10 Charts. Any questions?
Fantastic personal finance article: There Are No Secrets.
Investing is the perfect example of a complex problem with no known solution.  The closest thing we have to a "solution" is to Buy and Hold a diversified portfolio.  But, even Buy and Hold is anything but easy.  Why do I say this?  Because, as I have written about before, there is a big difference between the destination and the journey
Most people don't want the truth. They want a secret. 
Amazing article about that Bulgarian Communist building we have all seen: The conflicted past and uncertain future of the Buzludzha monument, Bulgaria's 'Communist UFO'.
Visualizing the World's Biggest Importers in 2018. So so stupid to get the two biggest importers locked into a trade war smh!
I think we finally may have some concrete rules on how Bank of America handles how many credit cards it gives us. Bank of America '7/12 Rule' & '3/12 Rule' for New Cards.
Miles to Memories also adds an award booking service. This looks like the service Travel Codex added recently. Is it the same outfit behind the scenes doing all the work?
Reader Jed informed me that TBB blog troll Ingy/Rick has returned to write again at The Frugal Travel Guy. I wouldn't know as I had not visited that site in years! So, I had to make a stop to read the post announcing his return. I made this comment if you are interested.
Meanwhile, the dry spell for credit card conversions here is still going on for almost three weeks now and the last few days my Amazon link has lost money due to returns. "Keep up the good work" I am told so often. Hard to keep going when not only this site is not earning crumbs but I have to pay for them lol. Evolution likely coming very soon. Unless there is a conversion spree run amok (lol) or Ingy shows up 🙂
All bloggers are pumping the Marriott Bonvoy Boundless card for 100k points. If you can fit it in, it really helps me to keep going and not feel like a loser if you get it here, thank you!
Leg rest day today. I have 10 and 16 miles to run this weekend.
And I leave you with this…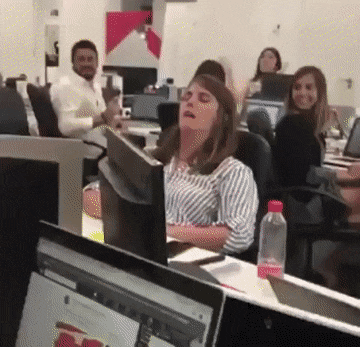 TBB
travelbloggerbuzz@gmail.com
Follow TBB on Twitter @FlyerTalkerinA2.
You can subscribe to TBB below, winners only!
Opinions expressed here are author's alone, not those of any bank, credit card issuer, hotel, airline, or other entity. This content has not been reviewed, approved or otherwise endorsed by any of the entities included within the post.