We try to protect you from virus aerosols, the best extended stay hotels, warn you about blockchain BS, a vicious Doug Parker beating, RIP Eric Mueller, the best Covid coverage you have come to expect, many promotions to register for, travel to Detroit, North Korea and Scotland, the RNC circus, a wild insurance scam by a mega douche bag, Milevalue blog sold again, my baby daughter is now in college and I am facing an empty nest and I don't know how to deal with this if only you can help with some conversions lol. Enjoy the weekend, stay positive 😉
TBB Blog Mission: To Educate. Entertain. Inspire. In That Order!
Support TBB by applying for CREDIT CARDS or visiting our

LINKS

or Donate

You like my blog? Send a link to someone please!
Shop & support the blog with the TBB Amazon link!
COVID-19
Best article to help you avoid getting infected I read recently: COVID-19 Is Transmitted Through Aerosols. We Have Enough Evidence, Now It Is Time to Act. Must read.
An Anthony Fauci interview at Germany's Der Spiegel: "Helpless Means You Can't Do Anything. There's a Lot We Can Do."  You should read it. It ends answering a question about what plague will hit us next:

The one thing that is predictable about pandemics is that they will occur. The one thing that is completely unpredictable is what the heck it's going to be. And that really is the truth, I don't have the foggiest idea. The one thing I hope is that it's not what we're going through right now. I told you why this was my worst nightmare. So, if we do have another outbreak, and history tells us it will occur, I hope that it's relatively insignificant and it can be easily confined. But whatever it will be, it's not going to be in 10 years. Maybe we'll see each other soon, sooner than that.
I feel like I am learning so much and I am on my way to get an epidemiology degree these days! More about immunity next: Four scenarios on how we might develop immunity to Covid-19.
The latest on the vaccine front: The latest in the global race for a COVID-19 vaccine.
This is one a devastating read: What Happened in Room 10? Where it all began: The Life Care Center of Kirkland, Washington, was the first COVID hot spot in the U.S.. Accounts from residents and family and staff. Great background information how this industry works. We need to take a much better look to fix the problems. I felt pain reading this thinking about my mother…I don't do clickbait shit here. Or pump you with repeated posts trying to sell you what earns me money. I find good stuff online and I share it with you to educate/entertain/inspire. For almost 8 years, you are welcome. Warning: It is a long read and prepare to get emotional.
India is now leading the world with new Covid cases per day. Which is probably wildly under counted and everyone knows it: India is in Denial about the COVID-19 Crisis. I repeat, we will never get back to normal if we don't control the virus. Period.
Meanwhile, the killing in the US still goes on. We lose as many as we lost on 9/11 every three days. THREE DAYS, get this number to sink in ok?
MILES & POINTS
HOT CREDIT CARD OFFERS: There are now three different 65k Chase Southwest card offers and a 60k Chase United Explorer card offer. Please use my Affiliate links.

If you do not see a credit card you want with my affiliate links, perhaps I could refer you to it? Some cards I can refer are: ChaseFreedomUnlimited, ChaseSapphirePreferred, AmexHiltonAspire, AmexBlueBusinesPlus, AmexHiltonBusiness. Contact me please and thanks for your support!
Register HERE for the latest Hilton Hotels promotion to earn both double points and double elite qualifying nights for stays between September 8 and December 31, 2020.
Another comprehensive resource: Amex Membership Rewards Sweet Spots.
Interesting review of The Best Extended Stay Hotel Brands. I love Hyatt Place. I also have had good experiences at IHG's Staybridge Suites. My back still hurts from a stay at a Candlewood Suites property, never again. I find the Marriott ones to be, well, standard I guess, nothing stands out. I have not stayed at a Hilton Home2 Suites yet…but I have loved every stay at a Homewood Suites property so far.
I think more hotel companies will tailor stays with the now familiar work from home theme. Hyatt introduced its Work From Hyatt program.
IHG let go 103 hotels to Sonesta which has a frequent guest program that sucks and is now double the size…At less than 200 properties it should not be on your radar. Keep It Simple! The breakdown of the 103 departed hotels is three InterContinental®, five Kimpton® Hotels & Restaurants, 11 Crowne Plaza®, three Holiday Inn®, 20 Staybridge Suites® and 61 Candlewood Suites®.
You could do this but why bother doing it when not much travel is happening? Marriott instant status match challenge from IHG, Hilton, Hyatt, and Accor.
Newbies: This is a great time to stack up with miles and points to use in the post pandemic travel bonanza that is going to take place! Here is a good credit card recommendation flowchart, click to enlarge.
TRAVEL
What if the airlines did not have their lucrative frequent flyer programs to bail them out when they need it! Delta Plans to Follow United With Debt Backed by Loyalty Program.
Just a day after the bailout money ends, American Airlines is at it again: 'The hardest message': American Airlines to lay off 17,500 front-line workers due to coronavirus travel slump. About a month before the election…I think they will get some money in the end and…keep them to let them all go on the day after the election, sad!
Bet you did not know there was a pyramid in Scotland. And we got Video: Story Behind Hidden Pyramid Highlands.
One of the most beautiful places in the world with a drone video, WOW! Norwegian Scenic Route Hardangervidda Voringsfossen. Must click!
In Detroit we all know this building. Park Avenue House owner gets the OK to turn lower-income hotel into an upscale Hilton. Sad to see all the evictions! It will be a "Tapestry Collection by Hilton" property after a $50 million overhaul.
From Detroit to North Korea. I Have Been To North Korea Almost 30 Times & Counting…Why Do I Keep Going Back?
The travel industry has been decimated. And now a Chart: Coronavirus Cuts International Tourism by Half. Actually, I think it is much worse…When a resort does this…you know: Aveda Resort: Indian hotel turns luxury pool into fish farm to keep business afloat.
Let's continue with rare places. Like Baldwin Street, The Steepest Street In The World. It is in city of Dunedin, New Zealand. You need to see it! Can you imagine driving it with a stick shift?
PERSONAL FINANCE
I am not a fan as you may have noticed from my posts over the years: Blockchain, the amazing solution for almost nothing. The blockchain is a solution in search of a problem.
I like to warn about scams and scammers here. And this is a hell of an article from Texas Monthly again: The Wildest Insurance Fraud Scheme Texas Has Ever Seen. What a douche bag sitting in a jail cell right now but out soon smh. It involves airplanes and arms trading and stuff like that.
Let's single out our "favorite" airline CEO, American Airlines Doug Parker. Why am I posting this in the Personal Finance section? Because…it shows you how you can make out YUGE in today's business world if you climb up the managerial ranks! Sacrifice for Thee, Vast Wealth for Me. Of course above I mentioned how AA is basically extorting the government for more free money, old news. But let's see how Dougie made out, shall we? BE ANGRY!
From 2014 through 2019, Doug Parker pocketed more than $150 million in cash through his sale of 3.6 million shares in American Airlines. That's in addition to the $50 million in stock he still owns (and net of the pittance that Doug has paid for all of these shares). That's in addition to the $100+ million in cash salary and cash bonuses and deferred comp and stock options and incredible perks that Doug has received…
These stock sales were particularly egregious in 2015 – 2016, where for a twelve month period Doug pocketed between $4 million and $11 million in stock sales per month, and again in 2018, when for a brief shining moment American Airline's stock price went above $50. Wouldn't you know it, Doug just happened to choose that moment to sell 437,000 shares of stock, more than twice as much stock as he had ever sold before and almost 5x the usual size of his stock sales.
But surely, compensation like this is well earned. Surely, American Airlines has outperformed its competition, built a solid franchise, and delivered nice returns to its investors.
LOL. Don't call me Shirley.
From 2014 – 2019, the same years that CEO and Chairman Doug pocketed $200 million in real money stock-based comp, American Airlines had *negative* free cash flow of $3.2 billion.
And took on an additional $14 billion in debt.
And bought back $13 billion of its stock.
How did all this work out for American Airlines shareholders from 2014 – 2019?
Over this six year period, AAL stock was up 13%. Not 13% per year, but 13% over SIX YEARS of the best bull market in history.
Barf.
Doug Parker is not an entrepreneur. Doug Parker is not a founder. Doug Parker has never built a goddam thing in his life. Doug Parker is not on your "team".
Doug Parker is a financial analyst. Doug Parker is a manager. Doug Parker is a risk taker with other people's money and other people's lives.
And for that, Doug Parker is a centimillionaire many times over.
ODDZ & ENDZ
We all know about some of them, very fun read: Music's 30 Fiercest Feuds and Beefs.
Amazing photography! A Dozing Owl and Tussling Hummingbirds Top the 2020 Bird Photographer of the Year Competition.
BLOG BUZZ
We are now entering BLOG BUZZ, a section for advanced hobbyists and veterans of this fast imploding hobby and also a section where I go on and on about some stuff that happens in my life because it helps me feel better about myself.
So sad to learn Eric Mueller has died. One of the nicest guys in this hobby, RIP. Here is Eric interviewing Bob Crandall (former AA CEO) for Milepoint TV.
Milevalue sold to credit card selling site 10XTravel. It appears the lady who bought it from Scott gave up. I was hoping some bigger blogs will fold first. It is a rough environment out there you guys, how long can miles and points blog hold out? With my own conversions stuck at just two this month (thanks to my wife and daughter lol) I will consider laying off my marketing and tech department staff…wait, I don't have any staff 🙂 Update: Scott is running for Congress in his native Hawaii…I can't even…Here is what a person in my fan club (!!!!) said in the comments!
There was a lot of excitement in the miles/points space about this: This 50% Off Iberia Avios Promotion — Now THAT'S a Unicorn! But, you know, there is a pandemic going on these days…By the way, Chase offers a 100k miles Iberia Visa card and, please sit down, it is available with my credit card links and yes you will be FIRST!
Well, as I was expecting, my trip to Greece in November to run the Athens Marathon is crumbling as I just received the dreaded cancellation emails for both of my Singapore Airlines JFK-Frankfurt business class flights. I now have to proceed again with making sure my miles are back in my account and then cancel the hotel award nights I had already booked. Amazingly, the Athens Marathon has not gone virtual yet! Or maybe I hold out canceling the hotels just yet…what a pain this phucking virus is hey? #firstworldproblems
Sending some love and support to everyone affected by the hurricanes. I can not imagine having to go through this…
Maybe I stick with this Friday posting going forward. Unless there is a huge change in the conversion front…which I am certainly doubting these days, sad!
Daughter moved in to the same dorm her brother lived in at the University of Michigan five years after him. Same floor too! Let's see how long before they all get kicked out due to the virus…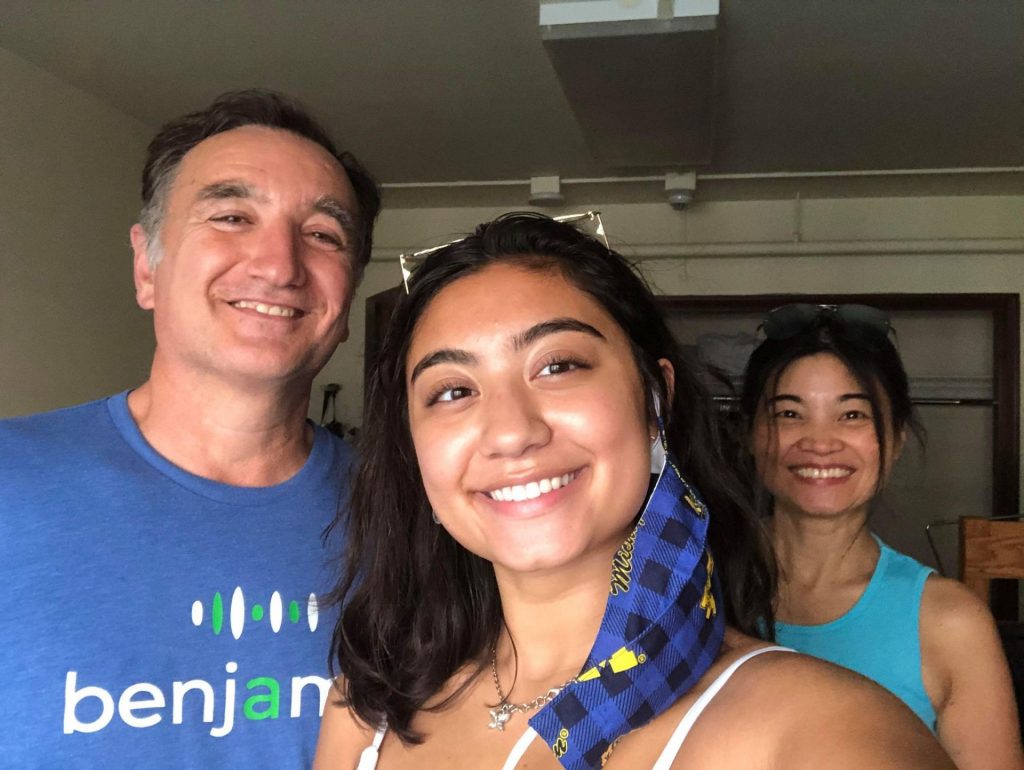 And I leave you with this…
Follow TBB on Twitter @FlyerTalkerinA2.
You can subscribe to TBB below, winners only!
Opinions expressed here are author's alone, not those of any bank, credit card issuer, hotel, airline, or other entity. This content has not been reviewed, approved or otherwise endorsed by any of the entities included within the post.