A warm welcome to all new readers and all readers who may not be new to my blog but still feel lost when it comes to this crazy miles and points world and want to travel for free. And a warm welcome to all my colleagues who saw my recent article. This blog is about my travel passion and how to maximize your return on it. It can be done but don't let anyone fool you that it is free, unless your time is free! It takes time to learn all the secrets. And there are A LOT of them. Heck, I have been at it for almost 20 years and I am still learning new things every day!
TBB Blog Mission: To Entertain. Educate. Inspire. In That Order!
This site is AD-FREE! You can support it by applying for CREDIT CARDS, and visiting our REFERRAL LINKS page.

This hobby appeals to people who:
have good to great money management skills
are detail oriented & organized
are disciplined
love deals
are very comfortable online
love travel
A BIG part of it is accomplished by accumulating miles and points through obtaining travel rewards credit card signing bonuses. We are dealing with credit here, as in spending money to get some of these (sometimes) awesome rewards. And we all know here in the US we have a serious spending control issue. In other words, we totally suck in controlling our spending so that pretty much eliminates a huge part of the population that should not consider this hobby as it can be very dangerous to your overall health!
So, lets talk about each characteristic above in more detail por favor.
Good to great money management skills
First, if you carry any credit card balance in any of your credit cards please leave NOW. Do not come back here until they are all paid off. Actually, don't come back unless you have changed your habits completely…usually, you know, past performance in this department is indeed a good indicator that it will likely happen again. So please don't play this game!
In my life I have NOT paid a penny of interest in any of my credit cards. NEVER EVER! The miles and points are, very sadly, given out on the backs (and pockets) of those who screw up, fall behind and end up paying ridiculously high 20% + interest rates to the banks for many years. If this happens, the TBB intern will come and find you and beat some sense into you…Trust me, you don't want intern Vinny to find you!
My point is, it ALL starts here! You do what you need to do to get the miles and points and NEVER charge anything that you can not pay back when the monthly credit card statement is out. Having stable job(s) and a nice sized emergency fund is highly recommended as well. You will be tempted to spend more and you will. Shit happens in life you know, usually at the worst possible time, so having some cash stashed away for those moments will definitely help!
And since the question "Will my credit score go down/get ruined by opening so many cards?" always comes up, I have an answer for you. No, it will not! After a while your credit score goes even higher! Mine has been in the 800s for many years. It is now in the low 800s after I paid off my mortgage. Yeah, that hurt my score, try to make sense of that! A great blog post that can answer this question in more detail is HERE.
Detail oriented & organized
This hobby really appeals to analytical types. I am amazed of the caliber of the people involved in it. We love reading the Fine Print. And the Term and Conditions of each deal/promo/sale. We know that is where it's at and only there we can find the details (pun intended) to maximize our score! Of course, we are all different and we can tolerate only so much detail.
We don't blink in setting up yet another frequent flyer or frequent guest account online and juggle so many passwords. I think sometimes we actually derive a deep sense of satisfaction having so many accounts and, this is important, a diversified source of miles and points that could take us anywhere we want at a short notice. You know, it's good to have choices.
Discipline
When people first discover this hobby and IF they start to get it, it's like a light bulb goes off…or more like an explosion. The excitement levels can go through the roof as you finally realize…."Wait, are you telling me I could get a credit card, do the minimum spending requirement to get up to 100k or so miles/points, pay it off, continue to use it and earn more miles (if I want) and do this for no annual fee for the first year? And then I could cancel the card and keep all these miles/points? So, it's basically FREE. For real?" Hell yeah, it's for real.
I know, it doesn't seem real, you are thinking what's the catch here? The catch here is, as always, the poor souls who screw up and pay high interest for ever and also the ones who end up keeping the card because they just never get around to cancel it. When I first got this, I had to sit down for a moment as my eyes popped out like this!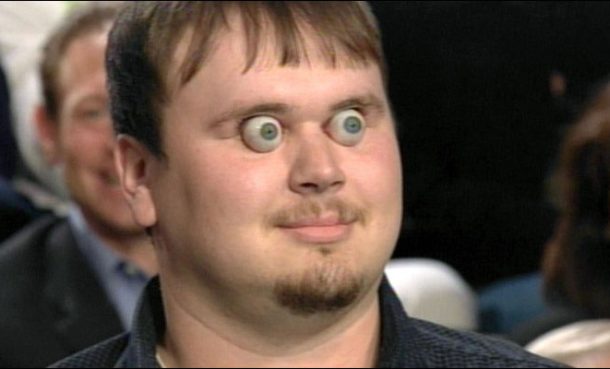 And then seeing that first 50k or 75k or 100k signing bonus hits and oh la la..it's orgasmic!
I was hooked for life, best crack ever (note: I have never done crack!)
I am very disciplined. I have a system and I follow it to the letter. Okay, sometimes I am a few days late here and there in applying/canceling or whatever. But the point is: I never carry a balance, I apply for different cards strategically, I know what I must do to get the signing bonus and know when the annual fee comes due. If your first reaction is "oh no, I have to open an account with Citibank and/or American Airlines, I always forget my password"…please move on, this is not for you. I have slowed down even after redeeming more than 1 million miles and points in 2014 and 2015 and still find myself I can't get my total balances below 3 million. Please help! #notreally
In addition, you should be developing a relationship with a bank and should be keeping one or a few credit cards and regularly use them. Yes this sometimes includes paying the annual fee! It is a two-way street. Banks have gotten much better identifying who is not a good customer for them and have placed some restrictions in approving new credit cards. But lets keep it simple for now.
Love deals
This hobby appeals to value oriented people. Why pay $10 when you can pay $3? Or even better, pay nothing! We pride ourselves in getting around all different angles and scoring them deals! I am NOT talking about couponing, definitely not worth the bang/hassle threshold!
In fact, this is what always drove me in this hobby…I love the scores! NEVER doing anything illegal of course. But, darn it, when you lay out a promotion and you take the time to go through all the fine print and come up with a smart action plan to, and this is important, to MAXIMIZE your haul, why not? You are an educated consumer, let the suckers pay full price..or fly coach or something while you yawn stretched out in your flat bed up front with the flight attendants serving you champagne and caviar. For the record, I am not a fan of both champagne and caviar, give me red wine and hummus any day!
Ok, one more point. I love going to Panera stores in the morning. Panera has a loyalty card you can use with each order and after a certain number of visits you get a reward. It seems like every store has a loyalty program these days! Many times I see customers answer "No" to the cashier's question "Do you have a loyalty card?". I NEVER understood that…why not get one and get a reward for the SAME amount you would pay anyway? I only say no when I know I will not be coming back to that store or chain.
Very comfortable online

I presently have accounts in about 107 different programs for me and my family members. Some of you are freaking out right at this moment. You don't have to be like me of course. Open accounts at the loyalty programs of only the major US airlines and hotels. Heck, start with just the main airline in your local city and your preferred hotel. The point is, START somewhere!
I do use several online tools to keep it all together and organized. Two of my essential tools are RoboForm password manager and Award Wallet (to help me track all 107 programs). You can learn more about these two tools in my Support Page.
Love travel
Of course. This is what is all about. If you don't like travel, stick with a cash back card or something. And, naturally, we LOVE to maximize our travel! Why pay for a family trip when we can all fly using miles and stay in a nice hotel suite with hotel points instead of a Best Western or Red Roof Inn (I could care less if they leave the light on for me). This hobby has given the gift of world travel and so many memories to my family! You can see some of our travel scores in the TRIP REPORTS section.
Of course you must be aware that the golden era of this hobby is in the past. There have been numerous devaluations of awards and finding them has gotten harder. The days of getting paid to fly in First Class (because of Elite free upgrades) are long gone and are not coming back as airlines shift to a revenue based earning business model. But still, the standard 25k miles for a domestic flight award has stood the test of time. Of course it probably does not make sense using the miles for domestic trips when you can put together an epic trip like this across the US AND South America! 🙂
Warning!
Another warning: This hobby can be very addictive. It can get even more addictive after you score your first trip or two! And then it can take another dimension when you spend more time in online places where we hang out. And then, be careful, if you decide to go to one of our meetings and you actually meet some of us in person…watch out! You start speaking our own language containing airport codes, airline initials, churning numbers, stopovers, open jaws, and other weird terms. At the same time, the way I see it is…people have hobbies, some like to collect stamps or coins or dolls or whatever, we like to collect miles and points to travel like rock stars for mostly free and then do it again and again because travel completes us. It's like oxygen, do you understand? Oh, making good friends is a good byproduct of this hobby as well.
A good place to start is the Basic Reading (on the right hand side) of this Reddit community. Especially this post that explains it pretty well.
This all pretty much started at Flyertalk, a site many of us still frequent. It can be chaotic there, so please be patient and take your time.
Or ask me or in the comments anything you want. We pride ourselves in doing this the right way and only helping the few people who are cut out for it. The VAST majority of people will never get it or do not fit all the requirements above.
Finally, please NEVER apply on a link for a credit card because some "expert" told you so. MANY blogs ONLY exist to SELL you credit cards. I swear some of them will sell out their mothers to get another conversion out of their readers! And they won't blink twice to get you a card with an inferior offer just because it pays them a sales commission and hide the better offer from readers because it does not pay them. That is completely unacceptable and should be condemned at every level. Best response is to flip them a bird, tell them to go to hell and start reading blogs that put you FIRST! I wrote a thesis on the subject if you have the time, I think it's pretty funny too.
If you are looking for blog recommendations, go here: Blogs I Love, Blogs I Like, Blogs To Ignore
Now excuse me, time to go get some more miles!
TBBon!
Please help bloggers you appreciate & make a positive difference in your life by spreading the word about their blogs, emailing and commenting and using their few $ links, thank you!
TBB
travelbloggerbuzz@gmail.com
Follow TBB on Twitter @FlyerTalkerinA2
You can subscribe to TBB below, winners only!