We bring you the Best of Web links: 2017 Iran, College Loan Swindle, Lake Chad, One Man IPO, US Population 1980 to 2050 animation.
TBB Blog Mission: To Entertain. Educate. Inspire. In That Order!
As always, click on the headline to be taken to the original source. Sometimes I insert my incendiary comments on article excerpts between [brackets].
If you enjoy my blog, please pass it on to someone you care about so they can enjoy it too. If you don't enjoy it and still read or troll the comments, you have issues, please seek help.

Thanks to all readers who have been supporting the site with your credit card, Amazon shopping and donation clicks, greatly appreciated.
Support good blogging practices with your clicks!
Another Yomadic post on Iran, check it out. And this picture will just stay with you…
Another typical a bit over the top Matt Taibi article in Rolling Stone. It has some great statistics that should make you ponder. I am proud to say my son got a tiny student loan ONLY to help his credit score in preparation for his travel rewards credit card churning career lol. Some people mentioned in this article makes you wonder what the hell were they thinking? We need to teach basic money management skills starting in primary schools, WTF!
In rehabilitation, Martish's $8,000 loan, with fees and interest, ballooned into a $27,000 debt, which she has been carrying ever since. She says she's paid more than $63,000 to date and is nowhere near discharging the principal. "By the time I die," she says, "I will probably pay more than $200,000 toward an $8,000 loan." She pauses. "It's a scam, you see. Nothing ever comes off the loan. It's all interest and fees. And they chase you until you're old, like me. They never stop. Ever."
The opening scene is breath taking. This is a long read on this unfortunate part of the world. It has it all and you will learn a lot…Add ISIS, dictators, civil wars, CIA, the war on terror and more!
Boko Haram, climate change, predatory armies, and extreme hunger are converging on a marginalized population in Central Africa.
I remember reading an article about this guy back in 2008 who made the news for his decision to sell shares of himself. This is an update and it is fascinating. If he had only given away one bitcoin back then for each share sold lol.
Can you imagine a "travel" blogger what they would do if there was an affiliate channel for them to make money? On a second thought…please don't.
This animation is super cool!
And I leave you with this…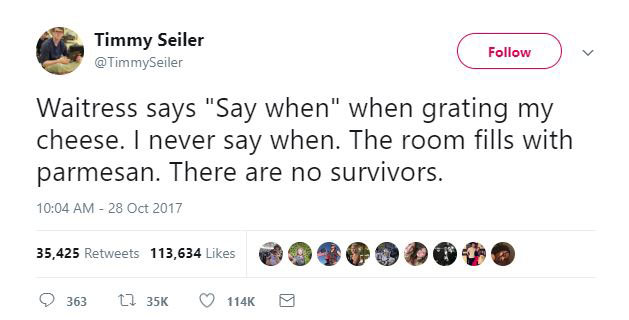 Check out my updated blog lists: Blogs I Love, Blogs I Like, Blogs To Ignore
TBB
travelbloggerbuzz@gmail.com
Follow TBB on Twitter @FlyerTalkerinA2
You can subscribe to TBB below, winners only!
Opinions expressed here are author's alone, not those of any bank, credit card issuer, hotel, airline, or other entity. This content has not been reviewed, approved or otherwise endorsed by any of the entities included within the post.