We bring you the news that Marriott postpones SPG death, hostel guest ages, NYC taxi driver calendar and plastic pumping bloggers hawking, well, plastic!
TBB Blog Mission: To Entertain. Educate. Inspire. In That Order!
So it looks like the Marriott people could not destroy SPG in 2018. The eventual destruction will occur in early 2019 most likely. In the meantime, they announced the killing of Rollover Nights and a few other small changes. Lets get them SPG cards up to 35k points soon okay?
A review of the American Express Centurion Lounge in Philadelphia. I will visit in October 2018 as I have a conference to attend there. What interested me the most was to find out that the buffet food is curated by the chef at Zahav restaurant. A reader recommended this restaurant to me last year and the hummus was AMAZING! Let me tell you, I know hummus lol.
This post pretty much captures the decline of American Airlines for us.
Anyone tried this Tsukiji Fishroom sushi inside Newark Airport? They claim they get shipments directly from that well known Tokyo market…
This is great article: How Old Is Too Old To Stay In a Hostel? Some of these look so nice, maybe we all one day sacrifice our suites to get…closer together lol.
Exploring way deep below Antarctica's Sea Ice. Wow.
Let's go sliding down the Great Wall of China you guys, yippeeeeee!
Good advice on how to speak with suicide survivors.
Okay, this is hilarious, not sure how I missed it. I am telling you the sex robots are coming. Well, apparently they are already here for this guy, he looks so proud, lol! (HT: Angelina)
Your personal finance fix: If You Are Reading This, You Already Won the Genetic Lottery. Stop bitching and be grateful okay? Now some amazing stats:
A net worth of $3,582 would put you in the wealthiest half of world citizens in 2017.
$76,754 would put you in the top 10% of global wealth holders.
$770,368 would put you in the top 1%.
The bottom 50%, collectively, owns less than 1% of the total global wealth.
The top 10% owns 88% of global assets.
Frontier wealth ranging from $5,000-$25,000 covers the largest area of the globe. (India, Russia, Brazil, Indonesia, Philippines, and Turkey).
North America and Europe combined account for 60% of all adults in the top 10%.
Net worth per adult in the U.S. rose by 80% during 2000-2017; 66% of this gain occurred BEFORE the financial crisis.
Median wealth in North America is currently four times the level in Europe, nine times the level in China, almost 50 times the level in India, and more than 100 times the level in Africa.
Since 2000, the number of ultra-high-net-worth individuals ("UHNWI") has increased five-fold, the fastest growing group of wealth holders.
3.5 billion adults with wealth below $10k account for 2.7% of global wealth.
36 million millionaires comprise less than 1% of the world's population, but own 46% of global wealth.
70% of all adults in the world have below $10,000 in wealth in 2017.
The U.S. accounts for 43% of the world's millionaires with about 5% of the world's population.
The U.S. has the greatest number of UHNWI (above $50 million), which is four times greater than China, number two on the list.
India has $5,980 wealth per adult.
Switzerland accounts for 1.7% of the top 1% of global wealth with just 0.1% of the world's population.
What a shot! All Above the Sky.
Check out Britain's version of brutalist urban utopias.
Lets take a ride you guys…on Air Koryo, North Korea's pride!
Okay, this is hilarious. I bring you the 2018 NYC Taxi Driver Calendar. Some of these poses are mega lol material!
BLOG BUZZ
This section is for advanced level hobbyists and veteran blog readers & personal rants & stuff
The movie Lady Bird is great.
Isn't it amazing these boys always take the high road huh? They can't go a single day without pumping them credit cards! These were the most ridiculous posts…while I try to use my link and can't even get approved for one card lol (in recon still after being interrogated like a criminal, wtf!). Maybe I start playing dumb and cultivate the newbie market non stop like these marketers…

The Thought Leader even did a 5 Over 50 (as in 5 credit cards offering 50k miles/points). I see a pattern ahead: 2 over 100, 3 over 75k, and so forth. Sell that plastic booooooooy!
And I leave you with this…Me trying to celebrate my one credit card click….come on! 🙂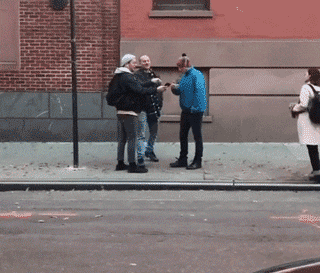 Check out my updated blog lists: Blogs I Love, Blogs I Like, Blogs To Ignore
TBB
travelbloggerbuzz@gmail.com
Follow TBB on Twitter @FlyerTalkerinA2
You can subscribe to TBB below, winners only!
Opinions expressed here are author's alone, not those of any bank, credit card issuer, hotel, airline, or other entity. This content has not been reviewed, approved or otherwise endorsed by any of the entities included within the post.