We bring you more news of Spirit Airlines rolling, best road trips, where to go for penis transplants, learn of global diets and Blog Buzzing! And lots more I am just too lazy to add them here so just read for freeeeeeee!
TBB Blog Mission: To Entertain. Educate. Inspire. In That Order!
It is the first of the month when Mile Nerd updates his Top 25 Credit Cards list.
You can make fun of Spirit Airlines all you want but they keep making money and expanding. 11 new routes! And two from Detroit, to San Diego and Portland.
Help fight cancer and get 25 AA miles per dollar, sounds good to me!
This is pretty cool with great photos. Megan Starr's 6 favorite road trips around the world.
If you ever needed a penis transplant, South Africa is the place to go. You are welcome!
Envisioning Chemistry. What  a mesmerizing video, wow!
Your personal finance fix of the day: There Are Many Ways to Win. Oh, you will learn a lot about ants too.
This dude's black and white photos will blow your mind. Follow Jason Peterson in Instagram.
Visualizing a Rapidly Changing Global Diet. Very cool!
This park becomes a lake in the summer, check out the underwater photos!
Only in Japan you get your citizens abducted by North Koreans and you still get an all female North Korea fan club. WTF!
BLOG BUZZ
This section is for advanced level hobbyists and veteran blog readers & personal rants & stuff
The Ink Business Preferred is on its way, another 80k to replenish the balances…What the hell is wrong?…Doing these now one at a time, sad!
So, is it news when Delta devalues its SkyMiles shit? Nope, did not think so!
You guys missed Ingy? He is baaaaaack woohoo  Post #879 #goodtimes. What a ridiculous argument he makes imho! #wow
Looks like Dan at DansDeals finally took a moment to breath from the mother of all Amazon deals pumping…to bring to attention how that JAL workaround to book Emirates first class went poof. It was then written by the "experts" at Boarding Area lol. When bloggers bitch about these deals going away when having written about them is just so phucking ironic!
Here, here, please notice me!
If you thought the Million Mile Secrets marketing team was out of ideas how to pump more credit cards to newbies, you would be sadly mistaken. Be afraid, be very afraid. It explains why Rene gave up going against these guys. I should join him soon to talk about the blogging business over some weekend lol.
Amazing how the thought leader in travel finds time to sell credit cards Every.Single.Day! And the fan boys keep brushing that aside.Every.Single.Time
View From The Wing – How to Earn Points Faster With Credit Card Category Bonuses
Mommy Points continues to do marketing glitzy posts for Hyatt properties. Does she work for them or she really wants to?
And I leave you with this…Give me a hug!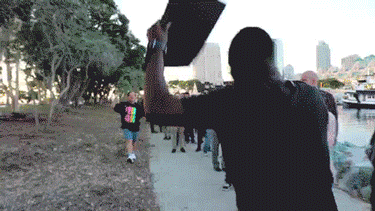 Check out my updated blog lists: Blogs I Love, Blogs I Like, Blogs To Ignore
TBB
travelbloggerbuzz@gmail.com
Follow TBB on Twitter @FlyerTalkerinA2
You can subscribe to TBB below, winners only!
Opinions expressed here are author's alone, not those of any bank, credit card issuer, hotel, airline, or other entity. This content has not been reviewed, approved or otherwise endorsed by any of the entities included within the post.