We bring you a Chase Ultimate Rewards FAQ, warn you about Flying Blue promo awards, discover former banks now hotels, go on a Jupiter Mission, announce a partnership between Wyndham Rewards and Total Rewards, travel to remote gorgeous places, visit some tattooed women in Myanmar, discover an amazing Japanese sand sculptor, get you two free Starbucks coffees and much more!
TBB Blog Mission: To Entertain. Educate. Inspire. In That Order!
Chase Ultimate Rewards Questions Answered. This is solid info.
These Air France Flying Blue promo awards come regularly. Just with regular Southwest and JetBlue sales, it is always easy content for bloggers. But not many blog about the award space on these flights…because that takes time! And of course watch the fuel surcharges. These can work if you can make them work for you.
This may have some appeal to a few of you. Wyndham Rewards and Total Rewards Launch Partnership. This Total Rewards membership can save you some dough if you go to Las Vegas. Then again, if you go frequently to Las Vegas…never mind.
27 of the world's most remote and beautiful places. It is an AFAR list. Many I have not heard before.
10 Hotels that used to be…banks. This is a pretty cool list. The Ritz-Carlton in Philadelphia does look stunning!
Only in Utah…Sorry dude, you just can not marry your laptop.
Your personal finance fix: A Dozen Thoughts from Charlie Munger from the 2017 Berkshire Annual Meeting. Always some good stuff to know here.
NASA Juno Mission to Jupiter. I dig it and so should you!
The older I get, the more I appreciate art. When you see what sculptor Toshihiko Hosaka can do with sand, I guarantee it, you will be blown away. Here is a sample below or go to his website.
The Chin Tattoo Women in Myanmar via GlobalGaz.
BLOG BUZZ
This section is for advanced level hobbyists and veteran blog readers & personal rants & stuff
The value in this hobby is in the networking. All I can say is MS is going stronger than ever but I am too busy blogging to make any money. What I do for you guys 🙂 I am amazed by the brains, guts and dedication to this craft by some of you. And inspired as well. No, I am not quitting blogging, at least not yet. Blogging has become my little baby, it is like leaving a legacy I guess. But I can help more people by blogging instead of scoring some more deals. Or am I just becoming bored with it all #developing #always.
Some changes have been made in WordPress, things should run smoother. To the reader who had a problem with the header, it should be fixed. I listen. Hope I make enough this month to pay for the techie help I get, thanks.
If you are a Starbucks Gold member, this deal can get  you two free drinks by using ChasePay.
Have you ever wondered which bloggers have the most fake followers? I am on top (author does not count lol) with the most REAL followers. The loser with the most fake followers is self-proclaimed thought leader View From The Wing. I am surprised the other Titans don't have nearly as many fake followers. I now need to hunt down the fake ones and block them 🙂
And a weekend collection of credit card pumping and tabloid click-baity crap is next. Friends don't let friends read these blogs. Whoever reads them is not being irresponsible, they just don't know better. Educate them. Together we can change the world. Ok, that was a joke…but you catch my drift?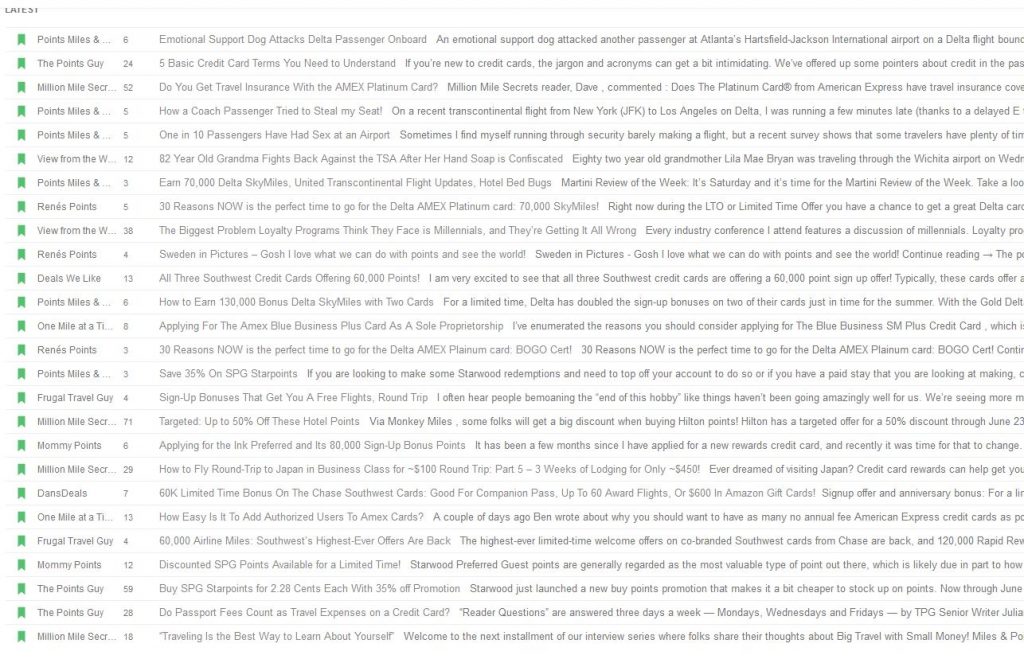 Yes, it is true. You are not seeing double/triple/etc. RenesPoints is doing a 30 series post blogging about reasons to get a Delta credit card NOW. I mean, does it get more douche than that? #unbelievable. I am going to stop right here…and go take a bath right NOW!
And I leave you with this…I just love this gif, so inspiring!
Check out my updated blog lists: Blogs I Love, Blogs I Like, Blogs To Ignore
TBB
travelbloggerbuzz@gmail.com
Follow TBB on Twitter @FlyerTalkerinA2
You can subscribe to TBB below, winners only!
Opinions expressed here are author's alone, not those of any bank, credit card issuer, hotel, airline, or other entity. This content has not been reviewed, approved or otherwise endorsed by any of the entities included within the post.