Another TBB post featuring the most eclectic links around the web such as Fintech fraud during the pandemic, global energy prices, the myth of the secret genius, more drug tragedies, air travel rising, IRS troubles, personal finance book recommendations, Chase CEO and the Onion make fun of crypto and Elon Musk, Russian sanctions are not working…yet, warnings about dating the perfect gentleman online, amazing resource with paintings going back centuries, live streaming from Namibia, amazing photography and lots more, enjoy the weekend!
TBB Blog Mission: To Educate. Entertain. Inspire. In That Order!
Support TBB by applying for CREDIT CARDS or visiting our

LINKS

or Donate

You like my blog? Send a link to someone please!
This blog publishes every Friday and some Tuesdays.
Welcome to all new blog readers from George, your diligent curator of the BEST web content I find and share with you. No ads, no clickbait.
BLOG EVOLVES AGAIN
Going forward, there will be more emphasis towards Personal Finance. I have shifted the Travel section and the Miles & Points and Travel Rewards credit card sections lower. So, if you are just not into them you can still enjoy the content about Personal Finance, Crypto and the latest developments blowing up such as the FTX fiasco and Elon Musk's purchase of Twitter and then click away.  Or stay on to read the Ukraine Russia war section which will stay until the war is over. You can then check out the Oddz and Endz and Buzzing sections if you like, variety will always be valued here. If you are into the miles/points game, you can stay for the final sections and help support the blog by choosing to use its credit card links.
Anyway, thanks for reading. This blog started as a joke back in 2012 to keep track of the best content in my quirky hobby of collecting frequent flyer miles and points to feed my travel addiction. It has slowly evolved to its current version of posting every Friday (and some Tuesdays for now) with a carefully curated list of the best web content along with my snarky and sometimes witty (and seldom incendiary) commentary. And now focusing more on the area of personal finance which is what I do for a living actually. My goal here is to offer a different and quality blog to help readers enhance their quality of life. Also, to contribute my part to end world hunger and bring worldwide peace. Or something like that.
PERSONAL FINANCE
When Covid hit us all and the US government started handing out money in forms of PPP "loans" that could/were going to be forgiven, I warned here that there is going to be a tsunami of fraud in the near future. Well, it has already started: 'The more you submit, the more we get paid': How fintech fueled covid aid fraud. I remember seeing messages about these tiny fintechs approving "loans" from, well, everyone who applied. Little-known firms such as Blueacorn and Womply allegedly collected taxpayer-funded fees as they overlooked signs of grift, according to a report released Thursday by congressional investigators. Time for payback bitches!

Fintech companies including Blueacorn, Womply and Kabbage were supposed to serve as middlemen — helping applicants complete paperwork and processing their requests for aid on behalf of banks and other large financial institutions. In some cases, though, the digital firms instead became vectors for the worst waste, fraud and abuse, according to congressional investigators led by Rep. James E. Clyburn (D-S.C.), the panel's chairman…But the committee said that senior officials at Kabbage seemed to miss obvious flags for fraud — incorrect tax documents, names and addresses that didn't match on applications, identities that may have been stolen, and profit margins that didn't make sense. Internally, its leaders appeared to dismiss the warning signs, too. Explaining its approach, a risk manager at Kabbage acknowledged in a separate exchange obtained by Congress that they took a more lax view on PPP lending because "the risk here is not ours — it is SBAs [sic] risk."[I remember Kabbage was contacting me almost daily telling me to apply for free money! For the record, I never applied or received any government aid]

The Internal Revenue Service is massively underfunded and…behind in processing tax returns. It is making progress but, you know, it is slow. My goal in life is to minimize getting clients entangled in an administrative correspondence mess with it. But sometimes it happens. Please file electronically as paper filing invites trouble. Also, make sure you never disregard any letter from the IRS, always respond fully and promptly! Ann Arbor man wonders about $933 IRS said he was owed. Also, if you call them, make sure you have the call on speaker so you can do other things while you wait for a very long time. Finally, the Taxpayer Advocate Service is great if you qualify to use it. With the 2022 Tax Season beginning shortly, this is just amazing still…
As of Nov. 25, the IRS had 3.2 million unprocessed individual returns received this year, including returns filed for the 2021 tax year and those filed late for previous years. Of that group, 1.7 million returns have errors that will need to be corrected or they require other special handling, and 1.5 million are paper returns waiting to be reviewed and processed.
If you are looking for some personal finance/investing books to read, here are some recommendations by Adam M. Grossman of Humble Dollar.
Every time I find Americans bitch about high gas prices I shake my head when I get back to Europe: Mapped: Global Energy Prices, by Country in 2022.

CRYPTO/FTX/ELONMUSK/TWITTER
I am consolidating this Section going forward…
Best of Web: The Myth of the Secret Genius. From Elon Musk to Elizabeth Holmes and Donald Trump, many very rich people are effective at convincing us of a myth: they're secretly a genius, and you're just too dumb to understand. Are they right? Fascinating read! Too many gems to excerpt, read the whole thing instead, you are welcome.

I hope JPMorgan's CEO focuses on travel rewards credit cards instead of getting sidetracked hehe. 'Why do we allow this stuff?' Jamie Dimon says investing in crypto tokens is like buying 'pet rocks'. I appreciate the candor but do not forget that he defended the blockchain technology that underpins their use, saying that his opinions on crypto "does not mean that blockchain isn't real."
Dimon has long been a vocal critic of cryptocurrencies, previously referring to the digital tokens as a "decentralized Ponzi scheme" that is "dangerous" and "not good for anybody." The JPMorgan chief, who refuses to refer to crypto assets as "currencies," said in October last year that Bitcoin was "worthless."
Love The Onion: Elon Musk Worried He Won't Have Enough Twitter Employees Left To Fire On Christmas Eve. Only The Onion can come up with satire like this!
UKRAINE RUSSIA WAR
I think sanctions ARE working, it just takes a little while for the hurt to compound you know: Why sanctions against Russia aren't working — yet.
In other words, the sanctions have teeth, but for Russia to feel the bite, coalition nations will need to sink those teeth in deeper and hang on for the long term, Bruegel says. They need to find unity on effective measures such as the oil insurance ban mentioned above, and to restrict oil and gas shipments further. The combination of a large and likely persistent fall in Russian imports, and the permanent decoupling of European economies from Russian energy supplies, will have significant negative consequences for the Russian economy in the medium to long run, the report says. Russia may find ways to mitigate some sanctions-related effects, but the overall loss in economic activity will likely be permanent. In the short term, however, Russia's economy has not been inhibited to the point where it is finding it impossible to prosecute the war in Ukraine. Given the ultimate aim of sanctions is to stop that war, the EU and other coalition nations, as Bruegel puts it, have more to do.
No surprise at all that Zelenskyy and the spirit of Ukraine are 'Time' magazine's 2022 Person of the Year.
ODDZ & ENDZ
Amazing! One painting from every year of the 17th century, from China to India and Italy to Mexico and everywhere in between, in chronological order.
Imagine your picture being used by scammers targeting lonely women for romance. And then being targeted constantly by spouses/boyfriends, etc. I guess there is an upside for not having great looks? Beware of the Perfect Gentleman. I guess I should not complain about me being targeted by hotheads for having the wrong name…making to CNN lol.
James Scott Geras can still remember the day he got the voicemail: If I ever catch you near my wife again, I am going to slit your throat.
Best of Web: Drugs killed 8 friends, one by one, in a tragedy seen across the U.S. Wow, super sad, we need to do better and fix this! I had to sit down and compose myself while reading this. So much pain all around…
Since we are all in on painful content today, can you imagine being a paramedic assisting a fatally injured car passenger and…later finding out it was your daughter? Canadian paramedic who tried to save crash victim learns it was her daughter. Jayme Erickson could not recognise girl at scene and only found out her identity at end of her shift.
Time to take your mind off this sad stuff next and just watch this Amazing dominoes structure video instead.
TRAVEL
Awesome live streaming from Namib desert in Namibia, enjoy!
It may appear travel is going crazy but we are still not at pre pandemic levels. Take 2023 and later predictions with a grain of salt, I am more interested to see the 2022 column: When Will Air Travel Return to Pre-Pandemic Levels?
If you like Australian birds this is for you: Winners Of The Birdlife Australia Photography Awards 2022.
If you like migrating flamingos this is for you: Aerial Photos Showcase the Annual Flamingo Migration that Transforms India's Pulicat Lake into a Vibrant Spectacle.
MILES & POINTS NEWS/PROMOS/MY ACTION
Well, sad to see Capital One already started whacking the benefits of its still awesome Venture X travel rewards card: Capital One To Remove Access To Priority Pass Non-Lounge Options. (Restaurants, Spas). Back in September we had a chance to check out Priority Pass Anita's Kitchen restaurant in Detroit's non Delta terminal and ordered $55.62 worth of food (we were entitled to $28 each), maybe I killed this deal, sorry!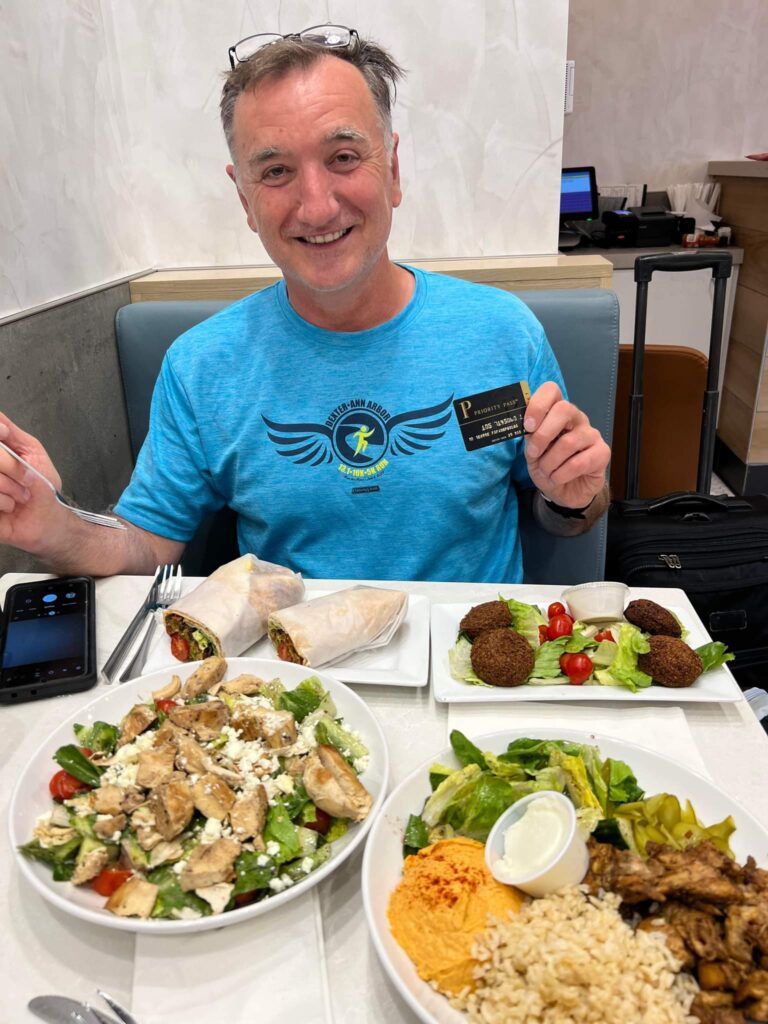 I like the innovation we are seeing lately in the airline frequent traveler spender programs. American Airlines did a total revamp of its AAdvantage program with Loyalty Points and now JetBlue Announces New TrueBlue Loyalty Program. So, I guess, miles are now Tiles with Jetblue lol. Add another program to award top elite status to anyone willing to spend at least a couple of hundred of thousand dollars on the airline credit card. Then again, no innovation at all that benefits us hobbyists, boo! Fixed award charts are becoming so rare…
If it appears that the devaluation trend has accelerated lately (after a short pause during the earlier phases of the pandemic)…you are not wrong! Stuffed #1: How BA sharply devalued Avios for members outside the UK and US. More airlines are adopting Delta's tactics…as in continuing to hurt members while praising such moves as enhancements instead with increasingly hideous marketing speak smh. Can't wait until The Points Guy lowers the valuation of British Airways Avios points…Ok, that was a joke! Maybe British Airways won an "award" too in the latest The Points Guy "Awards" event everyone was invited to (except latest batch of laid off TPG employees and the writer of this blog, sigh).
Register for the latest weak Hilton Honors Double Up & Explore promotion.
I am flying to Greece. On Monday. I have been watching United's website to see what I can get and the award prices and routings were just awful. I guess the times when I can fly there in Business Class for something like 70k miles are probably over for good, so sad! I thought I could easily take advantage of the ever reliable partner Lufthansa daily direct flight from Detroit to Frankfurt. But there was no availability until I finally found a seat for this Monday at 36k United miles at the back of the bus. There was one 72k Business class flight but times/routings were just horrible. Almost every other Business Class seat available was pricing at 152k United miles, minimum! Anyway, it is what it is. About 5 hour connection in Frankfurt and then flying on to Thessaloniki, Greece on Aegean. Same old, I have done these flights almost every year. I have a car reserved in Thessaloniki for the (unknown) duration I will be in my hometown Larisa visiting my mother. I still need to book lodging in Larisa. Maybe my mother will come to the US with me at the end of the month, she is still debating about that. Hopefully I can get Business Class seats on the way back #developing.
I am officially now Hyatt Globalist elite for another year. Another free night Category 1-7 night cert is in my account. These are good for 6 months instead of a whole year for the Chase free night certs by the way. Another two confirmed Suite Upgrade awards are also in my account. And I guess I am keeping the same Hyatt Concierge who has been pretty good with me.  Now if I could only get Accor ALL to post my Chicago Fairmont stay in my account…
BUZZING
A section where I go on and on about some stuff that happens in my life and anything else that just does not fit in another section above.
World Cup is continuing with the Quarterfinals. These past two days were difficult without any games to watch…I am with the underdogs always, go Morocco, retire Ronaldo who is not too happy riding the bench lol. I think Netherlands can beat Argentina if they just play…without thinking too much about what it all means and stuff like that. I think Brazil and France will overcome their opponents eventually…But, you know, anything goes!
After this shot by an 8th grader…you realize this may have been the peak of your basketball career lol.
MILES & POINTS
HOT CREDIT CARD OFFERS: 90k CHASE Ink Cash, 90k CHASE Ink Unlimited, 80k CITI Premier, 75k Capital One Venture X, 100k CHASE Ink Business Preferred, 60k CHASE Sapphire Preferred, 60k CHASE World of Hyatt Visa, 20k CHASE Freedom Flex, up to 30k CHASE Freedom Unlimited, 140k IHG Rewards Premier AND 1 Free Night and many more, including many AmericanExpress cards, including Delta, Marriott and Hilton cards! Please check out my Affiliate links. Terms apply to American Express benefits and offers. Visit americanexpress.com to learn more. If you do not see a credit card with my affiliate links, perhaps I could refer you?

This section is about my hobby addiction of collecting frequent flyer miles and hotel points since the early 1990's! SKIP if you are not into it!
As of today, I have burned 1,181,335 miles/points year to date and have 4,794,498 miles/points in the bank. Some do drugs, I do miles lol!
Thanks to US banks, very lucrative travel rewards credit card offers come and go all the time. This section will act as a reference point on the best CURRENT offers. I will designate new material preceded by NEW.
BEGINNERS
The Beginner's Guide to Getting Started with Credit Cards, Points & Miles
The Basics of Booking First & Business Class with Miles
BASICS: This travel hacking hobby is mostly about getting the fat Signup Bonus of travel rewards credit cards while of course NEVER EVER carrying a balance. Banks have a marketing budget and are willing to give us many THOUSANDS of miles/points to travel mostly for free hoping to hook us to charge 20%+ interest rates on our balances. The poor souls who fall for their marketing paying these ludicrous interest rates end up subsidizing us responsible consumers who enjoy taking advantage of, cough, such bank marketing budgets! Some of us have been doing this for thirty years creating amazing travel memories…Feel free to ask me questions or post them in the comments.
BASICS: Prefer credit cards from the proprietary points programs of banks, such as Chase Ultimate Rewards, American Express Membership Rewards, Citi ThankYou Network, Capital One Rewards Miles because they are a lot more flexible and are not devalued as frequently. Over pure airline and hotel travel rewards credit cards. Pure cash back credit cards may work for you best and they are getting more valuable as airline and hotel loyalty programs keep getting devalued. Sometimes, a pure no annual fee 2% cash back card works best for simplicity!
TOP TRAVEL REWARDS SIGNUP BONUS CARDS
Master Guide to Credit Card Applications: All the Rules You Need to Know, Bank by Bank 
How to Sign up for Chase Ink Cards
These two NO ANNUAL FEE Chase Business cards are now offering an amazing 90,000 Chase Ultimate Rewards Points, the Chase Ink Business Cash and the Chase Business Ink Unlimited! Bottom line, I think these are the BEST business travel rewards cards out there right now! The 90k Signup Bonus can be earned after $6k of spend on the cards in the first three months. I am not going to make a fool of myself with recurring "69 reasons I love these two cards", this is not a sales maximization blog ok? You can click to find out more about them and you can apply HERE to support this blog, thank you.
Chase Ink Cash/Unlimited 90,000 Points Now Available Online
Best Ever Chase Ink Card Bonuses Are Now Publicly Available Online
Citibank increased the Signup Bonus for the Citi Premier card from 60,000 to 80,000 Thank You points. Annual fee is $95 and the minimum spend to score the Signup Bonus is $4k in the first three months. The Citi Premier card has a solid earning structure as it earns 3 points per dollar on gas/groceries/dining/travel and 1 point on everything else. Of course, you can transfer your points to mostly foreign airlines and JetBlue. Or you can cash out at one cent per point. Therefore, 80,000 points means $800 less $95 annual fee——-> BOOM! Read the newbies paragraph above and always think…taking advantage of bank marketing budgets! Available HERE, thank you!
 Get The Best Offer Ever, Enough For 5 Round-Trips To Hawaii & More Incredible Deals, With The Citi Premier Card!
 Citi ThankYou Rewards Review and Guide
The Capital One Venture X card offers a 75,000 point Signup Bonus after a minimum spend of $4k in the first three months. If you like simplicity and looking for one (premium) card, I highly recommend this card (and yes, I have it myself!). It has an annual fee of $395 but it comes with a VERY easy $300 statement credit for travel booked on its excellent travel portal, essentially turning it into a $95 annual fee card. But wait…there is more! On each card anniversary you earn 10,000 points essentially making it FREE! Every dollar of spend earns 2 points and flights booked on the travel portal earn 5 points per dollar. You get access to Capital One and Plaza Premium airport lounges and a Priority Pass Select lounge membership and, this is important, you can add FOUR authorized users FOR FREE who can also have their own Priority Pass Select airline lounge membership. You can transfer your Capital One points to up to 18 Transfer Partners. No foreign transaction fees. Free Hertz President's Circle rental car top elite status. Cell phone protection and PRIMARY rental car coverage. Awesome seats at baseball stadiums for just 5k points each. And lots more. Available with my Credit Card Links, thank you for your support!
Why We Think the Capital One Venture X is Best for Traveling Families
We have higher Chase United card offers! Chase United Airlines Cards: Increased welcome offers, up to 100K. Respect blogs that DO promote the best credit card offers for their readers while hurting their own pockets. Which means run away from blogs that only write about their own inferior affiliate offers hurting their own gullible readers who are kept in the dark. Anyway, my own REFERRAL LINK has the best offers listed, except the offer 90k United Quest card, use the link in the article instead for that one.
 Chase United 30K Gateway, 70K Explorer and 100K Club Infinite (REFERRAL LINK)
There is a new offer which could land you 130,000 Hilton Honor points along with a few Hilton free night certificates if…you can afford to devote $15k of spend on the Hilton Business card. If you are interested, please support the blog by applying for the card HERE, thank you!
Hilton Honors Business Card: 130k Points + Free Night Certificate
Remember, you are NOT allowed to ever carry a credit card balance if you ever get a credit card here!
Thank you for reading my blog. If you enjoy it please pass it on to a family member or friend, thank you!
Some of the links are behind a paywall. You can try to read them using Archive.is.
TBB
travelbloggerbuzz@gmail.com
Follow TBB on Twitter @FlyerTalkerinA2.
You can subscribe to TBB below, winners only!
Opinions expressed here are author's alone, not those of any bank, credit card issuer, hotel, airline, or other entity. This content has not been reviewed, approved or otherwise endorsed by any of the entities included within the post.