TBB Mission: To Entertain, Educate and Inspire. Aim to at least do one well!
This blog has been a labor of love so far. If you like what you see here, please let others know by passing them a link to my blog, thank you!
This post contains NO affiliate links of any kind! Please see disclosures page here.
NEWBIE/FINCON13 ATTENDEE: HOW TO STAY IN A HOTEL UP TO 16 NIGHTS FOR FREE!
Get 80,000 IHG Rewards points by applying for  the IHG Rewards credit card. You need to spend $1,000 on it in the first three months. No annual fee for the first year! You could get up to 16 FREE nights in a Pointbreaks hotel as they cost only 5,000 IHG Rewards points per night! (New list live on November 1st).  Make sure you read the wiki on the top of this page and apply using the link posted in the answer to the first question. If you do not have an IHG Rewards account number please open an account (Click on IHG Rewards Club/Join) first and note your number you will need to enter in the credit card application.
If you have spending control issues or carry credit card debt please leave NOW, this is not the place for you! If you have to think about how to spend $1,000 please leave now, this hobby is not for you! Think about it. You can buy gas or grocery gift cards, pay your utilities, make a charitable donation at the end of the year or whatever to satisfy the spending requirement and receive 80,000 IHG Rewards points and you can STILL cancel the darn card before the year is out. Your true out of pocket cost CAN be zero, zilch, nada!
If this is too much to handle you are just not cut out for this; this hobby/game/addiction requires some decent organization skills and of course some discipline along with the desire to SAVE money on travel costs!  If you have credit card debt please follow David Ramsey's debt killing advice (but not his investment advice!) and stay away from any credit card until you exhibit signs you can control your spending! You should also have an emergency fund set up too! Never ever get a card BEFORE you wipe out ALL credit card debt; carrying a balance is NOT allowed! ! I must proudly state that I have personally never paid a single penny of interest in many years of doing this and have earned millions, err gazillions of miles/points and have traveled the world for a fraction of the cost! You can email me with questions.
TRAVEL
Surprisingly I have not had a single find for you in the Travel section! But I made it up in the others lol.  So I will bore you with one of my own pictures from my trip to Istanbul last year. Here is the Blue Mosque at night: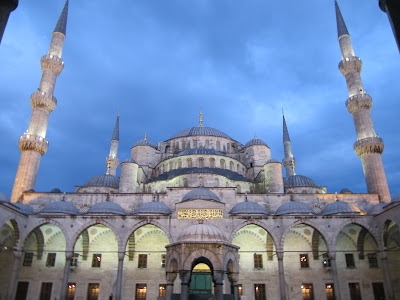 MILES/POINTS
The best bargain in hotel points burning, Pointbreaks by IHG Rewards, is going to appear here. Start your engines on November 1st. This is actually a pretty good list with several Intercontinentals and Crown Plazas. Only 5,000 points per night! You do not see any bloggers shouting from the rooftops how getting a non affiliate IHG Rewards credit card can get their readers 16 nights at one of these properties FOR FREE. But you see how they were bombarding you with the latest credit card promo (Southwest, etc etc). Shameful? You be the judge. Don't be angry. If you are I understand. More on this in the Blog Buzz section.
First one out with the Pointbreaks hotels was Travel is Free with this post. I was second on Twitter by retweeting him (unofficially).  You can follow me on Twitter at @FlyerTalkerinA2 and join about 1,960 others who put up with my insanity.  🙂
Pointchaser updated the Best Club Carlson Hotel Redemptions posts. Very useful.
Here is the excellent Virgin America Safety Video everyone is going gaga over!
Someone asked to do a blog post about FinCon13, the financial blogger conference. Here is a report from Andy Shurman in his own blog Lazy Traveler's Handbook (Andy also writes at the Frugal Travel Guy the blog). Many were blogging about getting in or how they got out of debt, something totally foreign to me! Very anti debt crowd (I agree) but also anti ANY credit card (I disagree). Only a small percentage of people think like us AND manage to have the inner discipline to take advantage of the generous offers to travel the way we do. This is why I cringe so much when bloggers suggest to newbies to start out with several credit cards at once, it should be a crime, what nonsense!
Another 5x bites the dust. By Frequent Miler. Citibank's Forward card is gutted.
American Express Membership Rewards adds Emirates as a partner. View from the Wing has the best post about it. Maybe I should go for the Alaska cards in the near future as the program is getting better and better.
ON MY MIND
The W Hotel bed delivery has been scheduled for Tuesday of next week, hooray!
ODDZ & ENDZ
23 Insanely Cool Wedding Photos. Some of these are indeed way too cool.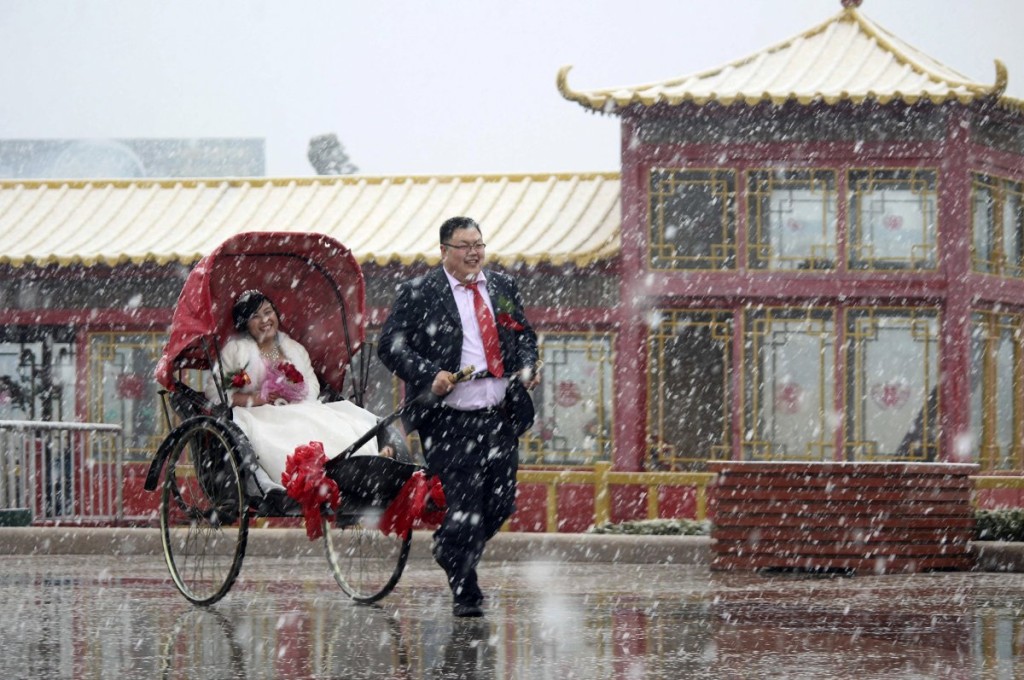 Well, I just love this picture too! Shadows and Spirals. Found at Twisted Sifter.
Behind the scenes pictures from the filming of "Shining", one of the all time classics. Here is Jack: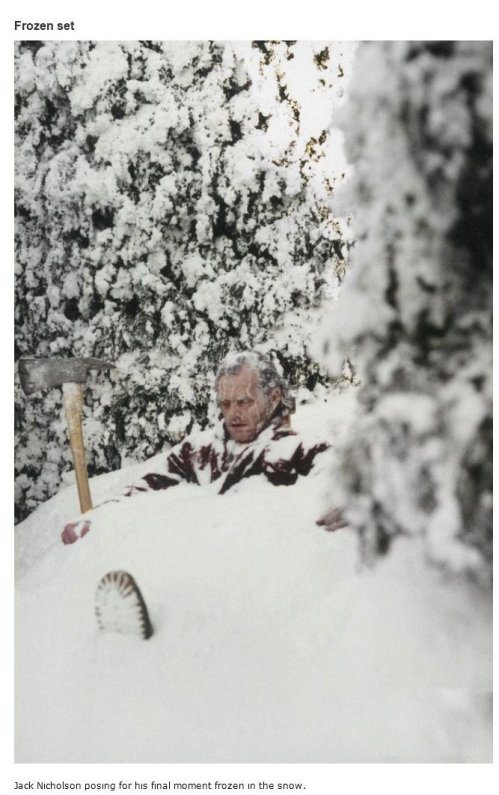 Guys, if you do this and make it to emergency, please for God's sake, do not forget your penis! Depressed bachelor cuts off penis
BLOG BUZZ
The following comment was "posted" on Milevalue's site:
Hi,
I notice you were running an offer for a US Airways credit card that offers 30,000 miles for a sign up bonus. I just want to point out to your readers there is another offer that gives 35,000 miles, does NOT require a first year fee be paid  and even provides a 10,000 mile anniversary on the 11th month (before the annual fee hits!) I thought you may like to know and inform your readers of this better offer. Thank you. TBB.
It went to moderation and I bet my credibility that it will not be posted. Always willing to give bloggers the benefit of the doubt. I would like a response and I certainly won't bet I get one.
Well, it was an all out Southwest card pump day. Get it NOW folks. If you don't do it now, errr, we won't tell you that it is very likely that the same promotion will come back…so we can do it AGAIN! Viva le pump! Only one blog dared to say that 200,000 points are up for grabs in the headline!…Shaking my head again.
Breaking News: Deals We Like may have escaped TBB's infamous list 🙂  When I saw the headline "Perks for Big Credit Card Spenders" I immediately started playing the guessing game with myself: How many cc links will appear all over the post? Only to be shocked to find out that there were NONE! Kudos to DWL! This should be encouraged to ensure that readers do not have to second guess the reasons behind the blog posts! Take that conflict of interest out of the game. It would be very helpful if the banks cooperated at this instead of pushing to pump to ensure the status quo. Let's see if more do it, I am encouraged! Update: Well, DWL could not hold off on the Southwest card. Make sure you do not miss the 9 part (!!!) series on Companion Pass! Never mind.
So, I ask you dear readers: Shouldn't you want your readers to know AND benefit from the fantastic Pointbreaks deal in the maximum way possible? Bloggers should know that a non affiliate IHG Rewards credit card offer for 80,000 IHG Rewards points has been around, well, for ever. Do you hear about it much? NO! If they don't know about it you should ask yourself if they are true experts. If they know about it and they do NOT let their readers know I think it is disgraceful. If they take the opportunity to let their readers know about Pointbreaks (of course they should) AND try to pump ANY OTHER card other than the one that can give them 16 FREAKING NIGHTS FOR FREE, well I think it's shameful! You owe your readers an apology (personal opinion as EVERYTHING in this blog!). If you did this, welcome to my Avoid list. Yeah, I will publish it at some point.
And let me leave you with this. Smile, another credit card promo is right around the corner…