We bring you the new Amex Hilton cards, show you a guide to eating Korean food, an airline being the A380 savior, laugh at the ugliest buildings, the latest blog changes, list of festivals and events to visit in 2018, a collection of creepy urban legends, Wyndham buying La Quinta, wtf with Hikimori, the latest sex robots have bionic penises oh my god, travel to freezing Siberia and lots more for you. Freeeee!
TBB Blog Mission: To Entertain. Educate. Inspire. In That Order!
The new Amex Hilton credit cards are out, I am sure you have noticed around the blogosphere. Only the Amex Hilton Honors business card is available with my links but I hope all four to be available shortly. So I just leave this here and not going to make an ass of myself pretending I am so excited about the average 100k points sign-up bonuses (when what bloggers are REALLY excited about are the sales commissions!) No pics and arrows, you know what to do if you choose to apply for them here. If not, ask! More on the BLOG BUZZ section below.
It's mid January and the hotel mergers continue with Wyndham Worldwide buying La Quinta! The action is in the midscale hotels lately. Wyndham CEO called La Quinta's loyalty program "one of the best". Lol.
Emirates may have saved the A380 with this order.
Nice list of festivals and events to travel to in 2018.
Eating Korean food like a Korean. Good guide.
Well, I had not heard of the Michigan urban legend. Creepy urban legends from every state.
Hikimori. Only in Japan…Well, I am sure elsewhere too but the Japanese are taking this mental condition to the next level #wow.
Imagine going to prison for almost 40 years for a murder you did not commit. And the witness that put you there finally had a change of heart and confessed. And then you went to meet him. You won't believe what happened next. Oh man, what a story!
The end is near you guys. The latest in sex robots will bring them with bionic penises. Shaking my head…we are doomed as a species now for sure!
It's so cold in Siberia it hit -62 C. Some of the pics are just crazy!
The ugliest buildings in each state. There are some reeeeeally ugly ones in this list!
BLOG BUZZ
This section is for advanced level hobbyists and veteran blog readers & personal rants & stuff. For Best Offers credit cards, click HERE
Definitely going under the 3 million number in my miles and points balances this year #lifegoals
How are you all attacking the new Amex Hilton cards? Can someone report if they got the Ascend bonus after they cancelled the Surpass card? I am definitely going at some point for the Aspire card. I would like to get the Ascend and the Business card bonuses as well. I think Mrs. TBB will go for the Ascend card. Not sure about son who is enjoying himself in Madrid these days. At the end of the day, bloggers are so happy selling them for the sales commissions and not for the 100k bonuses which does not get you far with Hilton these days. Back in the day 100k points got you 5 nights (or was it six?) in the Hilton Hawaiian Village or the Hilton Waikoloa village. Been there, done that. Most "expert" bloggers were in diapers back then! Then again, should we even bother if you are trying to be under Chase's punitive 5/24? 100k HH points, pffft!
I get a lot of emails for my blog that I delete when I could make some money. But it's just crap…Latest one is some dude who loved my content about a blog post that had the word condoms in it and now wants me to post his review on how to choose a condom. WTF! And there is a persistent dude who keeps emailing me to post his Bitcoin infographic, WTF!
Some blog moves. Chris McGinnis of TravelSkills is moving away from Boarding Area and going to SFGate. Best of luck with the move.  You don't see that often…
Magic of Miles will no longer blog here and instead move to Travel Update part of Boarding Area where many writers post irregularly. She explains the reasons for the move. Blogging IS hard. You know how hard it is when…never mind, help me cut down on whining, thanks!
Please send me blog news, I can't get to everything. Help me buzz YOU up!
I may do a parody post about bloggers pretending to be excited about the new Amex Hilton cards and trying to trick readers to apply for them so they can earn the fat sales commissions. Maybe Saturday. Please stop me 🙂
Resident blog troll Ingy, who is now known as "First with links, first to sell", never fails to taunt me. He now makes fun of me that I have only one card conversion this month. YOU can do something about that, thanks! #BOOM
The latest Friday interview at Million Miles Secrets had a new blogger who discovered the hobby in late 2014 after being told to see a mistake fare post by The Points Guy and booked the first award trip in 2016. Have we peaked yet? Just had to start a blog to help friends and family…shaking my head.
And I leave you with this…Meet the TBB cat, meow!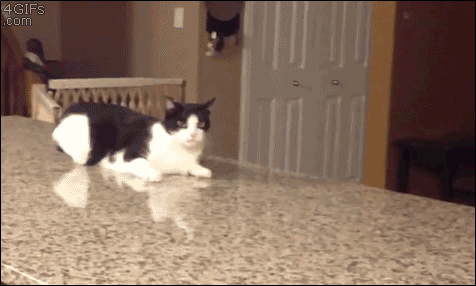 Check out my updated blog lists: Blogs I Love, Blogs I Like, Blogs To Ignore
TBB
travelbloggerbuzz@gmail.com
Follow TBB on Twitter @FlyerTalkerinA2
You can subscribe to TBB below, winners only!
Opinions expressed here are author's alone, not those of any bank, credit card issuer, hotel, airline, or other entity. This content has not been reviewed, approved or otherwise endorsed by any of the entities included within the post.