Another TBB post featuring the most eclectic links around the web such as the most beautiful forests, stock market declines are normal, plenty of free cheese for all, worrisome Hyatt changes, introducing Oasis Passport, more direct flights to Hawaii, learn more about Airbnb experiences, amazing Travel Photographer of the Year winning photography, how investors fail, states with no income tax, we can do better vaccinating elderly in the US, why the vaccines are a miracle, how a runner escaped her religious family prison, laugh at Jerry Falwell Jr and his hypocrisy, laugh at Rudy Giuliani's ridiculousness, laugh at anti vaxx entitled Djokovic,  the latest action in the miles and points world and more!
TBB Blog Mission: To Educate. Entertain. Inspire. In That Order!
Support TBB by applying for CREDIT CARDS or visiting our

LINKS

or Donate

You like my blog? Send a link to someone please!
TRAVEL
Anyone used Oasis Passport and can comment about their experience? It does sound attractive I must admit!
The trend towards remote work is now a wave, with 74% of CFOs intending to make the shift to remote work permanent. With this the idea of flexible housing opens up for 'digital nomads' and corporate workers alike. Why live in NYC year-round if you can bounce between cities like Austin, Barcelona, Paris and Buenos Aires? The Oasis Passport – the first housing subscription plan – makes that decision a no-brainer.
Maybe I get more Delta Skymiles now that we have more direct flights to Honolulu, especially from Detroit. Say aloha to three new nonstop Hawaii routes from Detroit, New York-JFK and Atlanta.
When you get that urge to run to the woods…12 Beautiful Forests Around the World.
They say stop buying stuff, start buying experiences. Ok then, Everything You Need to Know About Airbnb Experiences.  I need to make a better effort to at least check some of these out.
Let's end this section with the 2021 Winners of the Travel Photographer of the Year.
PERSONAL FINANCE
I know you know but just to reiterate that Market Declines are Normal.
…over the period 1926-2021, the S&P 500 experienced 29 declines of at least 10% – about once every four years. The median drop among this sample was -20.1%, and the median length of time it took for the market to return to its previous high was 194 trading days (the fastest time to recovery was just 50 days). Drops of at least 5% occurred 90 times (almost once per year on average), with an average decline of 8.9% and the average time to recovery of 62 days. Drops of at least 20% (the conventional definition of a bear market) occurred 15 times (about once every six years), with an average decline of 28.2% and the average time to recovery of 369 days (just over a year).
I agree with the points in this article about How Do Investors Fail?
Too Much Leverage
Not Setting Aside Money for Taxes
Too Much Concentration
All-or-Nothing Decisions
Investing What You Can't Afford to Lose
It is nice not to have to pay state income taxes and prepare state income tax returns. 9 States With No Income Tax. Also, the tagline "But don't assume that living there is easier".
COVID-19
We are approaching the level of under 100,000 Covid cases in the US again. It is amazing how fast infections can rise and plummet…
I recently saw a table showing how the US now ranks #54 in vaccinated people when, in the beginning, we were one of the leaders, sad! The COVID Strategy America Hasn't Really Tried. The clearest way to reduce deaths is to push to vaccinate more of the elderly—yes, still!
Age continues to be the driver of COVID's brutal math with Omicron, though: In 2022 so far, three-quarters of COVID deaths in America have been in people 65 and older, 93 percent in people 50 and older.
Yeah, definitely! Why Covid-19 vaccines are a freaking miracle.
What has been accomplished in the 25 months since Chinese scientists first shared the genetic sequence of the newly discovered SARS-CoV-2 virus has defied the predictions of the most optimistic prognosticators.
ODDZ & ENDZ
Want some cheese? Cheese Caves and Food Surpluses: Why the U.S. Government currently stores 1.4 billion lbs of cheese. Yeah, it is ridiculous!
It seems that we should not be asking people if they "got milk?" and instead think about how to use up the existing cheese supply without adding to it. The funds used to subsidize the overproduction of dairy and maintain "cheese caves" may be better spent elsewhere. Smaller farms should be included when the government does subsidize dairy, and there may be creative solutions to avoid maintaining caves of cheese below ground. It is important that special interests do not acquire billions annually for an industry that knowingly overproduces, not to mention pollutes the environment, in the face of declining consumption. Instead, the government should help these farmers transition to more in-demand crops instead of pushing less healthy ones into the stomachs of Americans. [Amen!]
Love stories like this: After She Escaped Her Strict Religious Community, There Was No Turning Back. Respect!
Wild story, sometimes the hypocrisy of these people is amazing smh. Inside Jerry Falwell Jr.'s Unlikely Rise and Precipitous Fall at Liberty University.
Jerry Falwell Jr. was the Trump-anointing dark prince of the Christian right. Then a sex scandal rocked his marriage and ended his lucrative stewardship of the evangelical education empire founded by his father. In a series of exclusive interviews, Falwell—accompanied by his wife, Becki—describes the events that led to his ouster, their fallout, and why he's finally ready to admit he never had much use for his father's church anyway.
Eminem responds to Rudy Giuliani's dumb criticism with an epic rap takedown. Hey, my blog's mission contains "To Entertain".
Since we are taking shots, how about Ryanair? This guys said in the interview he is an elite athlete so he expects elite treatment blah blah blah…What an elite asshole!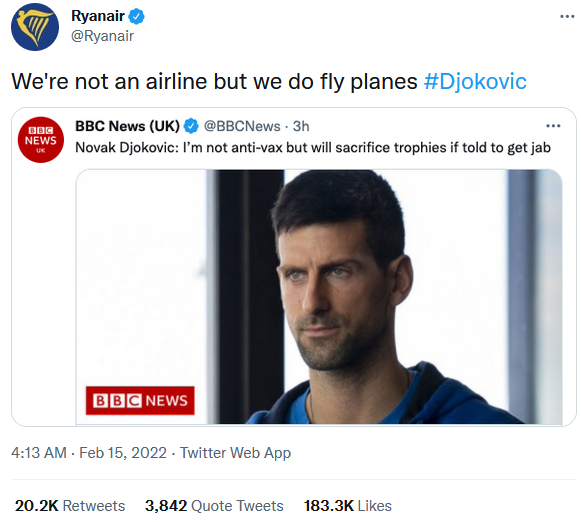 MILES & POINTS
HOT CREDIT CARD OFFERS: 100k Capital One Venture X Rewards, 75k CHASE Ink Cash, 75k CHASE Ink Unlimited, 100k CHASE Ink Business Preferred, 60k CHASE Sapphire Preferred, 50k CHASE Sapphire Reserve, 60k CITI Premier, 20k CHASE Freedom Flex. up to 30k CHASE Freedom Unlimited, 50k CHASE United Explorer, 60k BANK OF AMERICA Alaska Airlines Business, 20k CITI Custom Cash, and many more, including many AmericanExpress cards, including Delta, Marriott and Hilton cards! Please check out my Affiliate links. Terms apply to American Express benefits and offers. Visit americanexpress.com to learn more.

If you do not see a credit card with my affiliate links, perhaps I could refer you? Contact me!
This section is about my hobby addiction of collecting frequent flyer miles and hotel points since the early 1990's! Feel free to skip this section and parts of the next one if this is not for you.
Newbies: Bloggers in this space must always be excited to…get you excited so you stick around their blogs. A lot of "news" in this space is nowhere near that but they drop blog posts fast and furious "reporting" them. Do not waste your time. Don't get me started on blogs solely existing to sell credit cards and sell ads based on hideous clickbait "shocking" headlines. We are all busy, be very mindful who you give your clicks to. In the big picture, this hobby is on a major slow slide to depleting all sweetspots/opportunities to drain outsize value out of our miles and points…to having everything based on a strict revenue based matter. Basically, a small discount. The days you can fly in a flat bed eating caviar and drinking Krug and staying in amazing hotel suites for almost free are slowly dying with the award charts disappearing and airline/hotels adjusting their business models. Actually, I think, the pandemic slowed that slide downwards…as we are pulling out of it (it appears) these companies are now attacking us with a vengeance. Of course bloggers will keep writing exciting crap to keep you in the loop. I don't, I keep you Educated. Off my soap box.
The big news last week was Hyatt's changes to now move up several of its properties to the highest category #8 Level. Eight of the most inspirational properties will move up and cost a lot more points. More importantly, the free Night cert for 1-7 categories will now not apply. US was hit bad, rest of the world not so much. Hey, at least Hyatt still has award charts unlike Marriott. Some good posts about the changes follow:
The New Hyatt Award Changes That Hurt the Most – 2022 Edition.
Best Hyatt Category 1-4 Hotels & Resorts (book before 3/22)
Do you use Uber? Have some Marriott Bonvoy points every time you ride.
United has this MilePlay promotion that we have never been targeted for. Maybe it is because we don't pay for tickets the few times we fly United lol. Maybe you get lucky, try HERE.
BLOG BUZZ
We are now entering BLOG BUZZ, a section for advanced hobbyists and veterans of this fast imploding hobby and also a section where I go on and on about some stuff that happens in my life because it helps me feel better about myself.
Not sure how Loyalty Lobby does it but it is probably the most copied blog in this space with first out of the gate breaking developments and then big blogs doing articles saying the same thing. Latest example: Conrad Bora Bora Nui Awards Wide Open Using Honors Points Through December 2022.
Really good advice: American Express Upgrade and Downgrade Strategies.
I have been blogging regularly here since November 2012. Actually, my last post was last Monday and a week has been the longest to date without posts, wow! I think it has more to do with me being very busy with tax work than anything else. This has always been a labor of love for me, one day I will quit. As long as you see posts appear here, I guess the time has not come yet. I have lot of material in the queue but not the time or the motivation to post more than once a week. Month to date this blog has three Paypal donors and one credit card sale. And this is the fifth post this month. The level of money "earned" here is immaterial to me but for some reason motivates to post more….it is weird. I am weird. Anyway, I am not dead yet! Thinking about migrating the personal finance and Best of Web material to a Substack newsletter…I move slow!
I avoided Netflix for many years. But since Sprint transitioned to T-Mobile I get it for free now. I finally watched the Squid Games and I really liked it a lot. Yesterday I finally finished The Silent Game which I loved. There is something about these Korean films…
Marathon training is going very well. 17 miles over the weekend in freezing weather. I also go to a class for runners for strength/mobility twice a week. Next Marathon is in Toledo, Ohio in late April. I always loved setting long term goals and then working to achieve them. Not sure about the blog though lol.
Let me leave you with this…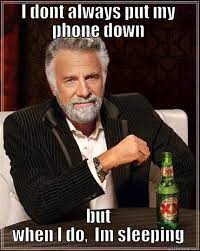 Thank you for reading my blog. If you enjoy it please pass it on to a family member or friend, thank you!
Some of the links are behind a paywall. You can try to read them using Archive.is. Or use 12ft Ladder. Or the Firefox browser.
TBB
travelbloggerbuzz@gmail.com
Follow TBB on Twitter @FlyerTalkerinA2.
You can subscribe to TBB below, winners only!
Opinions expressed here are author's alone, not those of any bank, credit card issuer, hotel, airline, or other entity. This content has not been reviewed, approved or otherwise endorsed by any of the entities included within the post.