We bring you the latest TBB Best of Web links: a fascinating and very educational story about the five families dominating the portable toilet business in the US, a rather sad life of a young yacht influencer, how Russian kleptocracy has now invaded USA, the great chasm of the guns vs grief camps, the long rigorous road to fight for a prion disease cure and an amazing video all filmed underground in just one breath!
TBB Blog Mission: To Educate. Entertain. Inspire. In That Order!
You like my blog? Send a link to someone please!
Every Sunday I pick the best reads that blew my mind in the previous week. It can be…anything! I like to be eclectic and despise salesy/clickbait/sameold content you read…everywhere else!
As always, click on the headline to be taken to the original source. Sometimes I insert my incendiary comments on article excerpts between [brackets].
This is the opening paragraph so you have been warned:
Charles W. Howard is the porta-potty king of New York City. The seat of his vast empire is Broad Channel, Queens; from this windswept rock in Jamaica Bay, you can see the lights of Manhattan twinkling across the water. Early every morning, while the city sleeps, dozens of trucks — tagged with WE'RE #1 AT PICKING UP #2 decals — snake through the five boroughs to clean his 18,000 toilets. The company boasts more than $35 million in annual revenue, thanks in part to "salesgirls" who head out each day in the company's signature Volkswagen Beetles to poach contracts from competitors who are too shy to sell with sex. Charlie himself arrives at work only around midday in a black Cadillac Escalade. Young female dispatchers and clerks cry "Charlie! Charlie!" while men in orange slickers hose down toilets in the yard. [This does not happen to me when I sit in my messy home office to bring you blog posts like this, sad! But we can have dreams of young female blog groupies screaming "TBB, TBB"…Okay, that was fun to ponder, lets continue with more shit lol]

Nationally, portable toilets are a $2 billion business. [!!!]

The names of the five companies are hilarious: Call-a-Head, Mr. John, John to Go, A Royal Flush, Johnny on the Spot!
Portable toilets have gone through multiple evolutions, with each advance fixing a critical deficiency: makeshift barrels on World War II shipyards (no privacy) to enclosed wooden toilets (soaked up too much liquid) to fiberglass (cracked easily) to high-density polyethylene plastic (bingo). But the basic contours of PolyJohn's workhorse toilet, the PJN3, which retails for about $550, hasn't changed in decades.
Charlie saw a new market: luxury restroom trailers. They were becoming popular at weddings and upscale events as the economy strengthened. The man who had dreamed up a Newport-cum-Disney mansion wanted to separate himself from the pack. Today, you can watch more than 60 promotional videos for themed toilet trailers with names like the Cambridge and the Plaza. Kimberly Howard stars in them all, including the ad for the Versailles, which was inspired by the couple's trip to France. [Cambridge? Plaza? VERSAILLES…I am rofl!]

Private equity is making a porta-potty play. In July 2017, Platinum Equity, a Beverly Hills–based investment firm, bought United Site Services, the nation's largest portable-toilet conglomerate. Charlie frequently fields calls encouraging him to sell. His payday would be enormous, perhaps as much as $40 million — at least according to Charlie. [You know we are in a shit bubble when money from private equity appears lol]
I had mixed feelings about this post. This is obviously an intelligent and hard working guy. But his "craft" is, well, kind of pretending you are some type of expert on something and then selling it non stop. And this life may be kind of exciting I guess when you start doing it but then…is this really worth it? At the end I felt sad about the guy and his family. All this Instagram shit…
"I used to feel all messed up about my career," he continued. "I was a short-haul truck driver in the Bronx, and I guess I caught the yacht bug. I'd go to a bookstore, grab a table and read everything I could about yachts. Then, on the very first weekend after I downloaded the Instagram app, right after Instagram became a thing you could download, I went to a luxury boat show and took some of pictures of the yachts. I added some hashtags, and pretty soon I had 800,000 followers. But the quantity doesn't really matter to the folks who pay me, it's the quality. Influential people follow me, Gulf state princes and Russian moguls who might actually be able to buy these yachts."
The yacht hustle, I soon learned, was the all-consuming passion of Jimenez's life. He went from a guy who took Instagram pictures, always head-on yacht shots run through one of the generic filters, to a guy that yacht brokers paid to stay on their yachts in order to mention that said yachts were docked in a port and available for sale or charter. He was helicoptered from yacht to yacht, and slept in the smallest guest cabins.
You gotta watch the video by Sacha Baron Cohen pretending to want to buy for the Syrian Bashar Al-Assad dude, LOL!
Lets get back to more serious and important stuff…
This is a must read imho! A fascinating account what happened after the Soviet Union collapsed, the fight against corruption and more specifically going after the banks, you know, PATRIOT act and other crap, letting a huge door for these corrupt thieves to go all in on real estate,
Just one paragraph I am pasting here, go read the whole thing.
This obstinacy stood to subvert everything the country had done to lead the fight against dirty money: While the U.S. can ask almost any other nation's banks for financial information about American citizens, it has no obligation to provide other countries with the same. "The United States had bullied the rest of the world into scrapping financial secrecy," Bullough writes, "but hadn't applied the same standards to itself." A Zurich-based lawyer vividly spelled out the consequences to Bloomberg: "How ironic—no, how perverse—that the USA, which has been so sanctimonious in its condemnation of Swiss banks, has become the banking secrecy jurisdiction du jour … That 'giant sucking sound' you hear? It is the sound of money rushing to the USA."
You know where I stand in the issue of gun violence. But this article explains this cultural chasm PERFECTLY in my opinion.
Awaiting the next shooting massacre, sad!
I have never been in a gun show. Heck, I never held a real gun. Because I am a lover, not a fighter. Bwahahaha. Okay, let's get serious here, a few excerpts:
There are two gun cultures in America now, not just one. The first is a celebration of weapons and of the freedom weapons promise, a culture of resistance to government, of revolutionary individualism, a culture as old as the country itself, and the other, much newer, a perpetual caravan of mourning for senseless death. These cultures coexist but do not coincide. The political divisions in Washington, as vicious and irreconcilable as they may be, are not accidents of process. They are only signs of the far more profound divisions that lie beneath.
Guns just point out an obvious reality. The entire practice of constitutional law in the US is an absurdity. It gives absolute significance to meanings that have long since vanished into history. Jefferson himself believed it was the "solemn opportunity" of every generation to update the constitution "every 19 or 20 years". Before Trump, and anything he may or may not have done, there was already a constitutional crisis. There is no way to govern effectively when your foundational document is nonsensical and you worship it anyway. Look at what happens when you base your gun policy on the writings of a bunch of guys who had never seen an integrated cartridge, never mind an automatic weapon. You get mass murder nine days out of 10.
The number of guns in the US is somewhere north of 393m. Americans buy 12bn rounds a year, and a solid estimate of how much ammunition is in private hands is more or less impossible. The number of live rounds is literally inestimable. There is little point comparing gun violence in the US to gun violence in other countries. There are 57 times as many school shootings in the US as there are in the rest of the industrialized world combined. The reason for the difference is simple. When other countries faced mass shootings, their systems of government had the ability to take measures in response. The US doesn't.
The rash of mass murders points to a broader crisis: American politics is reaching a post-policy phase. It is a battleground over identities rather than over strategies for public management. These identities are in conflict, and growing more conflicted, while there is no functioning mechanism for reconciliation. America is splitting at the heart.
This one blew me away! The courage of this couple, wow!
I had never heard of prion disease.
Prions are abnormally folded proteins that form toxic clumps in the brain. The illnesses they cause are rare and invariably fatal. (The most common prion disorder in humans, Creutzfeldt-Jakob disease, kills about 500 people per year in the United States.) Sometimes the disease is passed down from an unlucky parent; sometimes it develops spontaneously, a fluke mutation; sometimes it is the result of contagion, with the problem proteins making their way into the body from a tainted cornea transplant, or a skin graft, or beef infected with bovine spongiform encephalopathy, also known as mad cow disease.1 Whatever the cause, once symptoms start, the prions do their work quickly and irreversibly. They tear through the brain and kill healthy tissue, leaving empty holes behind.
The story is about how they dedicated their lives to cure this to save the spouse who was a carrier of this eventually fatal disease. This is how you fight for your life, literally! Also it shows how crazy intensive is the process to develop new drugs, especially for rare diseases!
Ok, a final bonus link for you.
What an awesome video, filmed under water, holding just one breath. I prefer this kind of "shocking" video than the clickbait shit you see in the blogosphere.
Next post coming to you from Hollywood, Florida!
And I leave you with this…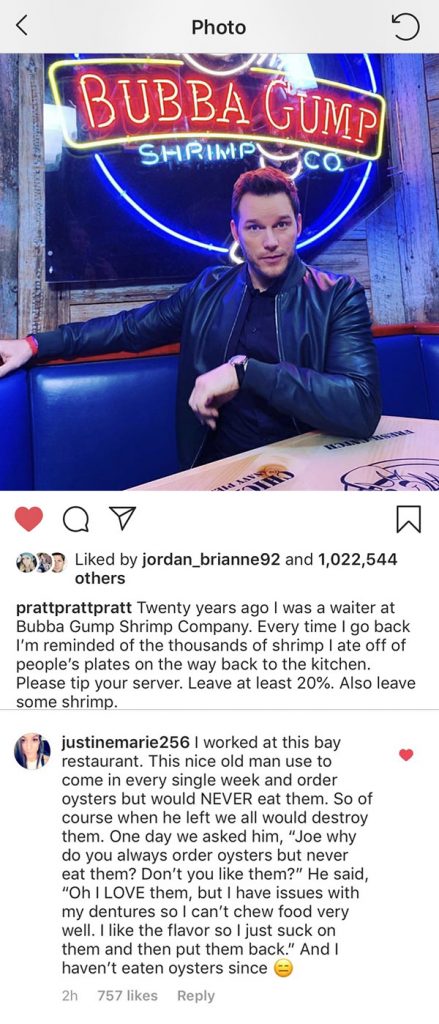 TBB
travelbloggerbuzz@gmail.com
Follow TBB on Twitter @FlyerTalkerinA2.
You can subscribe to TBB below, winners only!
Opinions expressed here are author's alone, not those of any bank, credit card issuer, hotel, airline, or other entity. This content has not been reviewed, approved or otherwise endorsed by any of the entities included within the post.