We bring you the new IHG Rewards Pointbreaks, how not to buy bitcoins with credit, four new Amex Hilton cards, the Global Wealth shift underway, most beautiful airports, most amazing temples, an awesome 404 page, how to plan far out to burn miles and points, actor Cage is a moron with his money, visit rainbow colored mountains, more shutdowns, how to cancel Citi cards, making fun of blog names, Ingy losing it (again) and more for you. Freeeeeeeee!
TBB Blog Mission: To Entertain. Educate. Inspire. In That Order!

I have been avoiding links to Doctor of Credit. Main reason is the love they show for numerous links to View From The Wing. Anyways, this is a rare one: All Four Amex Hilton Honors Cards Compared. Nice table. As of press time, only two of the four (Ascend and Business) are available with my links.
IHG Rewards Pointbreaks coming out sometime today, check HERE. Advice on booking them HERE. The better properties GO FAST!
Nice to see Milenomics posting regularly again, find a way to support these blogs please! Now answering questions about "Planning Really Far Out, Points Expiration, And Hotels". Very practical questions and advice.
Hey guys, don't buy bitcoins and other crypto shit. Especially using a credit card! #shutdowns
Amazing Temples Around The World. Nice list!
The 14 most beautiful airports in the world. If you say so dude. Most surprising entry here is…Munich, wtf!
BEST 404 "page not found' page ever…at the Financial Times.
Marxism
The failure of this page to load is a consequence of the inherent contradictions in the capitalist mode of production.
Socialism
If you were to get the page you wanted you might get a better page than someone else, which would be unfair. This way at least everyone gets the same.
Speculative bubble
The page never actually existed and was fundamentally impossible, but everyone bought into it in a frenzy and it's all now ending in tears.
Nicholas Cage is an idiot with his money, don't be like Nicholas Cage. Your personal finance link of the day. WTF Nicholas, did you really need that…dinosaur skull? A pet octopus?
A bunch of rainbow colored mountains. For your eyes only!
This is great: Visualizing Global Shift in Wealth over 10 years. Look at Vietnam, wow, I should visit that place sometime soon! Sad to report that Greece is next to Venezuela from the bottom. Funny how some in the current Greek government idolize some in the Venezuelan government, WTF!
BLOG BUZZ
This section is for advanced level hobbyists and veteran blog readers & personal rants & stuff.
For Best Offers credit cards, click HERE
Beware you guys:  Recent Credit Card Shut Downs Might Not Be From Manufactured Spending.
Good advice here:  Things to keep in mind before canceling/product changing a Citi card.
I went ahead and had some fun with blog names #parody.
Ingy, the infamous TBB blog resident troll, is still going. Talk about creating obsessed readers here! Go on you guys, you can click on my links because best part about that is…imagining Ingy's face!
Any data points? Anyone, anyone?
I have noticed, please sit down, that the one blog that has been on an absolutely mega huge tear selling plastic is nothing other than Million Mile Secrets. We are talking MAJOR LEAGUE #mindblown  Here is just a selected bunch of weekend "expertise" in miles and points credit card selling. And then I am a hypocrite (per Ingy) for doing the same thing here. Can you imagine what he will call me if I did this below. OMG!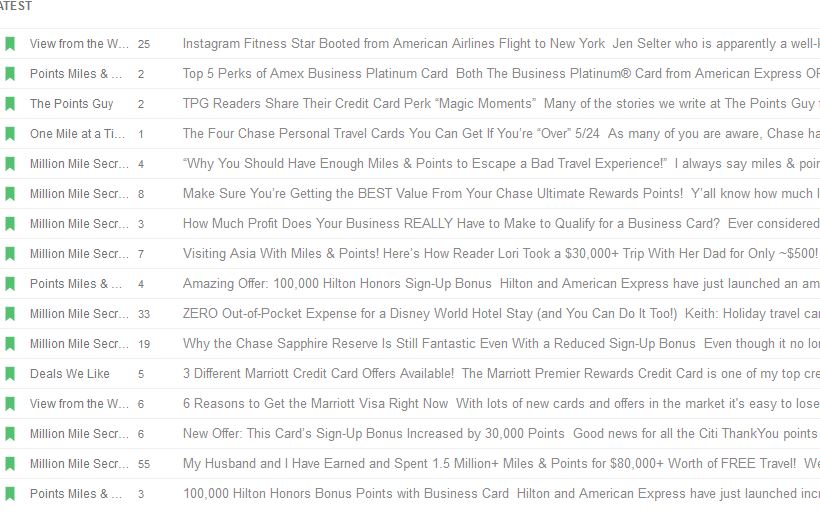 And I leave you with this….
TBB
travelbloggerbuzz@gmail.com
Follow TBB on Twitter @FlyerTalkerinA2
You can subscribe to TBB below, winners only!
Opinions expressed here are author's alone, not those of any bank, credit card issuer, hotel, airline, or other entity. This content has not been reviewed, approved or otherwise endorsed by any of the entities included within the post.