We bring you the TBB Best of Web links: A very insightful post about investing experience and how overrated it is, the dilemma what to do with US cities vs rural countryside, the state of the Internet, get you to listen to the 100 best one-hit wonders and how to respond to whether you should get into crypto investing!
TBB Blog Mission: To Educate. Entertain. Inspire. In That Order!
As always, click on the headline to be taken to the original source. Sometimes I insert my incendiary comments on article excerpts between [brackets].
If you enjoy my blog, please pass it on to someone you care about so they can enjoy it too.

Did you miss the rare Saturday TBB post? Latest Hyatt Developments, Bank Shutdowns, Marriott Rewards SPG Merger, NASA Wind Tunnels, US Household Finances
This is one of those rare must read personal finance posts!
For every investor who has learned from their past mistakes and experiences with various market environments, there are 3-4 who are stuck fighting the last war who have become prisoners to their memories of past markets. [I still know people who never came out of the bunker after they went to cash in late 2008, sad!]

A young investor who lived through the 1930s would assume the stock market is the last place you would want your money and depressions are a normal part of the economic cycle.
A young investor who lived through the 1940s would assume World Wars (and the ensuing inflation that comes from them) are par for the course.
A young investor who lived through the 1950s would assume their Depression-era parents were nuts for not trusting the stock market.
A young investor who lived through the 1960s would assume the only way in which to invest is through popular blue-chip growth stocks.
A young investor who lived through the 1970s would assume stocks go nowhere and sky-high inflation along with rising interest rates are ever-present risks.
A young investor who lived through the 1980s would assume investing is easy, save for the fact that stocks can crash more than 20% in a single day.
A young investor who lived through the 1990s would assume 20% annual returns are the norm and day-trading is the path to riches.
A young investor who lived through the 2000s would assume enormous market crashes and recessions occur on a set schedule.
Experience in the markets is often overrated. Talent and intelligence are also overrated. Temperament, patience, self-awareness, humility, discipline and process are all extremely underrated. Experience can help with these things but it's not a prerequisite. [Bold font for emphasis is mine]

No two market environments are ever the same. The only constants are risk and human nature. Everything else about the future is always uncertain. [Same]

Author takes a miserable walk around Adams County, Ohio. Trump country. It is amazing anyone would think that Trump would give ANY %$#@ for these people but hey, American democracy at its best I guess, super sad! The Democrats abandoned these people and must find a way to reach out to them. And help them. But…you know, about that future? Not sure what the correct solution is, way above my pay grade…
In recent years, though, Americans have grown less likely to migrate for opportunity. As recently as the early 1990s, 3 percent of Americans moved across state lines each year, but today the rate is half that. Fewer Americans moved in 2017 than in any year in at least a half-century. This change has caused consternation among economists and pundits, who wonder why Americans, especially those lower on the income scale, lack their ancestors' get-up-and-go. "Why is this happening?" New York Times columnist David Brooks asked in 2014. His answer: "A big factor here is a loss in self-confidence. It takes faith to move." Economist Tyler Cowen wrote last year that "poverty and low incomes have flipped from being reasons to move to reasons not to move, a fundamental change from earlier American attitudes."
The reluctance to move is all the more confounding given how wide the opportunity gap has grown between the country's most dynamic urban areas and its struggling small cities and towns, a divide driven by a mix of factors that include technology, globalization, and economic concentration. According to a new Brookings Institution report, the largest metro areas—those of 1 million or more people—have experienced 16.7 percent employment growth since 2010, and areas with 250,000 to 1 million have seen growth of 11.6 percent, while areas with fewer than 250,000 residents have lagged far, far behind, with only 0.4 percent growth. The question has taken on a stark political dimension, too, given how much Trump outperformed past Republican candidates in those left-behind places.
For policymakers, the low rates of migration to opportunity present a conundrum. Should there be a wholesale effort to revitalize places that have lost their original economic rationale? Or should the emphasis be on making it easier for people in these places to move elsewhere?
What would you do?
The firs two links above were way on the educational side, lets get back on entertaining okay? Have you wondered about what happened to some of these musicians/bands that had THAT one hit and then…just vanished? Me too! Well, here are one hundred of those one-hit wonders in one place, enjoy!
Thanks for the memories TBB, you get all my clicks for ever…said no one ever lol.
Anyone remember "I want candy" by Bow Wow Wow and, please sit down, "Too Shy" by Kajagoogoo LOL! Or "Come on Eileen" by the Dexys Midnight Runners. So many others, so many memories…
For the record, I am not a big fan of hers. But every year she puts this presentation together and always loved looking at some of the too many slides and get a good feel of this thing we call the Internet. Some nuggets that stood out:
Some highlights:
Global smartphone shipment growth has fallen to effectively nil.
Growth in the world's number of internet users has also slowed to about 7% in 2016, down from 12% in 2016.
Roughly 50% of the world, about 3.6 billion people, now have some access to the internet.
The average adult spends about 6 hours per day with a digital device. [INSANE!!!]

Wifi is everywhere: There are around 450 million wifi networks in the world, up from about 100 million five years ago.
There are three messaging apps—WhatsApp, Facebook Messenger, and WeChat—that each have more than 1 billion monthly active users.
Around 60% of all payment transactions are now done digitally, with over 500 million mobile payment users in China alone.
We're spending around 30 minutes each day watching videos on mobile devices.
It's estimated that there are more than 30 million Amazon Echo devices in users' homes, up from about 10 million at the end of 2016.
Roughly 13% of all retail sales come from e-commerce, up from about 5% a decade ago.
THIS  is how you respond to this question, it is PERFECT.
I will  let you read it in its entirety at the source. Because I am going to start working on that crazy stat above that we spend so much time with digital devices. Actually, I am wrapping this baby up and going to play outside! And so should you!
And I leave you with this…Thanks son!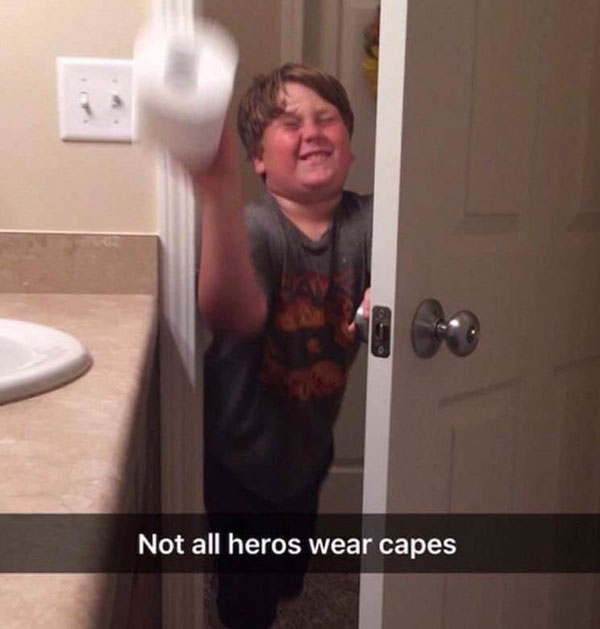 TBB
travelbloggerbuzz@gmail.com
Follow TBB on Twitter @FlyerTalkerinA2
You can subscribe to TBB below, winners only!
Opinions expressed here are author's alone, not those of any bank, credit card issuer, hotel, airline, or other entity. This content has not been reviewed, approved or otherwise endorsed by any of the entities included within the post.