We bring you the latest Marriot Bonvoy promotion, Airbnb buys HotelTonight, introduce you to the Dumbo airplane, meet the Capitol Hill dogs, ride the Skoolies, Accor introduces yet another brand, we travel to Bishkek, Chania and Rwanda, get you some tax facts in the new tax law, bring you the best photography on the web and in the Blog Buzz section we shoot the breeze with them bloggers taking the state of this hobby to super low levels…yes, lower!
TBB Blog Mission: To Educate. Entertain. Inspire. In That Order!
You like my blog? Send a link to someone please!
Register for the latest Marriott Bonvoy promotion. This is a direct link, no sneaky affiliate links are used here. And my sorry low conversions show it lol! And the Bonvoy shitshow continues while I get this message below when trying to register even though it looks like I may have been registered, WTF!
So, Airbnb is buying HotelTonight and it is getting really blurry out there…is Airbnb turning into a hotel? I thought the whole point was to stay away from hotels. Well, at least I find it amazing that Accor did not buy them lol. We are not sure what it means…it is getting crazy out there in the lodging world. Time, as always, will tell #developing.
When it comes to hotels…we always have, please sit down, Accor buying or doing something! And yes, again, like clockwork (which is once or twice a week lol), Accor is debuting a back-to-basics lifestyle brand. Which, because, you know, having 459 other brands was not just enough woohoo! The name: Tribe. Just one location now, ten more coming by 2022 and there will eventually be fifty, yawn.
Tribe will consist of funky, stripped-down lodgings targeted at regular travelers in urban areas, with its first location in Perth, Australia… The rooms are promising to be stylish and spacious, offering the basics like free coffee and under-bed storage, but not much else.
Quiz: How many brands Accor acquired in 2018?
Not sure about you, at least it is not a kitty plane 🙂 Spirit unveils new 'Dumbo' airplane at Detroit Metro Airport. Prepare for a Dumbo marketing blitz ahead!
Every year, during the Ann Arbor Art Fair, we have a small gathering of hobbyists affectionately known as the Ann Arbor Art Fair DO. We are talking about a tradition that goes way back…maybe 15 years ago at least. And as visitors come from all over to visit Ann Arbor…it is amazing to see so many new hotels that have been built in this time span! And…wait for it. The crazy hotel boom is not over yet! Two hotels proposed for Michigan Inn site in Ann Arbor. This is to replace an eyesore which is very close to Webers Inn (where we have brunch on Sundays) and right next to a new Wyndham. Little Ann Arbor has come very far…Wait, I almost forgot. The hotels are an Aloft by Marriott and a Home2 by Hilton.
Loyalty Traveler spent some laid back time in Chania, Crete in Greece.
Megan Starr is really in love with this place: Bishkek's 10th Microdistrict: Nostalgia From the First Place I Visited in Central Asia. Nice pictures. Maybe one day when they get a Hyatt lol.
Global Gaz goes to Rwanda. Amazing how far this little country has come! Learning About The Rwandan Genocide In Kigali Rwanda. This is the kind of place I would love to have a full trip report from. How you got there with miles, where you stayed (hopefully with points of course), how you got around, places you visited, some nice pictures, practical travel advice for others, visas, food, currency, etc.
What an awesome find: There is a website with all the dogs of the politicians in Capitol Hill in Washington DC! You are very welcome. Forward the URL of my blog post to your mother then, come on!
Have you ever heard of the "skoolies"? I sure have not! Not my thing but interesting…Think school buses…converted to live in. We are all different, don't judge. Ok, inside I have lol.
Why "skoolies" are one of the fastest-growing subsets of the van life community
You know I bring you the best photography! Because I care about your eyes 🙂 Finalists From Smithsonian Magazine's 2018 Photo Contest. Must click!
Top 10 Tax Facts for Individual Clients in 2019 You Need to Know. For your personal finance fix.
I am on a photography rampage now! Top 30 Most Stunning Photos From The National Geographic Instagram Photography Contest.
This is amazing! Visualizing 150 Years of U.S. Employment History. Look at what happened to agriculture wow!
The Depression Era Photography of Dorothea Lange. Wow!
And now we are entering BLOG BUZZ, a section for advanced hobbyists and veteran miles and points blog readers.
I am sensing that this may not last as it may get abused a little? Ebates: Amex Membership Rewards Points and Another Look at the Ebates Credit Card.
So Spencer moves to God Save The Points and has been cranking posts full of affiliate credit card links, one yesterday had 26 of them. Heck, even Million Mile Secrets does not have as many lately! I would not have said anything here because I am past that point…but every single one of them links sends readers to the affiliate links of One Mile at a Time, yikes!
Speaking of OMAAT…you will never see me here doing posts with headlines like this, WTF!
OMG: Airline Employee Fight You Have To See To Believe
Reader sent me what OMAAT said in the ridiculous post above: "Lucky Himself will be back shortly with hard hitting, unbiased journalism, addressing issues like which frequent flyer elite cards are best for cutting various types of fruits and vegetables. I'll even try to film it with a drone. And if you have no clue what I'm talking about, consider yourself… lucky." Apparently, he is still taking shots at TPG lol. And when I read that "hard hitting, unbiased journalism" part I almost choked on my falafel LOL! The other shot was at a TPG video trying to cut a zucchini with, you guessed it, credit cards smh to oblivion. And here I am trying to do the first credit card conversion from my links. Oh, dear God, why are you not so fair? Ok, don't answer that please.
Apparently, you can transfer City ThankYou points to Qantas and get a 25% bonus by April 13, 2019.
Target me once, come on already!
Same.blog.stuff.almost.at.same.time.yawn.
The salespeople at Plastiq are relentless! I have deleted every single email I got from them. But I guess I never got one like this because I am not bigly like the DoC…If I only knew…I would get with the program! But instead I prefer to whine about the lack of clicks and soon the losses here to bring you a great read…"2k to 3k a month"!!!!!!! Phuck meeeeee!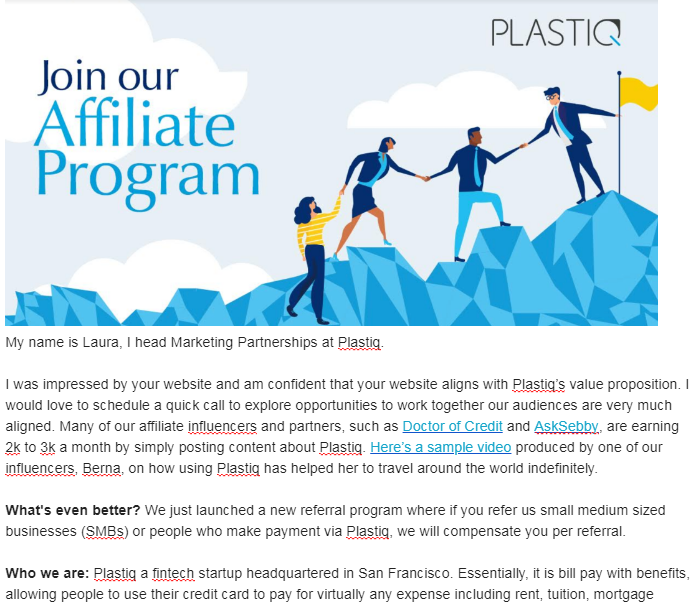 Expect a major push by Marriott to buy influence among bloggers…you can't believe what they will give them! 🙂
Funny how everyone (except TPG) now bitches about Marriott and how they destroyed the loyalty program. Even got a name for it: Bonvoyed. I was warning about these assholes for EVER! Maybe you should listen to me…not like I sell a bunch of their credit cards or ever invited to Oscars…not even for coffee lol.
In the meantime, a whole week has gone by…and not a single cc conversion on my site! Eye-opening #wow #sad.
And I leave you with this…When we are bored in Michigan we go for a walk outside: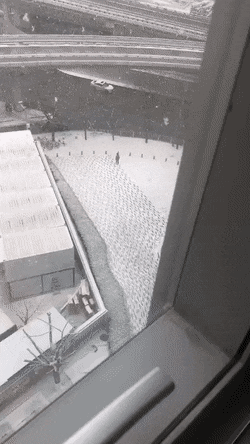 TBB
travelbloggerbuzz@gmail.com
Follow TBB on Twitter @FlyerTalkerinA2.
You can subscribe to TBB below, winners only!
Opinions expressed here are author's alone, not those of any bank, credit card issuer, hotel, airline, or other entity. This content has not been reviewed, approved or otherwise endorsed by any of the entities included within the post.