We travel to Mogadishu, go on trains through the Romanian mountains, make easy money, ponder about the world upside down and learn about heretic Hasidim.
TBB Blog Mission: To Entertain. Educate. Inspire. In That Order!
As always, click on the headline to be taken to the original source. Sometimes I insert my incendiary comments on article excerpts between [brackets].
If you enjoy my blog, please pass it on to someone you care about so they can enjoy it too. If you don't enjoy it and still read or troll the comments, you have issues, please seek help.

Thanks to all readers who have been supporting the site with your credit card, Amazon shopping and donation clicks, greatly appreciated.
Support good blogging practices with your clicks!
You know I would rather read a trip report of a place that is not so prevalent in the travel blogosphere. Extra credits where your personal safety is not guaranteed and you admit you have no balls to go there yourself! Mogadishu sure qualifies! The Norwegian Gunnar Garfors dude went there for a weekend. Such an interesting place! Things are looking up there these days!
To travel around Mogadishu, the capital, was in more ways than one a rather schizofrenic experience. There are a lot of residential houses and commercial buildings damages by ammunition of very different caliber and very varying degrees of power. That makes for a rather surreal backdrop for kids playing games or kicking footballs in the streets. Mogadishu is a coastal city with a big port, impressive beaches and rugged cliffs which the waves keep battering. Ruins of banks, restaurants, apartments and hotels are lining many streets, whereas new buildings are popping up in seemingly random places.
To travel to Mogadishu as a tourist takes a bit of preparation, as you will not be allowed to leave the airport unless you have adequate protection. As in hired guns. Four companies organize trips for tourists and will sort you out with all logistics, included the needed protection…You will be picked up from the airport and taken around in a pickup truck with one or two guides and a driver. In the back you'll have 2-4 armed guards. Then again, you can have more hired guns in a second or even a third pickup if you pay extra. Although you already draw more than enough attention with four gun-toting guys in the back. But it can of course be quite an ego booster to have 8 or 12 guards instead of 2, 3 or 4. To be entirely safe, you should probably get 255 guards. After all, John Rambo killed 254 guys in Rambo IV. And to be fair, being driven around Mogadishu feels a little bit like a violent action flick. With ruins everywhere, you may easily start imagining where a possible ambush could take place. Behind that shed, around the next corner or from within that green shabby garage. [Starting to appreciate the humor…it's there!]
And more, check it out!
This trip report in Flyertalk was suggested by a reader (I forgot who, let me know for a proper HT if you want one). This guy has talent and takes great pictures. Again, the theme of the travel here is…out of the ordinary is good. Different and exotic,  oh yes! I learned so much about Romanian trains reading this. And I did not realize Romania is that large, territory wise I mean. Enjoy the ride you guys!
What a great article on my other area of expertise: personal finance. If I had a dollar every time I heard that the easy money has been made. The author obliterates this issue, deservedly so! Every year since we bottomed in early 2009…we heard these excuses. Yawn.
Look, there is a bear market ahead. Several in fact. But if you tune out the noise you will capture more of the returns than the active traders who speculate in and out based on another scary headline. Most people need to be saved from…themselves! Making the decision to buy back then and continue to buy and hold and compound is NEVER easy!
Now we have Trump to worry about…There is ALWAYS something to worry about.
This guy captures a lot of what we are all thinking lately….At least I am!
I don't know what depresses me more — the stupidities and dishonesty and tolerance of darkness that come out of the President's mouth or the response from those that oppose him. Given that I don't like the President, you'd think I find the response of his enemies inspiring or important. But the responses scare me too, the naked hatred of Trump or anyone who supports or likes him. And of course, it goes way beyond Trump and politics. The same level of vitriol and anger and unreason is happening on college campuses and at the dinner table when families gather to talk about the hot-button issues of the day. Everything seems magnified. [We must find a common ground…Sometimes I look at the vitriol thrown around from both sides and it makes me sick to my stomach!]

So we manage to convince ourselves that the evidence speaks so loudly, so emphatically, that we have no choice but to declare our allegiance to a particular tribe as a result of that evidence. The red tribe. Or the blue one. Or the white one. Or the black one. It rarely crosses our minds to notice that causation is probably going the opposite direction — the tribe we are in determines the evidence we notice and accept. [Think about that!]
Politicians lie and dissemble all the time. But they tend not to lie and dissemble about things that can be fact-checked. So this is new and it understandably outrages people and reporters. There is indeed something outrageous about this kind of hyperbole. So when a member of the media tweets or prints a chart showing Trump's claim is totally incorrect, the chart reminds Haters of Trump that Trump is a buffoon and a liar. But it doesn't convince the Lovers of Trump. Instead it confirms their view that the media is hostile to Trump. And as the media becomes more self-righteous in its denunciations of Trump, the Lovers of Trump see this as confirmation not of Trump's idiocy but of Trump as victim and the media as the enemy of their friend.
Imagine the possibility not just that you are wrong, but that the person you disagree with could be right. Try to imagine the best version of their views and not the straw man your side is constantly portraying. Imagine that it is possible that there is some virtue on the other side. We are all human beings, flawed, a mix of good and bad.
This is an older article but still so timeless. And so educational!
Torn between devotion to their faith and families and a desire to explore the outside world, rebellious young ultra-Orthodox Jewish men are resigned to live secret double lives.
You have seen these guys with the weird hair dressed in black and white, mostly in New York City. You will learn so much about them in this piece. Talk about a unique group. I am glad I was not born in this group, I could not bear the conformity and restrictions. But, here we go again, with the internet even these people are changing. And some are leaving the faith all together.
What a story…And with all of them married so young and expected to have up to a dozen kids…
You are in for a treat!
Satmar is a sect of Hasidism (alternately spelled Hassidism or Chasidism) composed mainly of Romanian and Hungarian Hasidim founded in the Hungarian town of Szatmar in the twentieth century.  Like other ultra-Orthodox sects, it is characterized by an emphasis on strict, unwavering adherence to its interpretation of Jewish law. Most importantly, Satmar and other strict Hasidic groups strongly reject the outside world's impurities. By and large, these Hasidim study in religious schools, speak Yiddish as their first language, dress according to a strict code, and enter arranged marriages when they are between the ages of seventeen and twenty. They are forbidden to listen to the radio, watch television, listen to non-Jewish music, or expose themselves to the ideas and people of secular society. Yet some unknowable fraction—often young and aided by the Internet they are told to avoid—are breaking the rules.
And I leave you with this…When all there is left to get is a debit card (wonder if they will metal-ize it!)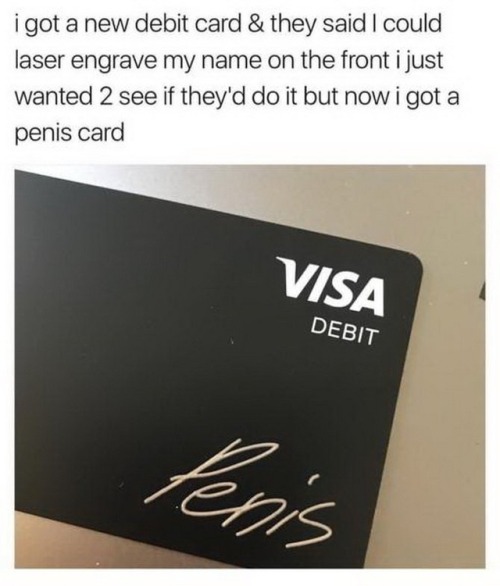 Check out my updated blog lists: Blogs I Love, Blogs I Like, Blogs To Ignore
TBB
travelbloggerbuzz@gmail.com
Follow TBB on Twitter @FlyerTalkerinA2
You can subscribe to TBB below, winners only!
Opinions expressed here are author's alone, not those of any bank, credit card issuer, hotel, airline, or other entity. This content has not been reviewed, approved or otherwise endorsed by any of the entities included within the post.