We bring you the TBB Best of Web links: A deep dive trying to answer what is Amazon, trackig the Robocall king mega douche bag, the most endangered wildlife in every US state, a depressingly beautiful account about a dementia patient and her search to commit assisted suicide, an awesome shocking population video and we have fun learning about the little known Somalia disco era.
TBB Blog Mission: To Educate. Entertain. Inspire. In That Order!
You like my blog? Send a link to someone please!
Every Sunday I pick the best reads that blew my mind in the previous week. It can be…anything! I like to be eclectic and despise salesy/clickbait/sameold content you read…everywhere else!
As always, click on the headline to be taken to the original source. Sometimes I insert my incendiary comments on article excerpts between [brackets].
This is most excellent, probably one of the best dives that you will read on the Amazon phenomenon!
So, what is Amazon? It started as an unbound Walmart, an algorithm for running an unbound search for global optima in the world of physical products. It became a platform for adapting that algorithm to any opportunity for customer-centric value creation that it encountered. If it devises a way to keep its incentive structures intact as it exposes itself through its ever-expanding external interfaces, it – or its various split-off subsidiaries – will dominate the economy for a generation. And if not, it'll be just another company that seemed unstoppable until it wasn't.
If there is one partisan issue that still exists in politics, the phucking robocall menace must be it!
In this article the author writes about how one interesting dude managed to track down one of these scumbags and many souls soldiering to make some money in call centers. It is part of his job at Trip Advisor and you will learn a lot as I did! Oh yeah, it involves those calls you probably get from Marriott and Hilton to congratulate you for winning a "special" deal!
Americans received a record-breaking 47.8 billion robocalls in 2018.
This is great to know. And the illustrations are fantastic! This is the one for my state:
Michiganders nurture a close affection for their native warbler. The bird is instantly recognizable – when seen – for its yellow breast and heavy black eye-shadow. Kirtland's warbler is making a strong comeback after a tough 20th-century, when fire suppression prevented the recurrence of young jack pines essential to the warbler's habitat
Don't read this if you are in a happy state. Leave it for a time you are feeling down as it will go down much easier, sad lol!
This is a devastatingly powerful account about one lady's decision to end her life. Yeah, it deals with assisted suicide, aging, independence, loneliness and stuff like that. I had to compose myself. I could not help but think about how my mother just turned 80 years old and, well, she is trying to hold it together. As best as she can…
I also believe that we were not kind to Dr. Kevorkian. Okay, that was controversial so I better stop. I will only comment on that if you guys all go on a credit card spree with my links so I can pay the blog expenses and stop losing so much, stop laughing Ingy you freeloader! 🙂
Debra Koosed was diagnosed with dementia at 65. That's when she decided she no longer wanted to live.
This is writing talent, stop reading all the clickbait crap in the popular blogs, just say no!
This is amazing, just click play, sit back and watch!
Just click it, this is MY kind of video. Not the moronic videos so many bloggers spew out for the clicks. Maybe this is…why I don't get many clicks lol!
If you click it and do not go "Wow" I will give you your money back! Satisfaction guaranteed. You are welcome!
And again a bonus link for you…
Somali Night Fever: The Little Known Story of Somalia's Disco Era
Amazing story, I had no idea! And so amazingly sad that it got all destroyed, super sad!
And I leave you with this…Lol Neil Armstrong, #respect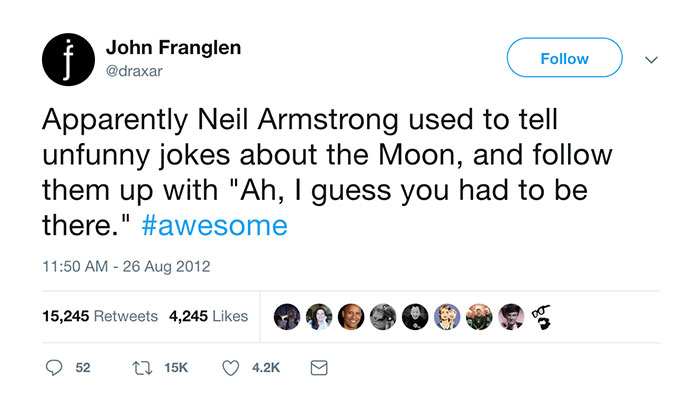 TBB
travelbloggerbuzz@gmail.com
Follow TBB on Twitter @FlyerTalkerinA2.
You can subscribe to TBB below, winners only!
Opinions expressed here are author's alone, not those of any bank, credit card issuer, hotel, airline, or other entity. This content has not been reviewed, approved or otherwise endorsed by any of the entities included within the post.