Another annual summary of how I burned some of my millions of miles and points, hope you enjoy it as much as I did 🙂 You can do it tooooooo!!<————TWO strategically placed exclamation marks, BOOM!
TBB Blog Mission: To Entertain. Educate. Inspire. In That Order!
This is how I did in 2016: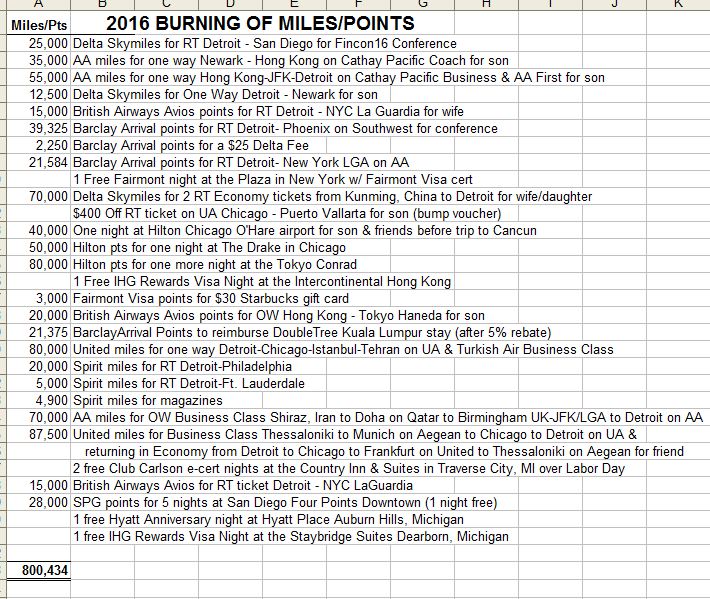 I started keeping track of how many miles and points I burn in 2014. I missed burning more than 1 million in 2016. This is how I did so in the past two years:
This is how I burned 1,266, 596 Miles and Points in 2015
This is how I burned 1,053,524 Miles and Points in 2014
I count these when I book them, not when I do my travel (except for the hotel free nights!). I still have banked 3.5 million miles and points. I have changed my approach in how I go about doing this as this hobby has dramatically changed in the recent years. We all evolve and change.
I am taking a break from hammering everything to earn more as I have a hard time finding the time to sit down to burn them. And of course award availability has also dramatically changed for the worse, looking at you pathetic American Airlines! And life has changed with my own practice having grown to a point where I can afford to shut the doors to new clients for the rest of this year at least and this little blog becoming an addiction I can not kick. If this was a pure money decision, I would have quit blogging years ago 🙂
I know others in this hobby who still earn thousands of dollars (as in CASH) hitting deals. Oh yes, almost all of these deals are underground now as the mega bloggers can't wait to get their hands on them to publicize to increase clicks on their blogs and of course credit card sales. I just don't have the time to do this anymore, I have other priorities and interests and my time is short.
We are all different. Do NOT compare yourself to others you may meet in this quirky hobby. When I think about it and see how much this blog has brought in and I hear what some of my friends are making…I am only temporarily depressed and then move on 🙂
Let me make one thing clear: TBB does not kill deals. Don't even ask 😉
Does this hobby still have value? Yes, of course. Look at what I did without even trying much! Is it harder to squeeze value out of it? Oh yes! We had the golden era of this hobby in the first decade of 2000s, it's been a long devaluing down hill slide ever since. Coincidentally, the road to oblivion started with all the expert hackers posers who got started/stayed in it because of the money banks started shoving at them for selling credit cards. I don't see it getting better anytime soon, I advise you get another hobby. The revenue based hurt is here to stay!
Other bloggers try to sell you their lifestyle and trick you to you apply for credits cards with their affiliate links. Do NOT fall for their pumps! This hobby is NOT for the vast majority of people! But if you read my blog you likely are experienced and know what you are doing. For the newbies out there, please read this first and THINK:
So You Want To Travel For Free Like Me? Are You Sure?
And now it is tax time baby!
Blog will slow down. Yes, I said that before…
And I leave you with this…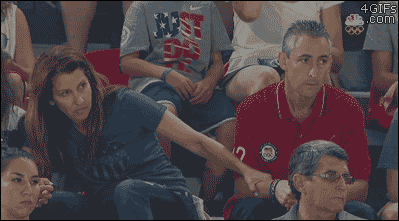 Check out my updated blog lists: Blogs I Love, Blogs I Like, Blogs To Ignore
TBB
travelbloggerbuzz@gmail.com
Follow TBB on Twitter @FlyerTalkerinA2
You can subscribe to TBB below, winners only!
Opinions expressed here are author's alone, not those of any bank, credit card issuer, hotel, airline, or other entity. This content has not been reviewed, approved or otherwise endorsed by any of the entities included within the post.