We see hotel loyalty programs shrinking, observe the Amex SPG card sales frenzy, ponder about circular airport runways, check out Aegean gems, reiterate how much money airlines make selling miles to the banks to get people in debt slavery, observe the crazy real estate bubble north of the border, check out some crazy pics in China, warn you about Bank of America applications and more for you. Every link is 100% full of integrity 🙂
TBB Blog Mission: To Entertain. Educate. Inspire. In That Order!
Just in case you did not do this yet because….you like to procrastinate: Do this now: Register for 2nd quarter bonus earning and World of Hyatt promotion.
Loyalty Traveler takes a deeper dive into another article titled: Shrinking Value of Hotel Loyalty Programs. And I tend to agree too…Making elite in hotels has gone the way of the…airlines #sosad.
I am sure you have seen this article by now…it should not be a surprise at all: U.S. Frequent Flyer Programs Are Far More Profitable Than Is Widely Known.
You may have noticed that the sale of the 35k Amex SPG cards is on fire from pumping bloggers. They expire April 5. I am going for it with my links (#winning) for son because Amex may be going away due to Marriott's acquisition of SPG. And 35k SPG points can go a long way. But, in my quest to blow up my own monetizing scheme as I have no integrity (this accusation still "kills me")…here is a blog post at Travel Codex that sabotages my evil plans to convert your mother in law 🙂 Even with 35,000 Bonus Points, the SPG American Express Is Still Not That Great!  And remember, Amex cards are once per lifetime for the signup bonus.
Well, this is just a concept now and most likely it will remain a fantasy. But it does look good hey? Why Airport Runways Should Actually Be Circular.
What to Do at an Event Where You Don't Know Anyone. This will help naturally shy and introvert people. It took me a while to feel mostly not too uncomfortable. Right now I go in with the attitude that I just don't care and I will just be myself…I think blogging has helped 🙂
If you are interested in housing bubbles, especially if you are from Canada, you will love this little gem: I attended the top of the Canadian Housing market, so you didn't have to. Best line was this: "15k people in one spot listening to Americans explain why real estate in Toronto is an exceptional investment."
Aerial photos show how China makes order from chaos.
Walking the streets of Gary, Indiana. You have been warned, this is dark. I almost got a job here out of college, phew!
BLOG BUZZ
This section is for advanced level hobbyists and veteran blog readers & personal rants & stuff
Interesting post on the Greek airline Aegean:4 Reasons Aegean Deserves Your Attention For Premium Awards.
Be careful about your Bank of America Credit Card Applications.
I know, I know…But if I am not going to do it, who is? Someone has to show the newbies who find my blog by accident or you tell your mother in law or maybe some media get shamed to stop interviewing these online financial product marketers…And I get attacked for having no integrity lol…We are talking thousands of affiliate links below…yikes! #SellSellSell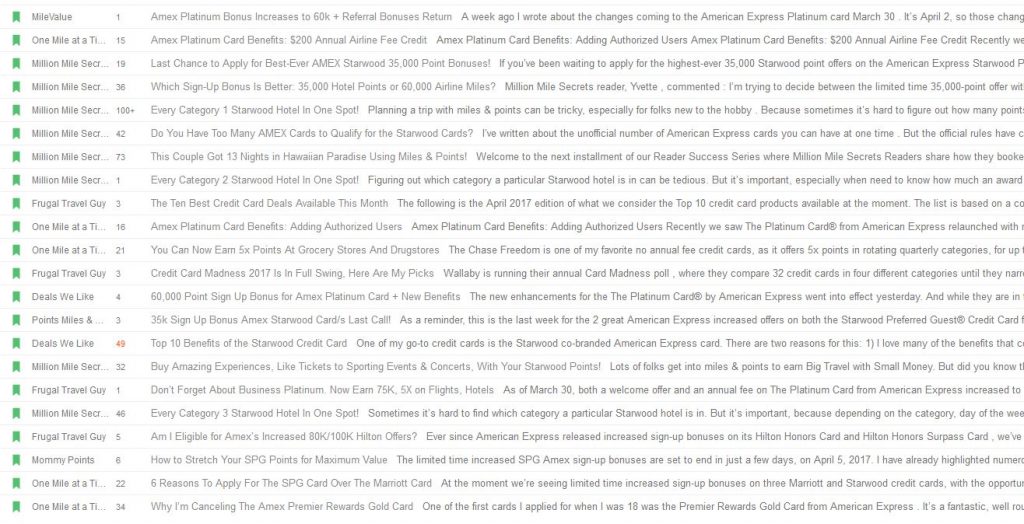 I mean, just look at the blog posts above….What do  you think drives their content? If you don't understand…please leave, you deserve to be sold to smh.
Enjoy while this blog lasts…
And I leave you with this…
Check out my updated blog lists: Blogs I Love, Blogs I Like, Blogs To Ignore
TBB
travelbloggerbuzz@gmail.com
Follow TBB on Twitter @FlyerTalkerinA2
You can subscribe to TBB below, winners only!
Opinions expressed here are author's alone, not those of any bank, credit card issuer, hotel, airline, or other entity. This content has not been reviewed, approved or otherwise endorsed by any of the entities included within the post.