We bring you a new premium travel rewards credit card, flight attendant crazy secrets, United prepaid card, more from North Korea, lessons from travel, new partner of Alaska Airlines, a super odd subway station in China and lots more. Absolutely free!
TBB Blog Mission: To Entertain. Educate. Inspire. In That Order!
Yet another premium travel rewards card coming this weekend. From UBS! Really? Getting ridiculous at this point! I tweeted this out and Chuck at Doctor of Credit did beat me to it,  here are all the details of the new card. Keeping it longer than a year after the signup bonus is definitely NOT recommended!
Register NOW for this and get 10% of Hyatt awards.
Alaska Airlines, Finnair Begin New Partnership. It appeared here first. Your favorite blogger saw it, rewrote some words and may have entered an HT way at the end where nobody sees it #expertise. Another good move by Alaska Airlines. I still say they join the revenue based crowd in 2018 #sosad #forus
Crazy secrets from a flight attendant. She talks whether it is possible to clog the toilets, advice how to join the "Mile High Club" (please no more shower selfies!), how she uses Tinder for sex, etc. I thought about changing the link you will all click to take you to my credit cards page but I changed my mind because, despite what you may think of me, I still have a tiny ounce of integrity. Bwahahahaha (inside blog joke).
Ten Things Travel Has Taught Me About Life. By Landlopers. For some reason I had this blog deleted from Feedly. But it is back. And I am enjoying it again, sorry!
Three Days in Algiers – What To See. Very nice trip report from a place that does not get much play. I like trip reports from places that are not as common. You care to share a trip report in my blog? Contact me.
For the weird link of the day, I bring you all Simpsons fans this story: "The Homeric Odyssey of the Web's Strangest Simpsons Site". If you are a Simpsons fan, you should read this. And probably join the Facebook group ShitPostingSimpons. Click the story to track down the link, I like to give page views to original authors and not pretend I am a thought leader on anything. Oh wait, I take that back, maybe I am a thought leader on personal finance, North Korea and sex robots? Woohoo!
Speaking of personal finance, this article had some thoughtful thoughts…oh wait, maybe I should not put these two words together? Can't wait for grammar police to bust me in the comments, please be gentle! Risk and Reward in a New Era.
The Oddest Subway in China. Yeah, I like odd things. You don't come here for stuff you see elsewhere. When I was in my youth, I was always into alternative music and despised Top 40. I continued that theme with my blog. In obscurity based on number of clicks #crying. But I like it that way #mostofthetime.
Introducing Polaroids in North Korea in 2008.
We all know the beautiful A380 is not a big seller. Screw it, time to sell second hand A380s as super luxurious private jets! #itshappening. Well, maybe not… #developing
And this is an awesomely inspirational story from Roger Moore: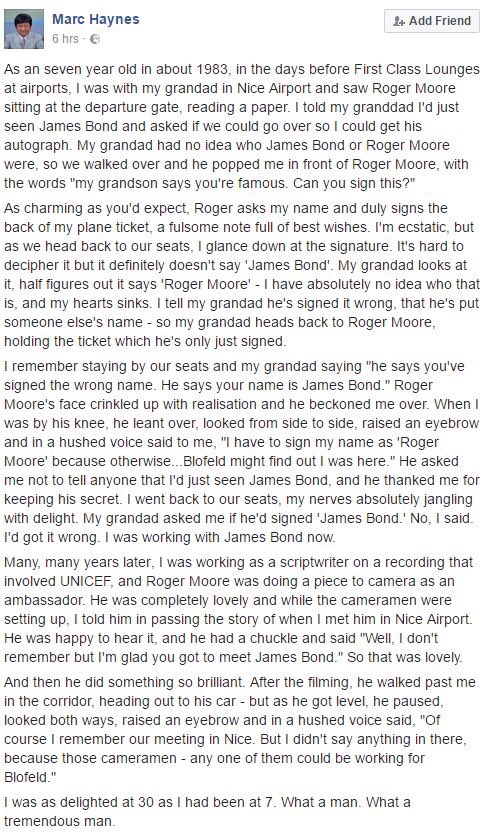 BLOG BUZZ
This section is for advanced level hobbyists and veteran blog readers & personal rants & stuff
How did this high school kid blogging at Boarding Area get an interview with AA's CEO Doug Parker? Well, I think it is a must read as it reveals his thoughts about AADisAdvantage. You know it is good when it starts off with: "I wish Robert Crandall would have just created the AAdvantage program as a revenue-based program from the beginning."… "It's not about matching the competition, but it's the correct way of doing things.  We should be rewarding the flyers that spend the most money and put the most into this airline." The good old days are OVER!

At least 15 Countries Affected by Southwest Blocking Access & Why This is a Problem. Come on Southwest, fix this! NOW! Guys, consider it done, it made my blog, will get fixed shortly, you are welcome!
United Airlines Introduces First Ever Prepaid Credit Card for Earning Miles. Yep, it first appeared here…Your Titan blogger did not get any inside info, he/she is not an expert. Really, WTF! Well, this is really interesting, lets see how this shakes out when the card comes out in the summer. This is the official press release by the way. Don't lick chops or anything else, it is NETSPEND Inc. we are talking about!
It was late two nights ago, that dude John got a response back from me when I should just ignore him. I need to figure out a way to at least hit the minimum number of cards, I know it is not your credit score 🙂 Oh shit, Feedly unread climbed over 100 again, PHUCK! #hypocriticalrantwithnointegrity #LOL
This is turning out to be a web series, this summarizes my feelings about it all #barf
Well, there is at least one positive thing about this, it is not Emily!
Most blatant piece of false advertising? Full Disclosure: Question mark was added due to counsel's advice. Pro bono 🙂
Telling readers to write to the DoT and then brag about making the WSJ, seriously? Publicity like this only leads to airlines tightening the screws even more. Temporary gain for a few readers and long term pain for them but hey, must be good for blog business! I know 🙂 #notaboutblogbusinesswink
You see many blog posts about all kinds of excuses selling the Hyatt credit card. You know, it is available here as well but I don't do the hard sell. Do you consider this soft sell? Who cares, I just wished it worked damn it #amateur.
Since May 18, this blog made $1.48. Why do I post this? For educational purposes. For the haters' entertainment (I do care for them too!). Definitely not for inspiration though lol.
I am not doing the pic with the pumping and tabloid headlines. Unless you want me to and you missed it.
It always amazes me the content of each post the next day when it gets published at 6.30 am. And then when I check my clicks and see a big fat zero, it feels, well, AWFUL! Not.Even.One. Again. And that hurts. I hate whining…Am I insane? [Yes].
My father taught me to always be proud of my work. I am. So be it. Enter the violins…
And I leave you with this…
Check out my updated blog lists: Blogs I Love, Blogs I Like, Blogs To Ignore
TBB
travelbloggerbuzz@gmail.com
Follow TBB on Twitter @FlyerTalkerinA2
You can subscribe to TBB below, winners only!
Opinions expressed here are author's alone, not those of any bank, credit card issuer, hotel, airline, or other entity. This content has not been reviewed, approved or otherwise endorsed by any of the entities included within the post.