We bring you the premium Bank of America Card, Avid Hotels, crypto currencies crap, get you more Marriott Rewards points, warn you about not wasting any Hilton Honors points in Amazon, talk about airline jobs, travel to Traverse City and Burning Man, look at white giraffes, get sad about alienation and stuff like that and, wait for it, a TBB from the good old days….we go on a TBB Buzz attack! I could be kissing their asses so they can link back to me so I can increase my readers and my blog income blah blah blah.
TBB Blog Mission: To Entertain. Educate. Inspire. In That Order!
The "premium" Bank of America credit card is here, signup bonus is 50,000 points. Annual fee not waived, but you can do the $100 airline credit per calendar year. So, if you are extremely bored you could get a bit north of $500 before you cancel. If you plan to keep it because you got a lot of dough in this bank, what can I say, I am sorry.
Heads up for some Marriott Rewards points coming your way in social media on Sundays this month.
I saw several posts about how you can now use your Hilton Honors points on Amazon. If you ever do that I will unleash the nasty TBB drone to find and beat some sense into you! Or just ban you forever from reading my blog. Since it is free how can I do that? So, I guess, my point is DON'T DO IT okay!
Not like the hotel business needed brand numero 996 but IHG has now debuted yet another one named Avid. Yeah, WTF indeed! All you need to know is this:
"[Avid Hotels] is truly different from Holiday Inn Express," he said. "There's no swimming pool or formal meeting space. The focus is on cold breakfast and the price point is $10 to $15 less than the Holiday Inn Express. There's a smaller construction cost for owners, too."
This is right on in my always humble opinion. How we ruined airline jobs. Very educational piece.
Ever been to Traverse City, Michigan. Maybe you should!
Haunting Relics of a Country That No Longer Exists. Yugoslavia. Great post by National Geographic.
Mind blowing timelapse video of a cargo ship traveling from the Red Sea to Hong Kong!
This is important and very sad. Alienation is killing Americans and Japanese. Well, I think this is affecting Japanese more but who am I to argue?
kodokushi: It means dying totally alone in Japan. It's afflicting a society simultaneously coping with significant change in family structure and a generation-long economic slump
today about one in five Japanese people is over 65; that number is projected to grow to one in three by 2030
…almost a quarter of Japanese men and a tenth of Japanese women over age 60 say there is not a single person they could rely on in difficult times.
This crypto currency shit is getting way crazy. This huge infographic explains Bitcoin, Ethereum, and the other crypto shit.
I had no idea there were white giraffes!
I have posted many before but this is THE post with the best pictures from the 2017 Burning Man Festival.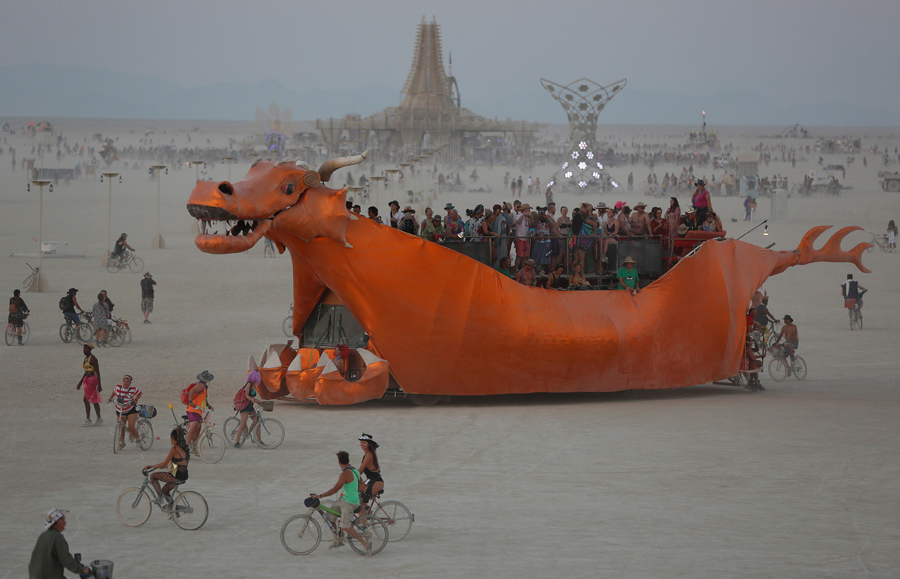 In Madrid there is a building that was built from top to bottom. Some say it is the ugliest building in the city. The article then veers off to other buildings that were built this way…
BLOG BUZZ
This section is for advanced level hobbyists and veteran blog readers & personal rants & stuff
There was a Hyatt promo about getting 10% of the points you used for an award rebated back to your account. I received an email about it too but the points never posted. I had to call to get them to post the points, just fyi.
My wife applied for the Chase ink Business Preferred card on September 12th. I called Reconsideration minutes afterwards and got her approved. As of writing (September 18th), the card had not arrived or showed up online. Had to place a call to Recon, transferred to customer service, transferred to the online support team. End of story is that the card now shows up online and it was shipped on September 15th. All good, I was worried there a bit. Update: Card received on September 18th!
The reddit/churning thread now has The Purgatory. Are you all there? It may help explain why the credit card clicks in my site have dried up. Actually, this thread will make you laugh, there are some hilarious posts in there. Enjoy yourself in The Purgatory. Why do I focus on readers like that when I can focus on newbies who never had a Chase Sapphire Preferred card and think this hobby will allow you to travel for free? Okay, don't answer that please. Thank you!
After Million Mile Secrets announced on social media that Emily had a baby daughter, the "MMS Team" also made a short post on the blog about it. Make no mistake readers, the baby is already a "miles and points enthusiast", WTF! Actually, both of my kids had thousands of miles and points BEFORE they were born. I guess some trick newbies for marketing and some of us are the real deal hehe. Oh, warning you guys…
Emily plans to keep us updated on her adventures with the new baby.  She'll be traveling with Arya as soon as (responsibly) possible! [Can't wait for the baby to hold her first credit card or gift card you guys, WTF!]

Looking forward to Arya growing up with y'all! [Oh, dear God, is this a threat? You have all been warned!]
Not done yet….MMS readers left comments, some think this couple is still in love living the dream of a blessed married life…I am getting upset now so I better stop!
It will be interesting to to see how an extra person affects your travels and mileage calculations. You will now have to get three tickets instead of two, travel plans will need to be adjusted for the baby. [ I have no doubt the MMS Team will all let us know which credit cards are the best for three people, LOL]

Still we don't have an answer: WHO IS THE FATHER????? We need to identify the third person so we can suggest some credit cards for him too, come on!
I am sorry, this blog was started as a place to review these blogs and do parody stuff. One day it will be just that and I will post sparingly so I can finally meet my goal here: make minimum wage per hour, LOL!
Screw it, I am on fire, let's keep going you guys! I may be going down but why go slow, go down fast baby woohoo!
Was this guy promoted or demoted at TPG Inc? He is attending the MegaDO currently going on now…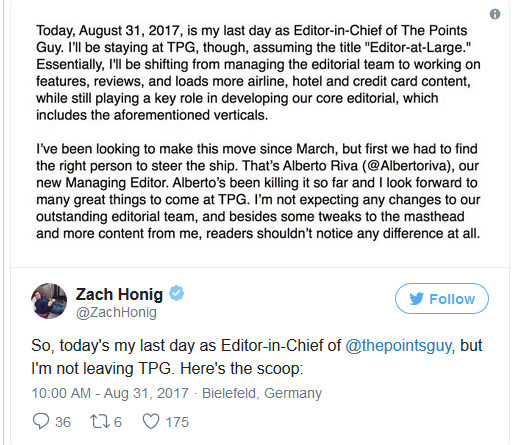 I have always been suspicious that View From the Wing and One Mile at a Time use the same ghost writer. Because they post similar stuff almost at the same time. How about this below? Look at it closely! Same "news" posted in the same EXACT minute! Of course, 8 minutes later, Points, Miles and Martinis cuts and pastes the same thing…I guess you now know how long it takes to insert own affiliate links in a post. Mega LOL.

Why am I doing this for peanuts crumbs? Okay, don't answer that please!
I got a survey about Fairmont. You know I love my lifetime Fairmont Platinum Presidents Club elite status and perks. We have been very surprised that Accor Hotels has not killed FPC yet! So, I let them know of my feelings 🙂

And we all dread the day that we will have to deal with Accor's super crappy loyalty program. So I let them know that too lol.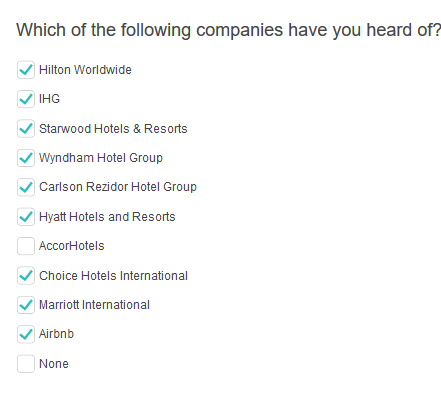 I am whining less because I try to spend less time on my blog….Sometimes, you know, I just keep going. I could be doing other things with my time. Is my blog my version of heroin? Okay, don't answer that either! Enjoy it while it lasts you guys!
And I leave you with this…What a great idea! TBB readers get smarter with each post 🙂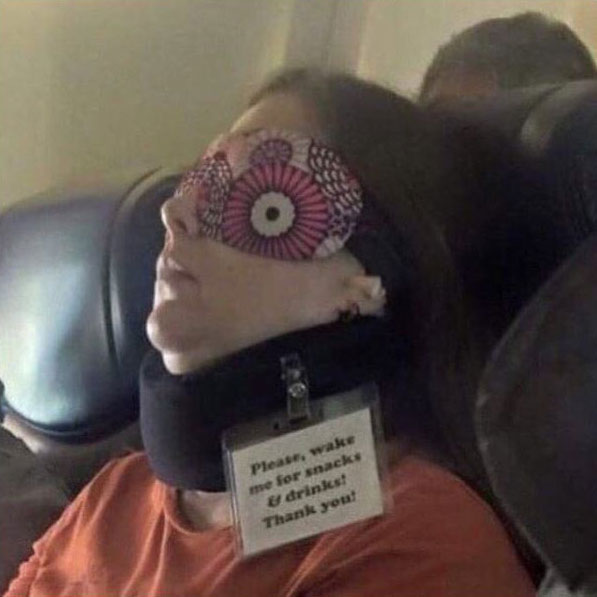 Check out my updated blog lists: Blogs I Love, Blogs I Like, Blogs To Ignore
TBB
travelbloggerbuzz@gmail.com
Follow TBB on Twitter @FlyerTalkerinA2
You can subscribe to TBB below, winners only!
Opinions expressed here are author's alone, not those of any bank, credit card issuer, hotel, airline, or other entity. This content has not been reviewed, approved or otherwise endorsed by any of the entities included within the post.