Another TBB post featuring the most eclectic links around the web such as we elaborate on them venture capitalists, the greatest asset bubbles, fantastic podcast about the Boston Marathon bombing, the best zoos in the US, banks and villains, living luxuriously or not, crypto bros keep getting busted lately, Putin's forever war, from Iraq to US Fentanyl king to federal prison, amazing Sun, roaming around with AI, one of the best goals in soccer this year, more devaluations galore, my trip to Thailand is starting to take shape and more!
TBB Blog Mission: To Educate. Entertain. Inspire. In That Order!
Support TBB by applying for CREDIT CARDS or visiting our

LINKS

or Donate

You like my blog? Send a link to someone please!
This blog publishes every Friday and Tuesday…for now.
Welcome to all new blog readers from George, your diligent curator of the BEST web content I find and share with you. No ads, no clickbait.
I will always be tinkering with the Sections in my blog. Adding, deleting, editing them. Because we all evolve, hopefully for the better lol.
BANKING
In case you missed it, most of Silicon Valley Bank was bought by First Citizens…
I still say if only Peter Thiel did not light the match…Anyway, beware of them Venture Capitalists okay? The venture capitalist's dilemma.
When it became apparent to this small group of very powerful, very wealthy individuals that Silicon Valley Bank — the bank used by much of the Silicon Valley startup ecosystem — was on shaky footing, they had a choice to make. They could remain calm, urge the founders of companies they'd invested in to do the same, and hope the bank could weather the storm. Or, they could all pull their money out, urge their founders to do so also, and hope that they or their companies were not the ones left standing in the teller line when the liquidity dried up. Faced with the choice between the more communal, cooperative choice and the self-serving, every-man-for-himself choice destined to end in a bank run, it should be no surprise which option they picked. As the Titanic sank, they were the ones pushing people out of the lifeboats.
Jason Zweig with yet another gem in the Wall Street Journal: "When a Bank Fails, There's Always a Villain". The U.S. used to have more than 30,000 banks, most of them serving just a single community. Two centuries of failure and lost deposits suggest smaller isn't always better.  Great history lesson! Me thinks we still have too many?

And I say good riddance finally!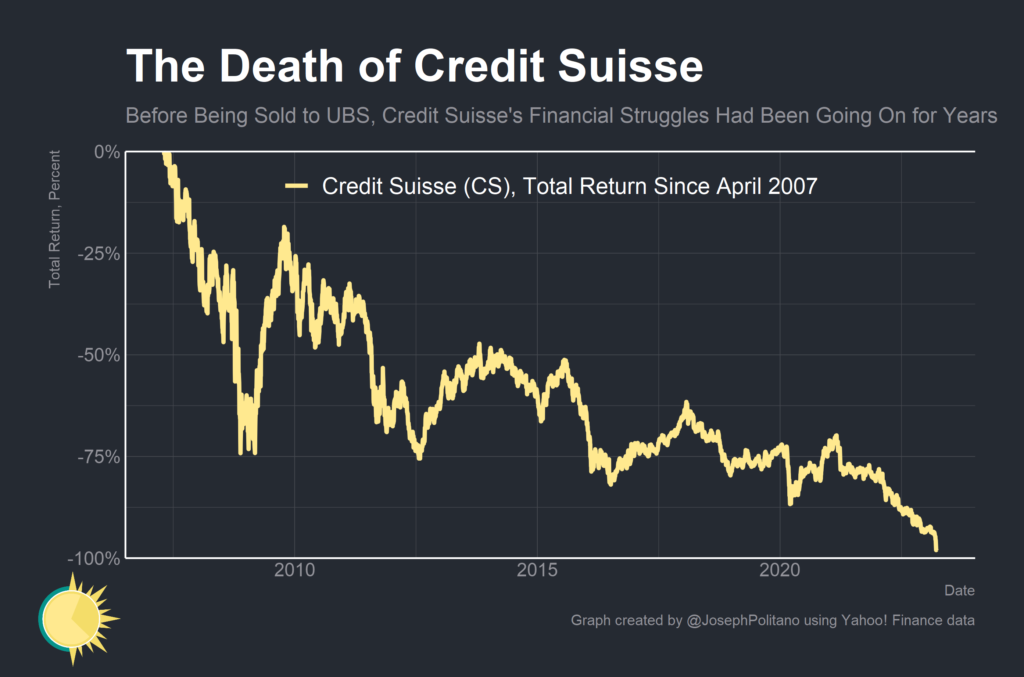 PERSONAL FINANCE
This is great and it is a must read, peace of mind and simplicity are so underrated! Real Luxury Goods Don't Have Brand Names.
The peace of mind that accompanies having money in the bank and in our investment accounts isn't a conventional luxury good, but it's one that I treasure more than I ever could a head-turning car or a logo-ed tote bag.

Also, not having any debt and keeping a sizeable amount in cash around…are great enhancers of your quality of life! Keeping it simple is a never ending target of course….I just need to get a handle on my travel rewards credit cards if only…them banks would stop showering us with fat signup bonuses! Oh wait, maybe not…And yes, being able to help others brings great joy too.
Great history lesson: The 7 Greatest Asset Bubbles of All Time [All You Need to Know]. I swear there is a guy whose emails I keep trying to block but somehow evades my blocking and he went from "Make money with crypto" to just yesterday "Make money with AI". I am not saying it…yes I am. Just be careful out there, don't get carried away ok!
CRYPTO/SCAMS
Justice…hopefully soon! Do Kwon Now Faces Criminal Fraud Charges From U.S. Prosecutors.
Kwon is being charged with conspiracy to defraud, commodities fraud, securities fraud, wire fraud and conspiracy to engage in market manipulation. A spokesperson confirmed to CoinDesk that the Department of Justice would seek his extradition to the U.S.
Don't you get the feeling that the Feds just had enough? US CFTC sues Binance and CEO Changpeng Zhao.
UKRAINE RUSSIA WAR/GEOPOLITICS
I love how Putin's Forever War ends…
It was Putin's own self-interested illusions about history and his legacy as a great Russian leader that started this war, and it will be his own self-interest that will end it. For now, Putin has no incentive to stop fighting. That means that Ukraine must either end the war for him or threaten Putin with a defeat—one so unambiguous that he sees it as a matter of self-preservation to negotiate.
10 Questions, must read thread, think!
How in God's name does Ukraine's corruption problem justify an invasion by a dictatorship that is ranked more than 20 places lower in the corruption index?
Why do we still hear the false claim that "Russia just reacted to NATO expansion"?
ODDZ & ENDZ
Stunning article about how this young Iraqi made it to America and became the Fentanyl King, sad! On the Trail of the Fentanyl King. An Iraqi translator for the US military emigrated to Texas to start a new life. He ended up becoming one of the biggest drug dealers on the dark web. 30 years in federal prison and then deportation to Iraq, what a waste!
I did not know much about the Boston Marathon bombers. Well, I do now after listening to these podcasts:
The Boston Marathon Bombing (Pt. 1)
The Boston Marathon Bombing (Pt. 2)
A section where I go on and on about some stuff that happens in my life and anything else that just does not fit in another section above.
Managed to knock out a total of 22 miles running last weekend, Saturday 6 miles and Sunday 16 miles. Putting the work in, next Marathon will be here in a flash! I think running has displaced travel as my go to hobby/obsession. And after Covid this tendency may have accelerated. Long cherished goal has been to run a full marathon under 4 hours. About ten days ago I managed a new PR in the Half Marathon at 1.52.25…so I am close. Key is to…stay healthy!
The tournament to quality for the Euro 2024 has started. And France still looks unbeatable after taking the Dutch to the cleaners in the opening game easily beating them 4-0. The most shocking result was probably Denmark losing in Kazakhstan after being up 2-0 at halftime cruising along…or so they thought. Never underestimate an opponent! Here are the highlights of the game. Which has one of the goals of the year imho (at 10.38)…WOW! Watch the fans' reaction, watch their joy!
What a crazy Final Four, love the underdog teams! I am with Florida Atlantic, I watched them beat Kansas State, another epic game!
Almost done with client tax returns…For some reason, I still enjoy doing them, please no comments!
Everything below deals with the hobby of collecting frequent flyer miles and points. If you are not interested, you can stop here, thank you.
MILES & POINTS NEWS/PROMOS/MY ACTION
Our November trip to Thailand is taking shape slowly. I burned 63,000 World of Hyatt points for five nights at the Phuket Hyatt Regency using a confirmed suite upgrade with my Hyatt Globalist status.  Aiming to do another four to six nights in Bangkok, aiming for the Hyatt Regency at just 8,000 World of Hyatt points per night…Yeah, I could splurge for the Park Hyatt but I am value oriented lol.  Now slowly turning attention to booking award flights back to the US #developing
I need to get better using Google Maps! 5 Sneaky Ways I Use Google Maps to Plan Trips (& 1 Obvious One).
Devaluations continue. This is not just a devaluation, it is a complete demolishing of this program, wow! Hotels.com Devalues Loyalty Program (From 10% To 2%).
So many charlatans in this space selling their credit card affiliate links while supposedly dishing out "expert" advice. I mean, I have no doubt if there was a Hotels.com credit card available for sale these guys would come up with numerous reasons to sell it the with hideous titles such as "14 reasons I love the Hotels.com credit card". Ok, I need to calm down. And no blogger will tell you that getting a Marriott Bonvoy credit card is a complete waste of time and effort for almost everyone out there with this program recently charging 150,000 points per night…I mean, you are lucky to get a Bonvoy signup bonus and get just one free night…wow, how sad is that! So, bloggers who place readers first will tell you NOT to get any Bonvoy cards and salesmen posers will pump you with shameful "XX reasons I love this Bonvoy card". Be careful out there!
I have been advised to delete my own mentions of blog credit cards sales. In the month of March this blog had its best month ever. ALL credit card sales were the amazing 90k Chase Ink Business Cash and Unlimited credit cards (now down to a still lucrative 75k Signup Bonus). Ever since March 21, the end of the 90k promo, it is back to Hunger Games around here lol.
Anyway, I have been doing this for three decades and everything changed when banks started paying bloggers to push their plastic…everything! I miss the good old days when this was a true hobby and community, just saw this post I wrote seven years ago looking back to crazy stuff I did for the love of the game: The 10 Craziest Things I Have Done to Earn Miles and Points.
I recently talked to someone who told me that they are not into travel. Ok, we are all different. Banks will still give you a fat signup bonus and, well, you buy groceries and/or gas don't you? Chase Sapphire Reserve points can be worth 1.25 cents for groceries and gas while Chase Sapphire Preferred points can be worth 1 cent for groceries and gas. With the future Chase Sapphire Preferred card Signup Bonus going up to at least 90,000…yes, this means Chase will give you $900 in free groceries (minus the credit card annual $95 fee). So, do the math! Chase "Pay Yourself Back" Complete Guide (Categories Extended). And please do not waste your points donating to charities this way, just donate cash to them (or, better, use a credit card to donate to earn miles/points!).
MILES & POINTS
HOT CREDIT CARD OFFERS: 75k Capital One Venture X, 75k Capital One Venture Rewards, 75k Chase Ink Business Cash, 75k Chase Ink Business Unlimited, 100k CHASE Ink Business Preferred, 70k Bank of America Alaska Airlines Visa, 60k CHASE Sapphire Preferred, 60k Citi Premier, 45k Wyndham Rewards Earner Plus, 175k IHG Rewards Premier and many more, including many AmericanExpress cards, including Delta, Marriott and Hilton cards!  Please check out my Affiliate links. Terms apply to American Express benefits and offers. Visit americanexpress.com to learn more. If you do not see a credit card with my affiliate links, perhaps I could refer you?

This section is about my hobby addiction of collecting frequent flyer miles and hotel points since the early 1990's! SKIP if you are not into it!
As of today, I have burned 373,000 miles/points year to date in 2023 and have 4,293,491 miles/points in the bank. Some do drugs, I do miles lol!
Thanks to US banks, very lucrative travel rewards credit card offers come and go all the time. This section will act as a reference point on the best CURRENT offers. I will designate new material preceded by NEW.
BEGINNERS
The Beginner's Guide to Getting Started with Credit Cards, Points & Miles
BASICS: This travel hacking hobby is mostly about getting the fat Signup Bonus of travel rewards credit cards while of course NEVER EVER carrying a balance. Banks have a marketing budget and are willing to give us many THOUSANDS of miles/points to travel mostly for free hoping to hook us to charge 20%+ interest rates on our balances. The poor souls who fall for their marketing paying these ludicrous interest rates end up subsidizing us responsible consumers who enjoy taking advantage of, cough, such bank marketing budgets! Some of us have been doing this for thirty years creating amazing travel memories…Feel free to ask me questions or post them in the comments.
BASICS: Prefer credit cards from the proprietary points programs of banks, such as Chase Ultimate Rewards, American Express Membership Rewards, Citi ThankYou Network, Capital One Rewards Miles because they are a lot more flexible and are not devalued as frequently. Over pure airline and hotel travel rewards credit cards. Pure cash back credit cards may work for you best and they are getting more valuable as airline and hotel loyalty programs keep getting devalued. Sometimes, a pure no annual fee 2% cash back card works best for simplicity!
TOP TRAVEL REWARDS SIGNUP BONUS CARDS
The Capital One Venture X card offers a 75,000 point Signup Bonus after a minimum spend of $4k in the first three months. If you like simplicity and looking for one (premium) card, I highly recommend this card (and yes, I have it myself!). It has an annual fee of $395 but it comes with a VERY easy $300 statement credit for travel booked on its excellent travel portal, essentially turning it into a $95 annual fee card. But wait…there is more! On each card anniversary you earn 10,000 points essentially making it FREE! Every dollar of spend earns 2 points and flights booked on the travel portal earn 5 points per dollar. You get access to Capital One and Plaza Premium airport lounges and a Priority Pass Select lounge membership and, this is important, you can add FOUR authorized users FOR FREE who can also have their own Priority Pass Select airline lounge membership. You can transfer your Capital One points to up to 18 Transfer Partners. No foreign transaction fees. Free Hertz President's Circle rental car top elite status. Cell phone protection and PRIMARY rental car coverage. Awesome seats at baseball stadiums for just 5k points each. And lots more. Available with my Credit Card Links, thank you for your support!
 The Best Ways to Use Capital One Venture Miles
7 Underrated Benefits of the Capital One Venture X Card
Sticking with Capital One Bank…it is offering 75,000 points for its Capital One Venture Rewards Credit Card. Annual fee is $95, minimum spend required to earn the Signup Bonus is $4,000 over the first three months and the card basically earns 2 points for every dollar. And you can transfer the points out to airline and hotel partners just like the Capital One Venture X card above.
Chase IHG Rewards Premier Card 175,000 Points Signup Bonus. After only $3,000 in spend in the first three months. Not free, you gotta pay the annual fee of $99. Free night up to 40,000 points per night starting with the second year of holding the card. Automatic Platinum status (which is not a big deal) while you hold the card. Card earns 26x per dollar spent on IHG properties, 5x on travel/dining/gas and 3x everywhere else. Fourth reward night free on stays of 4 or more nights. Under Category/Hotels HERE, thank you.
Some of the links are behind a paywall. You can try to read them using Archive.is.
TBB
travelbloggerbuzz@gmail.com
You can join 557 email subscribers to receive each blog post by entering your email address below and then clicking on Subscribe:
Opinions expressed here are author's alone, not those of any bank, credit card issuer, hotel, airline, or other entity. This content has not been reviewed, approved or otherwise endorsed by any of the entities included within the post.