We bring you another edition of the awesome TBB Best of Web links for your enjoyment: A mind blowing story about a guy who was a master of hacking horse racing in Hong Kong of all places, how the US Presidency has become the toughest job in the world, we go deeper into happiness and how to get it, the best patents that changed our world and a personal finance post about risk trading in all investing we do.
TBB Blog Mission: To Educate. Entertain. Inspire. In That Order!
As always, click on the headline to be taken to the original source. Sometimes I insert my incendiary comments on article excerpts between [brackets].
If you enjoy my blog, please pass it on to someone you care about so they can enjoy it too.

This is a similar story to the one about the elderly couple who cracked  the state lottery code I posted some time ago. But this one is one that scaled to the tune of a billion dollars. Unbelievable, what a life this guy had! I do NOT condone gambling in any way…but doing something like this for so long, well, it takes a special talent for sure. Yep, once I started reading this I could not stop. It happens when you are TBBing woohoo!
Bill Benter did the impossible: He wrote an algorithm that couldn't lose at the track. Close to a billion dollars later, he tells his story for the first time.
No excerpts will do it justice. Read the whole thing #blownaway
The author makes a really good case that the US Presidency is the hardest job in the world.
The intensity of public feelings about President Trump makes it hard to measure him against the presidency. His breaks with tradition are so jarring, and the murmuration of tweets so thick, that debate about his behavior tends to be conducted on the plane of propriety and the president's seeming disregard for it. If Trump were a less divisive figure, we might view these lapses differently. We might consider that what looks like incompetence or impertinence on the part of the officeholder could also be evidence that the office itself is broken.
We get a phenomenal map of how the powers of the President expanded through the years, the unfathomable psychological squeeze they go through, the severe constraints of partisanship, and we get some suggestions on how to fix the damn thing! What stands out is the last one "Radically Simplify the Office". Do I have confidence we will see any of them become reality? Nope.
You know I like to blog about certain things. One of them is pursuing this thing called "happiness". Whatever it is. It is different for everyone. I like to build things from scratch. There is a phrase that stuck with me, I do not remember who first  said it. "Happiness is in the struggle". Like this blog. More than five years later and still trying to make minimum wage. Lol at me. Whatever. I hope it is different for you okay? 🙂
Childhood, your teen and college years are the stuff of Han Solo, beer, unprotected sex, and self-discovery with friends. All of us trying to find our way, spilling into adulthood … Magic. From your mid-twenties to your mid-forties, shit gets real — work, stress, and the realization that, despite what your teachers and your mom told you, you likely won't be a senator or have a fragrance named after you. The stress of building the life you've been told you deserve, and are capable of, takes a toll. Also, somebody you love gets sick and dies, and the harshness of life comes into full view. [ I realized pretty early that becoming a professional soccer player was not in the cards for me, sad! I don't want to talk about unprotected sex okay? My life changed dramatically one day in October of 1999 when my dad told me my dearest cousin had died. Of a drug overdose. Talk about the "harshness of life coming into full view" and hitting you upside the head HARD!]

Then, in your 50s (earlier if you're soulful) you begin to register all the wonderful blessings that are everywhere. I mean, everywhere. Beautiful beings that look and smell like you (children). Water that turns into waves you can ride and other wonders of nature. The ability to deliver some sort of sweat or intelligence that people will pay you for, that you can then support your family with. The chance to travel across the surface of the atmosphere at the near speed of sound so you can see amazing things extraordinary people built. And when tragedy strikes, many times the tragedy is beaten back by our best ideas: science. You recognize your time here is limited, start smelling the roses, and begin affording yourself the happiness you deserve. [Yeah, every morning when I wake up early and go to my car I so enjoy hearing the sounds of the birds. Sometimes I just stop and just take it all in. What a beautiful sound, I highly recommend it. Yeah, I am 50. There was no way I would ever imagine remotely enjoying something like this when I was younger! Strange.]

So, if in adulthood you find you're stressed, even unhappy at times, recognize this is a normal part of the journey and just keep on keepin' on, as happiness is waiting for you.
The ratio of time you spend sweating to watching others sweat is a forward-looking indicator of your success. Show me a guy who watches ESPN every night, spends all day Sunday watching football, and doesn't work out, and I'll show you a future of anger and failed relationships. Show me someone who sweats every day, and spends as much time at events as watching them on TV, and I'll show you someone who is good at life. [Brilliant paragraph…TBB stands up and claps. TBB readers do that too because they don't click on shocking videos and other clickbait crap. Zing!]

There is a correlation, and money can buy happiness, to a point. Once you reach a certain level of economic security, the correlation flattens. More money won't make you less happy either (also a myth). I made the mistake of spending all my time, for most of my life, trying to figure out how to make more money, instead of taking pause and asking what makes me happy. So, yes, work your ass off and get some semblance of economic stability. But take notes on the things that give you joy and satisfaction, and start investing in those things. [I never understood why people would work at jobs they hate so that one day they can retire and then do what they want to do…I still don't.]

…start putting away money, early and often. Don't think of it as money working, think of it as magic. Put $1K into a magic box, and when you're ready for it, in 40 years, presto … it's $10–25K. If you could have this magic box, how much would you put in it?…Most of us understand how compound interest works with money, but don't recognize its power in other parts of our lives. [Yes, yes, yes!]
Nothing is ever as bad or as good as it seems. Market dynamics trump individual performance, so your successes and failures aren't entirely your fault. The number-one piece of advice seniors would give to their younger selves is they wished they'd been less hard on themselves. Our competitive instincts lead to us to anchor off the most successful people we know, and be disappointed when the person in the mirror doesn't match those achievements. One of the keys to a healthy relationship is forgiveness, as you, and your partner, will at some point screw up. Your limited time here mandates you hold yourself accountable. But also be ready to forgive yourself, so you can get on with the important business of life.

Here they are:
Magnetic Levitation (Maglev)
iPhone
Motorized Exoskeleton
Quadcopter Drone
3D Printer
Bionic Eye
Global Positioning System
CRISPR Gene Editing
Brain Implant
Graphene
Bluetooth
Self-Driving Car
Solar Panel
3G
Virtual Reality
I have been told by several readers that you like the personal finance angle of my blog. So I give you what you ask for. Because this is how I roll 🙂
I like the central point of this blog post. Investing is risky by default! "The main thing to remember about this argument (or really any investment decision you make) is that there are always trade-offs. Risk never completely disappears in a portfolio because suppressing one risk just means you've opened yourself up to another."
And I loved how the article ends laying it all out for you:
This trade-off in risks occurs with other aspects of portfolio management as well:
Allocating more money to stocks gives you higher expected returns but higher expected volatility and a larger drawdown profile.
Allocating more money to bonds gives you lower expected returns but lower expected volatility and a smaller drawdown profile.
Allocating more money to cash offers optionality but cash loses money to inflation over the long haul and timing the market is hard.
A focus exclusively on yield can lead investors to ignore total returns.
Seeking safety in the short-term can help you sleep at night now but it also means you won't live as well in the future.
High-quality bonds can save you from large nominal drawdowns but they open you up to the risk of inflation-adjusted losses.
Waiting for the proverbial "fat pitch" sounds appealing until you realize how psychologically challenging it can be to sit in cash while markets rise or how difficult it is to put money to work when stocks are getting crushed.
Diversification is a wonderful form of risk management over the long-term but can make you feel exceedingly stupid for not investing in the best performing asset class each and every year.
Hedge funds and private equity only mark their holdings to market on a monthly or quarterly basis. This is great for academic risk-adjusted return formulas but masks the actual volatility of the underlying holdings.
Volatility is a poor definition of risk for a portfolio because it tends to be short-lived in the markets which is true until it causes you to make an irrational short-term decision with long-term capital.
Investing in stocks over 20+ years has given investors a high probability of seeing a premium over bonds most of the time but not always.
Investing in a concentrated basket of cheap, high-quality companies with a built-in margin of safety is one way to outperform the market. It's also an easy way to severely underperform.
A trend-following strategy trades decreased downside volatility and drawdown risk for whipsawed trades and false-positive trading signals.
In other words, investing is hard. If it was easy it would just be called earning money, not investing.
You cannot eradicate risk in a portfolio. You can only choose when and how to accept risk in different variations. Doing so will always involve balance and trade-offs.
And I leave you with this…Me when I retire, deal with it 🙂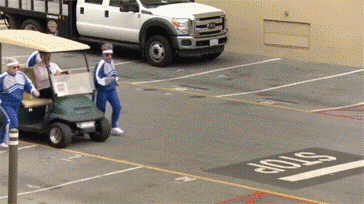 TBB
travelbloggerbuzz@gmail.com
Follow TBB on Twitter @FlyerTalkerinA2
You can subscribe to TBB below, winners only!
Opinions expressed here are author's alone, not those of any bank, credit card issuer, hotel, airline, or other entity. This content has not been reviewed, approved or otherwise endorsed by any of the entities included within the post.